Trayce Jackson-Davis undecided on future following NCAA tournament loss to Saint Mary's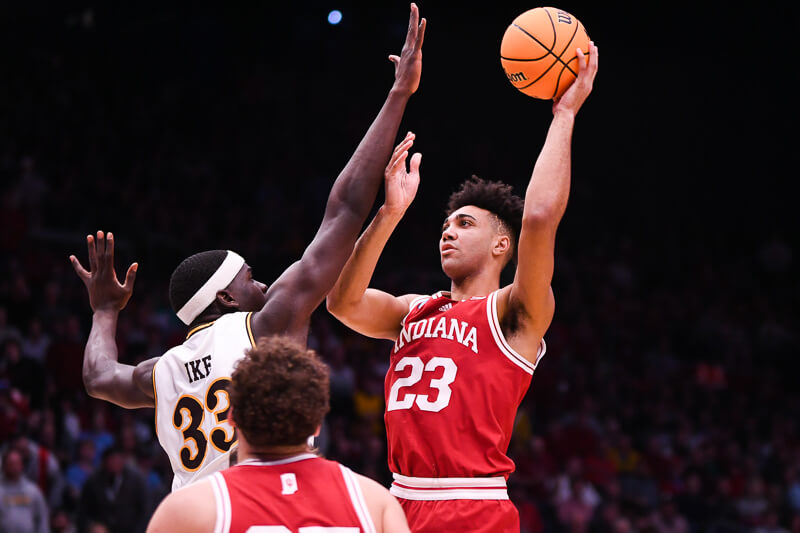 Trayce Jackson-Davis saved his best basketball for the stretch run of Indiana's 2021-22 season.
But will the late-season run, which included Big Ten tournament wins against Michigan and Illinois and an NCAA tournament First Four win over Wyoming, be the end of Jackson-Davis in an IU uniform?
The 6-foot-9 forward, who scored 12 points and grabbed five rebounds in Indiana's 82-53 loss to Saint Mary's on Thursday in Portland, was non-committal about his future when addressing the media postgame at the Moda Center.
"I'm not really worried about that right now," Jackson-Davis said. "Right now I'm just kind of worried about just being with my teammates, just being in the moment. I'll talk to coach (Mike) Woodson, like I did last off-season, and we'll go from there. So preparation in everything I do. I'll have a plan in sight, but there's no timetable right now."
Whether Jackson-Davis stays or goes is the biggest domino that will fall in the coming weeks regarding Indiana's roster for the 2022-23 season.
The deadline for underclassmen to declare for the 2022 NBA draft is 11:59 p.m. ET on April 24. This year's NBA draft combine will take place May 16-22 in Chicago. The deadline to withdraw from the draft while maintaining college eligibility is 11:59 p.m. ET on June 1.
The 2022 NBA draft is set for June 23 at the Barclays Center in Brooklyn.
Jackson-Davis was Indiana's leading scorer and rebounder in Woodson's first season, a second team all-Big Ten performer and a major reason the Hoosiers broke a six-year NCAA tournament drought.
Over Indiana's seven games in March, Jackson-Davis averaged 21.6 points, 7.7 rebounds, 1.7 blocks and 1.4 assists in 34.4 minutes per game.
He finished the 2021-22 season – his third in Bloomington – with averages of 18.3 points, 8.1 rebounds, 2.4 blocks and 1.9 assists in 32.3 minutes per game.
Jackson-Davis did not test the NBA draft waters in his first two offseasons as an IU player.
Last offseason, it was widely speculated that he would depart the program following the coaching change from Archie Miller to Woodson, but Jackson-Davis opted to stay for his junior season after a meeting with Woodson.
When he announced his decision to return to Bloomington on April 2, 2021, Jackson-Davis used the phrase "one last go around with the candy stripes" in the release.
It's unclear how the late-season play of Jackson-Davis will impact his NBA draft stock, but Mike Schmitz of ESPN.com offered a glowing review following his recent performance against Iowa in Indianapolis:
One of the biggest winners of the Big Ten Tourney in terms of draft stock: Trayce Jackson-Davis. Known commodity but to lead Indiana deep carries weight with NBA teams. Showed he's a vertical threat who can beat a switch in the post, pass, and protect the rim some. 31-10-3 today. pic.twitter.com/s5N1Mj0gjr

— Mike Schmitz (@Mike_Schmitz) March 12, 2022
In his most recent big board for The Athletic, Sam Vecenie ranked Jackson-Davis as the 100th best NBA draft prospect.
The decision of Jackson-Davis is just one of several key roster decisions that will be made in the coming weeks.
Seniors Race Thompson and Parker Stewart went through senior day ceremonies earlier this month following a loss to Rutgers, but an IU spokesman said that wasn't confirmation that both players would be leaving Bloomington.
"No decisions will be made by a player or staff regarding the extra year of eligibility a player has until after a season is completed," the spokesperson said in early March. "Do not read anything into whether someone participates (in senior day) or does not."
In addition to Thompson and Stewart, Xavier Johnson, Michael Durr, Rob Phinisee and Miller Kopp have also completed their fourth seasons of college basketball, but do have another year of eligibility remaining.
Indiana has three players signed in its 2022 recruiting class, which means at least three players will have to depart just to open the necessary roster spots for the freshmen. It also seems plausible – if not likely – that Woodson and the coaching staff will be active in the transfer portal again this spring.
Last offseason, Indiana added Durr (South Florida), Johnson (Pittsburgh) and Kopp (Northwestern) from the portal and lost Armaan Franklin (Virginia) and Al Durham Jr. (Providence).
Indiana is on spring break this week with classes set to resume on March 21.
In the immediate aftermath of IU's loss to Saint Mary's, Woodson was already looking ahead to his offseason plans in Bloomington.
"A lot of it is they're going to have to take the off-season — and I'm going to make every player watch every game that was played this year by the Hoosiers," Woodson said. "That's one way you go back and you reflect and you learn. I'll sit down, and I'll have a program in place, along with my trainer, Clif (Marshall), our strength coach, in terms of things I think that they need to work on to get better."
Filed to: Trayce Jackson-Davis