The Minute After: Wyoming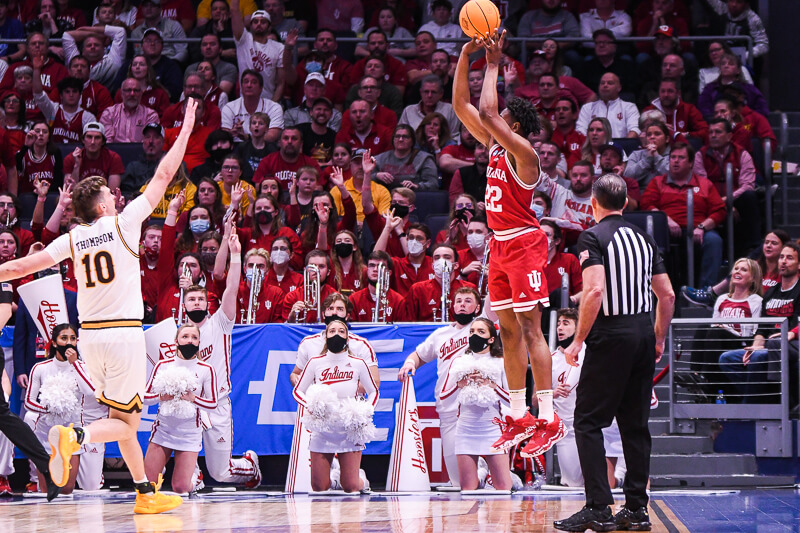 Thoughts on a 66-58 win against the Cowboys:
After a Big Ten tournament featuring high-level play from Indiana across its last two and half games, this one was far more ugly.
It was not Indiana's "A" game. The Hoosiers didn't pick up style points this evening in Dayton. They made just 2-of-13 from deep. Only went 12-of-20 from the line. Xavier Johnson made 3-of-12 from the field. Race Thompson, so consistent and solid all season, was just 2-of-9 (four points) and had four fouls. Miller Kopp and Parker Stewart shot a combined 2-of-8 and didn't make a 3-pointer (0-of-3). Trey Galloway fouled out in 12 minutes of action.
And yet, it's an eight-point victory. KenPom had the Hoosiers by one. Vegas had Indiana as four-point favorites. The win was thanks to Indiana's defense, which held Wyoming to just .87 points per possession.
"I thought our defense was really the key when we were struggling offensively to make shots," Mike Woodson said in the post-game press conference.
That defense was tough on Wyoming stars Hunter Maldonado and Graham Ike in the first half. The duo shot just 5-of-14 over the first 20 minutes as Indiana mostly went 1-on-1 against them in the post. While Ike (7-of-14, 17 points) and Maldonado (8-of-16, 21 points) scored better in the second half, there was one number that looked ugly by game's end: Maldonado's 10 turnovers. Indiana harassed him all game and he was clearly frazzled into a number of his cough-ups. The Cowboys turned it over 19 times for the game. The Hoosiers scored 17 points off those miscues.
Wyoming did a nice job of packing it in on defense and slowing Indiana's ball-screen attack. The Hoosiers didn't make the Cowboys pay from deep, as they connected on just 2-of-13 for the game. That meant Indiana's offense featured a lot of back-to-the-basket work from Trayce Jackson-Davis tonight. In his first NCAA tournament appearance in the cream and crimson, he carried the load in a big way. The junior scored 29 points on 10-of-16 shooting to go along with nine boards and a block.
He worked his advantage against a Mountain West defense that didn't quite have the talent to match up 1-on-1 against him all evening long.
And then there was Jordan Geronimo.
With Indiana struggling to find offense outside of Jackson-Davis, Geronimo, who sat at the Iowa game due an injury, saved the day. His bounce and athleticism was not an easy matchup for the Cowboys. Geronimo had three tip-in dunks and knocked down a 3-pointer on his way to a career-high 15 points.
"I wasn't surprised at all, he's an energy guy," Jackson-Davis said of his teammate's performance. " … Without him, we probably would've lost that game."
Jackson-Davis and Geromino combined for 44 of Indiana's 65 points this evening (67.6 percent).
Indiana now has a pretty rough turnaround. The Hoosiers have to get out to Portland, Oregon for a game less than 48 hours from now on Thursday against St. Mary's. The Gaels are No. 16 on KenPom and are ranked ninth nationally in adjusted defensive efficiency.
It's a tough game ahead. But for now, Hoosier Nation can have a little breathing room to bask in Indiana's first NCAA tournament win since the Tom Crean era.
Filed to: 2022 NCAA tournament, Wyoming Cowboys