At the buzzer: Indiana 66, Wyoming 58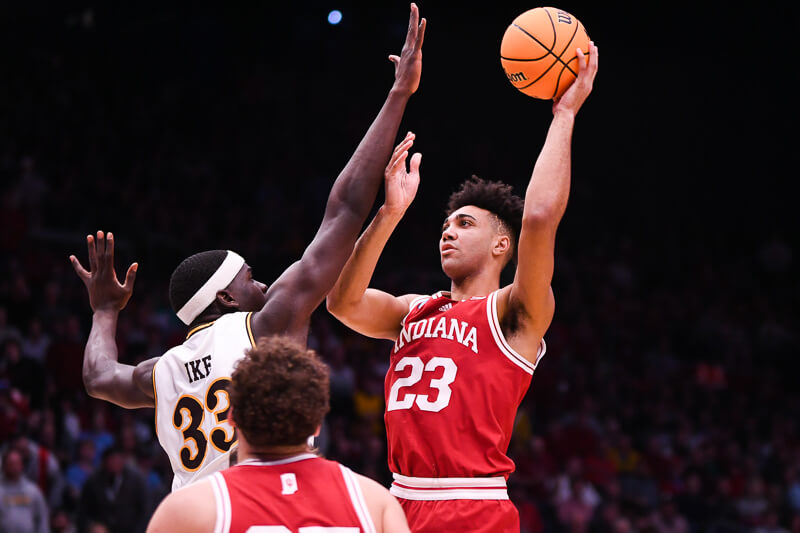 Quick thoughts on a 66-58 win over Wyoming:
How it happened: It was an ugly first half of basketball at the University of Dayton Arena in the First Four on Tuesday night. Indiana shot just 11-of-34 in the first half and Wyoming turned it over 13 times. The Cowboys had foul issues as Hunter Thompson committed three and Graham Ike, the team's leading scorer this season, had two. The Hoosiers used a late 13-4 run to claim a 30-25 halftime lead. Trayce Jackson-Davis was impressive for the Hoosiers, scoring a game-high 14 in the first half and playing stellar defense in the paint. Despite managing just .85 points per possession in the first half, Indiana's five-point lead felt comfortable because of Wyoming's meager .71 points per trip.
By the under 16 media timeout, Indiana's lead was just 38-35 as Wyoming found its footing offensively early on in the second half. Over the first 5:25 of the second half, the Cowboys scored 1.43 points per possession. Jordan Geromino took over the next stretch to give Indiana its largest lead at 45-37 at the under 12 media timeout. Geronimo had seven points in the first nine minutes of the second half. Indiana led 49-40 with 8:53 to play on a Jackson-Davis jumper, but Wyoming answered with buckets from Ike and Hunter Maldonado to make it 49-44 with 7:18 to play. Ike picked up his fourth foul with 6:39 to play, which forced him to the bench.
A bucket from Jackson-Davis gave Indiana an eight-point lead with 4:43 to play, but Maldonado answered to make it 52-46 with 4:29 to go. After a Race Thompson offensive foul, Geronimo fouled Maldonado and the Wyoming point guard split at the line to make it 52-47 with 4:04 to play. Indiana stretched the lead back to seven on a Jackson-Davis dunk with 3:49 to play. Out of the under four timeout, Maldonado committed his 10th turnover and Geronimo reached his career-high with 15 points with 3:11 to give the Hoosiers a nine-point lead. Brendan Wenzel was fouled on a 3-pointer with 2:45 to go and made two to make it 56-49. Jackson-Davis stretched the lead back to nine with a dunk with 2:33 to play. Parker Stewart gave Indiana a 10-point advantage with 1:48 to go with a bucket, but then fouled Maldonado on a made 3-pointer with 1:30 to play. Maldonado made the free throw to make it 60-54. Jackson-Davis gave the Hoosiers an eight-point lead with 1:04 to play and the Cowboys would get no closer than six the rest of the way.
Standout performer: Jackson-Davis finished with 29 points and nine rebounds and was the best player on the floor from the opening tip. Geronimo's career-high 15 points off the bench were also instrumental in IU's first NCAA tournament win since 2016.
Statistic that stands out: Indiana won with its defense, limiting Wyoming to .89 points per possession in the victory.
Final IU individual statistics:

Final tempo-free statistics: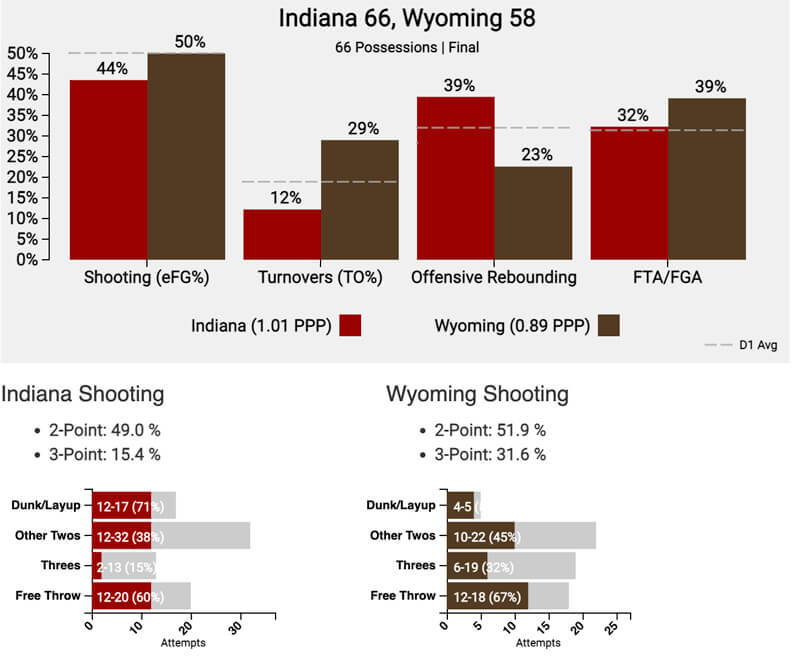 Assembly Call postgame show:
Filed to: 2022 NCAA tournament, Wyoming Cowboys