Indiana's toughness on display in first NCAA tournament win since 2016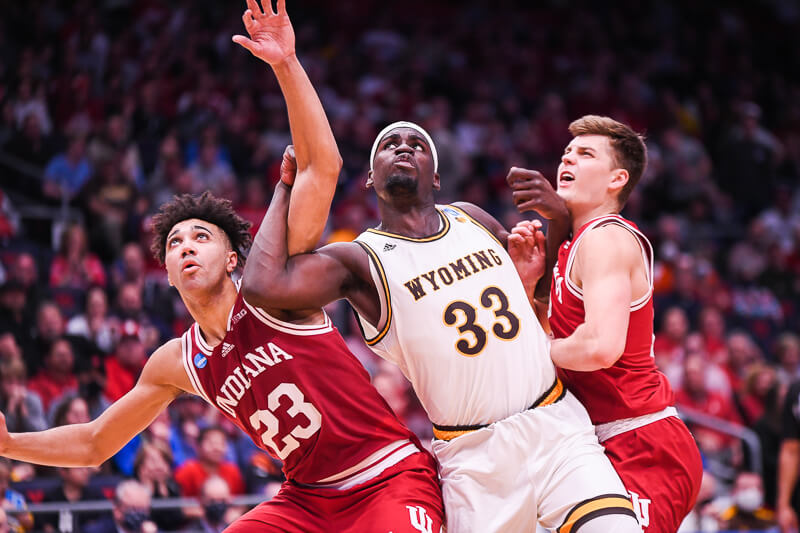 DAYTON, Ohio – Race Thompson dove to the floor for a tipped defensive rebound from Miller Kopp. He wrestled the ball out of Wyoming's grasp for just enough time to call a timeout with six minutes left in the game.
Thompson finished with just four points on 2-of-9 shooting from the field as he battled through foul trouble in Indiana's hard-nosed 66-58 victory over Wyoming. It was far from his best game on the stat sheet — even with seven rebounds. But when shots weren't falling, he found other ways to help send his team to the first round of the NCAA tournament.
That dive for the 50-50 ball likely won't get him the praise of a Jordan Geronimo, who had a career-high 15 points, or a Trayce Jackson-Davis who led all scorers with 29. Instead, Thompson's dive highlights a series of overlooked plays that helped put Indiana on top in a game where neither team led by more than 10 points.
Thompson's rebound kept Wyoming from a second look to cut into Indiana's six-point lead it had scrapped to attain in the first place. Then Trayce Jackson-Davis capitalized on the stolen possession to extend the Hoosiers' lead to eight.
"It was all-around effort by all guys. It might not all be in the scoring column," Jackson-Davis said.
Even the plays that did show up in the scoring column were the result of small plays making a large difference.
Following a Trey Galloway missed layup in transition with 8:40 to go in the first half, Geronimo came out of nowhere for a put-back dunk behind the play. Rather than maintaining a three-point lead with the ball in Wyoming's hands, Indiana's lead jumped to five.
Geronimo did it again in the waning seconds of the first half off of a Tamar Bates missed layup, putting Indiana up seven.
Those plays by Geronimo were just two of Indiana's 15 offensive boards — three behind Indiana's season-high. It resulted in 16 second-chance points to Wyoming's six.
"We knew we were going to have our hands full on the glass," Wyoming head coach Jeff Linder said. "(We've) been a really good defensive rebounding team all year, but give them credit — those 15 extra possessions they got on the glass."
Wyoming played its game with 6-foot-7-inch point guard Hunter Maldonado getting inside the arc and immediately turning to back down whoever was guarding him — which was often Parker Stewart. Though he wasn't always successful, Stewart held his ground and drew a charge with two minutes to go in the first half and Indiana up one.
Jackson-Davis had a tough assignment in defending 6-foot-9 Graham Ike. The Indiana forward started strong, forcing Ike to miss his first five attempts around the rim.
Michael Durr played just four minutes on Ike and it was clear Jackson-Davis passed on what he learned even from the bench. After Durr picked up a foul for putting his hands on Ike, Jackson-Davis shouted from the sideline for Durr to his lower body in slowing down Ike while getting backed down.
"Trayce is a great player, and it was a great matchup, a great battle, just to play against a player like that," Ike said.
The two shared a long embrace in the handshake line following the game, showing the level of respect they had for each other.
It wasn't just Jackson-Davis who shined on defense. Indiana held Wyoming to three above its season-low in points. The Hoosiers forced 19 turnovers and attempted 62 field goals to the Cowboys' 46.
"I thought our defense was really the key when we were struggling offensively to make shots," Woodson said.
A day after Woodson reiterated defense as his team's identity, the Hoosiers displayed that on a national stage toward their first NCAA tournament win in six years.
The scouting has already begun on Saint Mary's as Indiana will look to replicate this defensive performance Thursday in Portland.
Filed to: 2022 NCAA tournament