Five takeaways from Indiana's win against Wyoming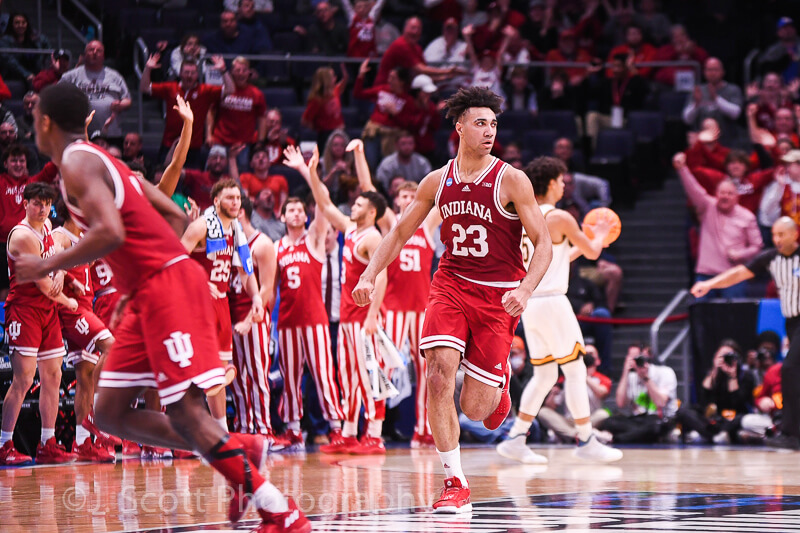 Indiana advanced to the round of 64 of the 2022 NCAA tournament with a 66-58 First Four win against Wyoming on Tuesday night at the University of Dayton Arena.
The Hoosiers will play Saint Mary's on Thursday at 7:20 p.m. ET on TBS. Here are five takeaways from the win against the Cowboys:
Indiana wins with defense
Indiana's defense has been its calling card all season and Tuesday was no different. The Hoosiers held Wyoming to just 58 points and .88 points per possession in their first NCAA tournament win since 2016.
Wyoming's Hunter Maldonado, the most important player for the Cowboys, needed 16 field goal attempts and six trips to the foul line to score a team-high 21 points. He also committed 10 turnovers. And Graham Ike was just 7-of-14 from the field and committed five turnovers on his way to 17 points.
As a team, Wyoming shot just 51.9 percent on 2s and 31.6 percent on 3s.
Through 34 games, Indiana now has the nation's 18th ranked adjusted defensive efficiency, according to KenPom.
"We've been great defensively all year," Mike Woodson said postgame. "I thought early on we couldn't find offense and they couldn't find it. And I told the guys in the huddle, 'hey, it's going to be a grind, one of those ugly games. But we've just got to stay the course.'"
Trayce Jackson-Davis turns in another dominant performance
Indiana junior Trayce Jackson-Davis followed up a terrific Big Ten tournament with another big time effort to open the NCAA tournament.
Jackson-Davis shot 10-of-16 from the field and 9-of-11 from the free throw line on his way to a game-high 29 points. He also had nine rebounds and committed just one foul.
"I've always dreamed about playing in this tournament," Jackson-Davis said postgame. "And finally being able to live out that dream and just performing at the highest level, I'm truly grateful."
Over the last four games, Jackson-Davis is averaging 26.3 points, 8.5 rebounds and two blocked shots per game.
A healthy Jordan Geronimo provides a major lift off the bench
There were questions entering Tuesday's game as to whether Jordan Geronimo would be available following a leg injury in IU's win over Illinois on Friday in the Big Ten tournament.
Not only did Geronimo play, he turned in arguably the best performance of his career.
With Race Thompson struggling, Woodson deployed Geronimo for 19 minutes and he responded with a career-high 15 points. The 6-foot-6 forward was 6-of-7 on 2s and also made a 3-pointer. He added seven rebounds, a blocked shot and an assist for the most well-rounded game of his career.
"Sometimes – I call it play-off basketball, tournament play – you find a guy that steps up for you," Woodson said of Geronimo. "And he was the guy tonight."
Indiana dominates the offensive glass
Entering Tuesday's game, Wyoming ranked 42nd nationally in defensive rebounding percentage. Cowboy opponents were grabbing only 24.2 percent of their missed shots.
Indiana, however, made it look easy going to the offensive boards against Wyoming.
The Hoosiers grabbed 15 of their missed shots for an offensive rebounding percentage of 39.5. Those 15 offensive rebounds turned into 16 points for Indiana. Wyoming only had six second chance points.
"We knew we were going to have our hands full on the glass," Wyoming coach Jeff Linder said. "Been a really good defensive rebounding team all year, but give them credit. Those 15 extra possessions they got on the glass."
The Hoosiers now have a quick turnaround in Portland
Indiana's reward for its win on Tuesday in Dayton is a 7:20 p.m. ET tip in the round of 64 on Thursday against Saint Mary's at the Moda Center.
According to Flight Aware, the Hoosiers didn't depart Dayton until 4:09 a.m. ET and arrived in Portland at 8:50 a.m. ET.
Thursday's game against Saint Mary's will be Indiana's fifth in eight days.
The Gaels, who earned a No. 5 seed, are 25-7 overall and are ranked No. 17 in KenPom. The Saint Mary's defense is ranked ninth nationally.
"We've got to break this tape down and learn from it and our mistakes," Woodson said. "And move on to Saint Mary's. We'll get in sometime tomorrow. And we'll spend the whole day getting ready, try to find a gym where we can do some work and get ready to play on Thursday."
Filed to: 2022 NCAA tournament, Jordan Geronimo, Trayce Jackson-Davis, Wyoming Cowboys