6-Banner Sunday: IU falls to Purdue, finishes regular season 18-12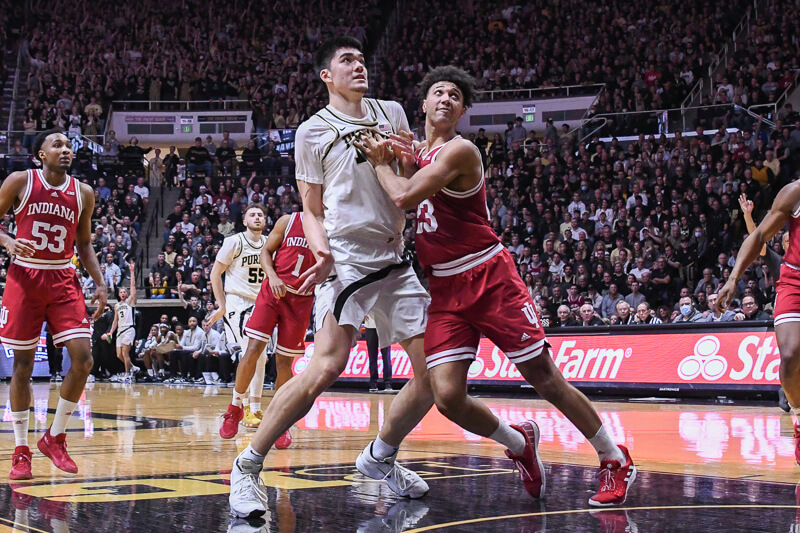 6-Banner Sunday is Inside the Hall's weekly newsletter in partnership with The Assembly Call. More than 9,000 Indiana fans receive the newsletter each week. In addition to appearing each week on the site, you can also opt to receive 6-Banner Sunday by email. A form to subscribe via email is available at the bottom of this week's 6-Banner Sunday.
Welcome to another edition of 6-Banner Sunday, a joint production between The Assembly Call and Inside the Hall where we highlight the five most essential IU basketball stories of the past week, plus take a look at how the other IU sports programs are doing.
The Hoosiers won their game against Minnesota last Sunday to get firmly back into NCAA tournament contention. However, as has happened several times this season when the Hoosiers needed a win, they were unable to rise to the occasion and put their chances at March Madness back in peril. This was the case when IU fell on Wednesday to Rutgers at Assembly Hall. The team had a chance to rebound with a long-shot victory against Purdue and nearly pulled it off.
On the Women's side, the Hoosiers have hit their stride again and will be playing for their first Big Ten tournament championship in 20 years today after three straight wins in the event. We will conclude 6-Banner as usual looking at how other IU sports are doing.
In a couple of brief items, IU Coach Mike Woodson had his weekly Radio Show and Alex Bozich had his final Power Rankings for Inside The Hall.
• Hoosiers top Gophers
• IU falls to Rutgers in must-win game to put NCAA tournament chances in peril
• Hoosiers battle hard but fall to Purdue
• Podcast on the Brink and AC postgame shows
• IU women advance to Big Ten championship
• Hoosier roundup
Banner #1 – Hoosiers top Gophers
The week started well for IU as they defeated Minnesota in a must-win game. Despite having a 27 point lead in the second half, the Hoosiers nearly gave it all away but still held on for an 84-79 win. While Trey Galloway and Khristian Lander remain out with injury, Rob Phinisee returned to the line-up for this game and contributed.
After the game, Woodson spoke, Ryan Corazza had his Minute After and Film Session, Grace Ybarra wrote Five Takeaways, and Tyler Tachman had a column on Race Thompson's toughness.
Banner #2 – IU falls to Rutgers in must-win game to put NCAA tournament chances in peril
In a game IU had to have to realistically make the NCAA tournament without pulling a major upset, the Hoosiers fell apart down the stretch as they have so many times this season and lost 66-63 on senior night. While IU said which players gave senior speeches had no impact on whether they will return next season, Race Thompson and Parker Stewart decided to go through the ceremonies.
Afterward, Woodson spoke, as did Rutgers coach Steve Pikiell, Inside The Hall had a photo gallery, Corazza had his Minute After and Film Session, Bozich penned Five Takeaways, and Tachman had a column about putting senior night in perspective.
Banner #3 – Hoosiers battle hard but fall to Purdue
If there is one thing Mike Woodson deserves credit for most, it is getting the Hoosiers up to play Purdue and treating the rivalry game like it matters. During the Archie Miller era IU looked dispirited and never brought enough fight to games against the Boilers. This year against the best Purdue team in a long time, IU played its two best games of the season.
Following the three-point win in Bloomington in January, IU was not phased by the Boilermakers at all today and nearly pulled off a shocking victory before falling 69-67. Despite almost winning the game, the Hoosiers would seem to be pretty far outside the NCAA tournament at 18-12 and need at least two wins in the Big Ten tournament to play their way back in. Andy Bottoms' Bracketology had the Hoosiers as one of the last four teams in as of last Tuesday, but this was before the two losses later in the week.
After the game, Woodson spoke, as did Purdue coach Matt Painter, Inside The Hall had their Photo Gallery, Corazza wrote his Minute After, Bozich did Five Takeaways, and Ybarra had a column on the Hoosiers effort coming up just short.
Banner #4 – Podcast on the Brink and AC postgame shows
Podcast On The Brink this week was done after the victory over Minnesota as Bozich spoke with Tony Adragna following the win. Assembly Call Radio took the week off, but there were postgame shows following the games against the Gophers, Scarlet Knights, and Boilers. Also, the latest episode of the Inside Scoop with Tamar Bates was released this week.
Banner #5 – IU women advance to Big Ten championship
Whether it be the men's or women's team, the conference tournament has been a house of horrors for both squads.
However, with a finally healthy Mackenzie Holmes, the Hoosiers have returned to their early season form and won three games to advance to their second-ever Big Ten Championship and first in 20 years following victories over Rutgers, Maryland, and Ohio State. IU was in control and led for almost the entire game each day. As a result, they will be a top-four seed in the NCAA tournament allowing them to host the opening two games in Assembly Hall for the first time before the competition moves to neutral sites.
I have been on-site all weekend with coverage from Gainbridge Fieldhouse in Indianapolis and wrote articles about the games each day for subscribers of the Assembly Call Community. Also, the Doing The Work Postgame Shows commenced following each victory.
IU will go for their second-ever conference tournament championship at 4 p.m. ET today against Iowa on ESPN2. The task will not be an easy one as the Hawkeyes have the second-highest scoring offense in the country. They also feature the best player in the nation in Caitlyn Clark who averages nearly 30 points per game and can make 3-pointers from anywhere.
Banner #6 – Hoosier roundup
• Women's Basketball in addition to their success on the court had several players named to all-conference teams.
• Baseball won their home opener over Miami (Ohio) and split their first two games with Missouri State. The team also announced they will have four games on National TV later in the year, and that Beer will now be available at all home games for both Baseball and Softball.
• Football is about to begin spring practice.
• Softball went 4-0 this weekend with victories over Valparaiso and Western Illinois.
• Track and Field announced who has earned a spot at the national championships.
• Men's Tennis defeated Illinois State.
• Women's Tennis split a pair of matches this weekend.
• Wrestling is competing at the Big Ten Championships.
• Water Polo split a pair of matches Saturday as well.
Thanks for your continued support for The Assembly Call and Inside the Hall. We'll be back next weekend with a new roundup.
Now go enjoy yourself a 6-banner Sunday.
Aaron (Ari) Shifron
Assembly Call Contributor
Filed to: