Five takeaways from Indiana's win at Minnesota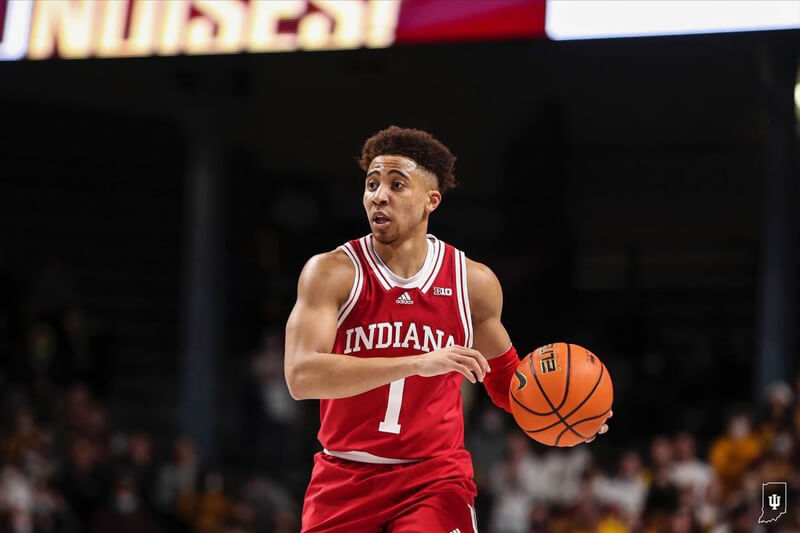 Indiana earned a much-needed win on the road Sunday night as the Hoosiers beat Minnesota 84-79 to improve to 18-10 overall and 9-9 in Big Ten play.
It was Indiana's second straight win following a five-game losing streak. The Hoosiers led by as many as 27 points, but let up on the gas as the Gophers cut the lead to three in the final 10 seconds.
Here are five takeaways from the win:
Closing out remains a concern
The Hoosiers led by 27 points on a Rob Phinisee 3-pointer with 8:21 left to play. Then they had a collapse reminiscent of their 22-point meltdown at the Kohl Center in December.
Minnesota closed out the final eight minutes on a 36-14 run — including five 3-pointers in the final three minutes.
The difference against Minnesota, however, was Indiana had five points left to spare at the end to give it the edge for a much-needed win.
"I think we got comfortable and they made plays. They made shots," Mike Woodson told Don Fischer after the game.
Finishing games has been a common point of concern for the Hoosiers, but Woodson said he was happy with how his team closed out to hang on for the win.
Rob Phinisee makes his return
After a month on the sidelines with plantar fasciitis, Rob Phinisee made his return against Minnesota.
He hadn't practiced ahead of the game, so Mike Woodson said he didn't want to play him any more than 10 minutes. In his nine minutes, he contributed eight points on 50 percent shooting from the field and 3-point range.
"It was nice having Rob back," Woodson said. "His 10 minutes were positive minutes to help us win."
It didn't matter if his time was limited or if he hadn't practiced, he added another dimension of scoring the bench hasn't been able to provide in his absence. His return also helped Xavier Johnson get some more rest as Phinisee's absence coupled with Khristian Lander's injury has put even more pressure on the Pitt transfer.
"Now that he's back, I can be more aggressive on defense," Johnson said postgame.
Xavier Johnson continues hot streak
Xavier Johnson scored 40 combined points in his previous two games and Sunday night against Minnesota was no exception.
It wasn't another perfect shooting night, but he had 24 points on 44 percent shooting and drained four 3-pointers.
Johnson was also a facilitator in the win as he finished the game with eight assists to go along with six rebounds.
"He's getting the ball where it's got to go," Woodson said. "He was solid again and I'm gonna need that the rest of the way."
Miller Kopp hits 1,000 career points
Kopp entered the game with 992 points scored throughout his career at both Northwestern and Indiana.
The forward hadn't scored in double figures since his 28-point performance at Syracuse in November.
But Kopp was more aggressive on Sunday and finished with 10 points to make it over the 1,000-point plateau for his career.
Over Indiana's last three games, Kopp is averaging 8.3 points.
"I think we're just being more aggressive," Kopp said. "At this point in the season, we kind of know where our spots are and we're more comfortable in certain situations."
Against Minnesota, he shot 50 percent from the field and nailed two free throws in the last minute as the Hoosiers held on for a five-point win.
Back on a winning streak
It wasn't pretty by the end, but Sunday's win was Indiana's second straight after dropping five in a row. Kopp said getting back in the win column does a lot for the team.
"But at the same time, we're still as confident as we've always been," Kopp said. "We still know we've got a lot more to take on."
Anthony Leal said Friday that he and his teammates don't pay too much attention to bracketology, but Woodson has clearly outlined the road map for them to make it to the NCAA tournament. That map surely included a road win over Minnesota.
Johnson said they put themselves in this position after losing five in a row, so they knew what had to be done tonight. While it was closer than any of them would've liked, it was still a win and enough to keep them in the tournament picture.
"Tonight we closed, but it shouldn't have been like that though," Johnson said.
Filed to: Miller Kopp, Robert Phinisee, Xavier Johnson