The Minute After: Minnesota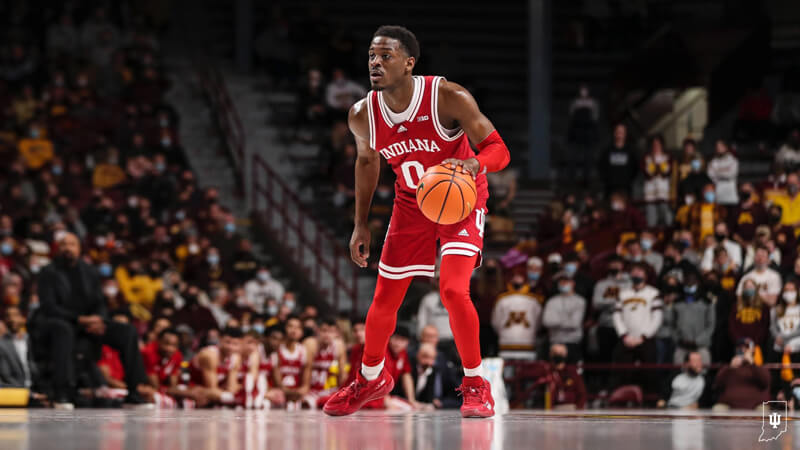 Thoughts on an 84-79 win against the Golden Gophers:
Yes, Indiana's finish in this one wasn't good. The Hoosiers let a 27-point lead slide in a big way, as the Gloden Gophers roared back and made things way too interesting down the stretch. Minnesota closed the game on a 36-14 run over the final 8:21 of the contest, even getting within three points with five seconds to go.
The optics were not great for an Indiana team that looked set on cruising to an easy victory.
And yet, it's a five-point conference road win. You'll take that 10 out of 10 times. Indiana just needs wins, however they come, at this juncture in the season. The Hoosiers did that tonight.
Minnesota closed the gap in this one thanks to some great 3-point shooting. Payton Willis, who hit 7-of-14 from deep for a game-high 28 points, hit some seriously difficult ones as the Golden Gophers mounted their comeback. Minnesota is a top 40 3-point shooting team in the country and it made 14-of-36 (38.9 percent) this evening.
But Indiana had a strong shooting night as well. The Hoosiers made 10-of-21 (47.6 percent), which ties its most makes in a conference game all season. That 47.6 percent mark is Indiana's fourth-best of the season and second-best in conference play. Xavier Johnson continues to shoot it well. Minnesota went under screens and gave him the 3-pointer tonight. He made the Golden Gophers pay, as he hit 4-of-6 from distance. Johnson made 7-of-16 overall tonight for a team-high 24 points. That's back-to-back 24-point games for IU's point guard.
Johnson also dished out eight assists against just one turnover. He's been absolutely sensational for Indiana over the last 80 minutes of action.
Miller Kopp hit 2-of-4 from deep and ended the game with 10 points, his first double-digit scoring effort since the Syracuse game on Nov. 30. In his return to game action for the first time since his plantar fasciitis injury, Rob Phinisee hit 2-of-4 from deep, though one of his second-half misses early in the shot clock off of one pass had Mike Woodson barking at him during the next stoppage of play. Rounding out the 3-point makes for Indiana were Tamar Bates (1-of-2) and Parker Stewart (1-of-3).
Indiana also had its way down low, as it made 15-of-16 on dunks and layups. Trayce Jackson-Davis (14 points) and Race Thompson (eight points) weren't quite high-volume scorers in this one, but they combined to shoot 9-of-13 from the field.
Indiana also hit 14-of-20 (70 percent) from the free throw line, which helped them hold on at the end.
The Hoosiers had a number of great defensive possessions in this one, but their late collapse saw the Golden Gophers score 1.16 points per possession. In many games this season, Indiana giving up that kind of number on defense would mean a loss.
But Indiana scored 1.234 points per possession tonight, its second-best offensive mark of the season. Only against Merrimack (1.237) were the Hoosiers more efficient on offense.
The Hoosiers' offense has sprung to life in the last two contents, which has been key to each victory. If Indiana can bring it again against Rutgers on Wednesday night, a third straight win will be in play — as will a trip to the NCAA tournament.
(Photo credit: IU Athletics)
Filed to: Minnesota Golden Gophers