Indiana's effort isn't enough in loss in tough environment at Purdue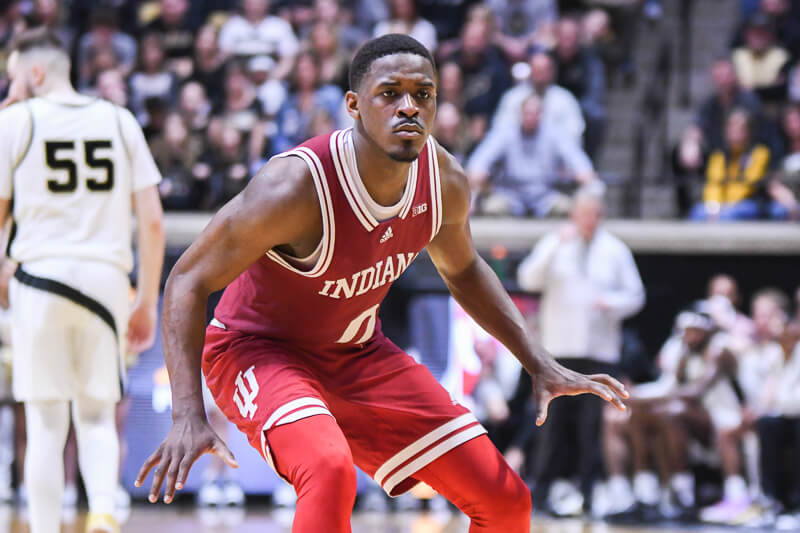 WEST LAFAYTTE, Indiana – Indiana came into Mackey Arena on Saturday with something it hadn't had in a while — a win over Purdue. The next goal was to find its first win in West Lafayette since Jan. 30, 2013.
The odds were stacked against the Hoosiers, who lost six of their previous eight games coming into their matchup against No. 8 Purdue in enemy territory.
The home court advantage was real for Purdue in Indiana's regular season finale — from the ruckus crowd to signs in the student section chirping the Hoosiers. One sign in particular served to remind Indiana of who is winning the rivalry series:
"One rain doesn't end a drought."
One win against Purdue suddenly looked like it could turn into two, though. Indiana held the lead for five minutes down the stretch, but couldn't hold on — falling 69-67.
"It's not easy," Miller Kopp said. "You want to win every game. You come into every game and want to win it so bad."
While the Hoosiers' performance wasn't without flaws, it wasn't reminiscent of the team that Mike Woodson has failed to get over the hump.
The team competed down to the very last possession — even when the fans thought the game was over — in hopes of snapping a six-game losing streak at Mackey Arena. Indiana played with an energy that showed the Hoosiers were fighting to put themselves back on the right side of the NCAA tournament bubble.
Indiana found answers for double-digit Purdue runs. And it didn't do it in an easy place.
For the first time all season, the Hoosiers went 100 percent from the free throw line. Indiana made all 10 of its attempts in front of a rowdy student section yelling and flailing their bodies to get them to miss. But they didn't.
"NIT" chants rained down on Parker Stewart when he was at the line to shoot three. Unphased, he knocked down all three attempts.
Miller Kopp hit 3-pointers in transition in a way the team hasn't seen all season — relaxed and in rhythm. He sank four attempts on 75 percent shooting from distance.
And Xavier Johnson kept up his hot streak. He played with a confidence that helped him remain calm. He found the right shots and when those weren't there, he found his teammates. He posted a double-double on 18 points and 12 assists.
"Xavier Johnson is very shifty. He's good. When he takes good shots, he really puts you in a bind," Matt Painter said after the game.
It wasn't just on offense either. Indiana held Purdue to its lowest field goal percentage all season on its senior day. Jaden Ivey made just two shots on 11 attempts for a substandard 10-point game.
"We gave ourselves an opportunity to win a game in a hostile situation," Woodson said. "This is a tough building to win in and I felt we were very, very competitive."
Despite doing much right, the Hoosiers got burned on the defensive glass. They allowed 14 offensive rebounds, to which the Boilermakers turned into 15 second-chance points.
The foul calls were skewed on the Indiana side in the second half. The Hoosiers had 12 compared to the Boilermakers' seven — and four of those came in the last 30 seconds since they had so many to give.
But Kopp said the referees didn't matter at the end of the day.
"You can't blame anything on the refs at all, they don't come in and get offensive rebounds. We had to box out," Kopp said.
At the end of the 40 minutes, it still wasn't enough. Despite it being Indiana's closest loss in eight years at Mackey, it still doesn't show up any different on their record. The drought continues.
"Our record doesn't show our identity as a team. We know that we're a good team and we're going to bring it in the postseason," Johnson said.
Filed to: Purdue Boilermakers