Big Ten Power Rankings: February 28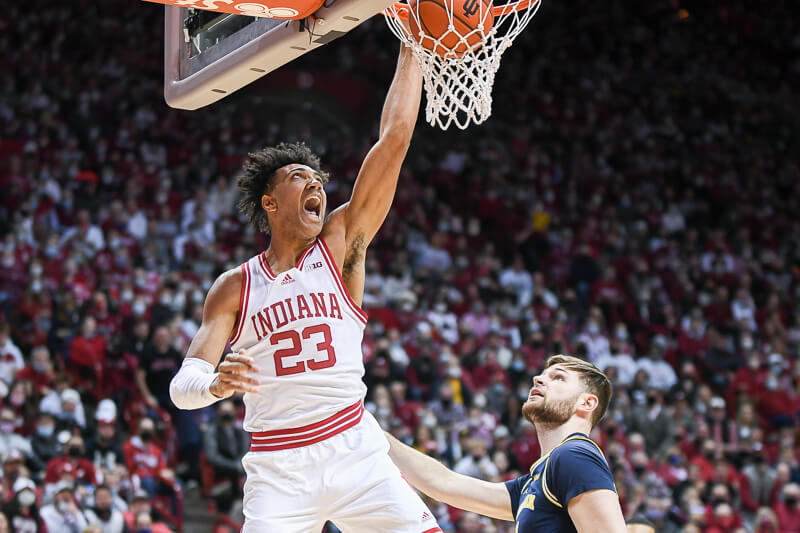 The final week of the regular season is here and Wisconsin can win the regular season title outright with a pair of wins this week.
There's still plenty to settle in terms of Big Ten tournament seeding and Purdue and Illinois still have a shot to grab a share of the league title.
Here are our final Big Ten power rankings of the 2021-22 season:
14. Nebraska (2-16, .978 PPP, 1.135 PPP allowed)
Athletic director Trev Alberts announced this week that Fred Hoiberg would return for a fourth season and the Cornhuskers then went on the road and throttled Penn State, 93-70. Nebraska has a chance to play spoiler this weekend when it travels to Wisconsin on Sunday for its regular season final. At minimum, the Badgers will be playing for a share of the Big Ten regular season title in that game.
13. Minnesota (4-14, 1.011 PPP, 1.122 PPP allowed)
The Golden Gophers lost at home twice this week and finished the season 3-7 in conference home games. On Wednesday, Minnesota fell 68-67 to Wisconsin and it then lost 84-79 to Indiana on Sunday. Minnesota trailed Indiana by 27 in the second half, but rallied to cut the lead to just three in the final 10 seconds.
12. Northwestern (6-12, 1.006 PPP, 1.038 PPP allowed)
The Wildcats have dropped four of their last five games after a three-game winning streak to start February. Northwestern should be able to get to seven Big Ten wins with a home win over Minnesota on Sunday. That would be just a one-game improvement over last season's six-win effort. After showing promise early in his tenure in Evanston, Chris Collins has produced mediocre results over his nine seasons at the helm.
11. Penn State (7-11, 1.002 PPP, 1.047 PPP allowed)
The Nittany Lions finished with six home wins in Big Ten play, but suffered an embarrassing 93-70 beatdown from Nebraska on Sunday at the Bryce Jordan Center. Micah Shrewsberry has done a solid job in his first season in State College, but it's clear that a significant talent upgrade is needed for Penn State to reach the middle of the pack in the Big Ten.
10. Maryland (6-12, 1.048 PPP, 1.090 PPP allowed)
The Terps are the most talented of the league's bottom feeders and showed what they're capable of on Sunday in College Park. Fatts Russell scored 27 points and Eric Ayala added 23 as Maryland beat Ohio State 75-60. Maryland has now won three of it last four games and has the pieces to be dangerous for a game or two in Indianapolis.
9. Indiana (9-9, 1.008 PPP, 1.003 PPP allowed)
Indiana missed a golden opportunity for a Quad 1 win when it couldn't close out Ohio State on Monday in Columbus. The Hoosiers rebounded nicely with a home win over Maryland on Thursday and at road win at Minnesota on Sunday. Indiana's NCAA tourmament chances could receive a major boost with a win over Rutgers on Wednesday in Bloomington. The Hoosiers lost to Rutgers three times last season.
8. Rutgers (10-8, 1.024 PPP, 1.020 PPP allowed)
The Scarlet Knights looked to be on their way to another NCAA tournament bid after beating Illinois on Feb. 16, but have now dropped three straight games. Rutgers has a pivotal road game at Indiana on Wednesday before hosting Penn State on Sunday to close out the regular season. If the Scarlet Knights don't win both games, they'll likely have work to do in the Big Ten tournament to secure a spot in March Madness.
7. Michigan (9-8, 1.095 PPP, 1.068 PPP allowed)
Michigan split a pair of games this week with a home win over Rutgers and home loss to Illinois. The Wolverines have great computer numbers, but likely need to win two games this week to feel good about their NCAA tournament chances. Michigan hosts Michigan State and Iowa this week before traveling to Ohio State to conclude the regular season. That's a difficult road and the Wolverines will have to do it without Juwan Howard, who is suspended until the Big Ten tournament.
6. Michigan State (10-7, 1.047 PPP, 1.025 PPP allowed)
The Spartans snapped a three-game losing streak with a massive 68-65 win over Purdue on Saturday at the Breslin Center. Michigan State has a brutal final week to finish the regular season with road games at Michigan and Ohio State before hosting Maryland on Sunday.
5. Ohio State (11-6, 1.104 PPP, 1.043 PPP allowed)
It was a roller coaster week for Ohio State. The Buckeyes survived a scare at home on Monday from Indiana and then beat Illinois 86-83 on Thursday at the State Farm Center. But Ohio State couldn't sustain the momentum from the win over the Fighting Illini and lost by 15 to Maryland on Sunday at the Xfinity Center. The Buckeyes are another team with three games this week due to cancelations earlier this season. Fortunately for Chris Holtmann, all three games are in Columbus. Ohio State will host Nebraska, Michigan State and Michigan this week.
4. Iowa (10-7, 1.127 PPP, 1.038 PPP allowed)
Iowa has the best efficiency margin in the Big Ten thanks to its strong offense and a defense that ranks seventh in the Big Ten. The Hawkeyes have won six of their last seven games and will host Northwestern tonight before traveling to Michigan and Illinois later this week.
3. Illinois (13-5, 1.090 PPP, 1.011 PPP allowed)
Illinois looked to be in the driver's seat for the Big Ten title a few weeks ago, but a home loss to Ohio State this week complicated things. The Fighting Illini need a Wisconsin loss this week to have a chance at a share of the title. Illinois hosts Penn State and Iowa this week.
2. Purdue (13-5, 1.138 PPP, 1.054 PPP allowed)
The Boilermakers can win a share of the Big Ten regular season title with a win at Wisconsin on Tuesday and a win on Saturday over rival Indiana. These are both revenge games for the Boilermakers. Purdue lost to Wisconsin 74-69 on Jan. 3 at the Kohl Center and lost to Indiana 68-65 on Jan. 20 in Bloomington. Purdue hasn't lost back-to-back games all season and is coming off of a 68-65 loss at Michigan State on Saturday.
1. Wisconsin (14-4, 1.036 PPP, 1.008 PPP allowed)
The Badgers have won four straight and can win the Big Ten title outright with wins this week over Purdue and Nebraska at the Kohl Center. If that happens, Johnny Davis should be the easy choice for Big Ten player of the year. Wisconsin was picked to finish 10th in the conference in the preseason.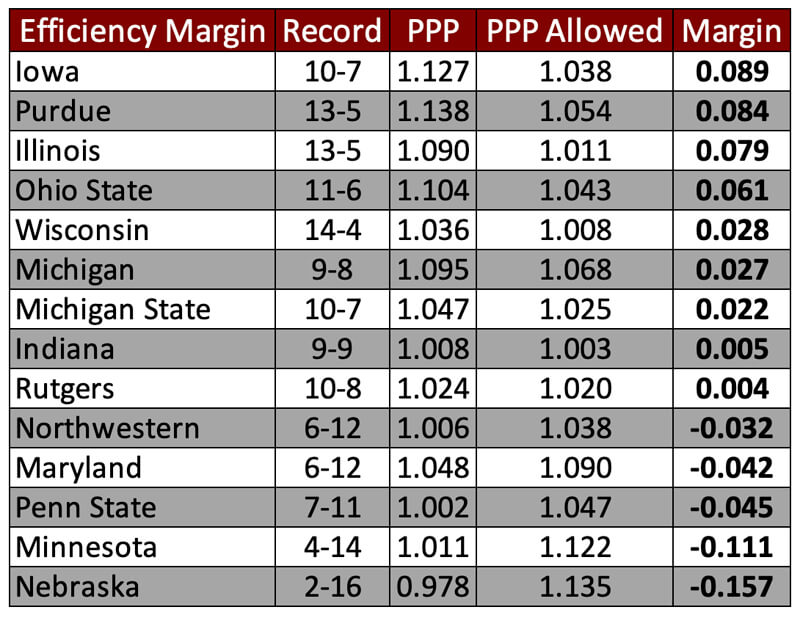 Filed to: Big Ten Power Rankings