Five takeaways from Indiana's loss to Rutgers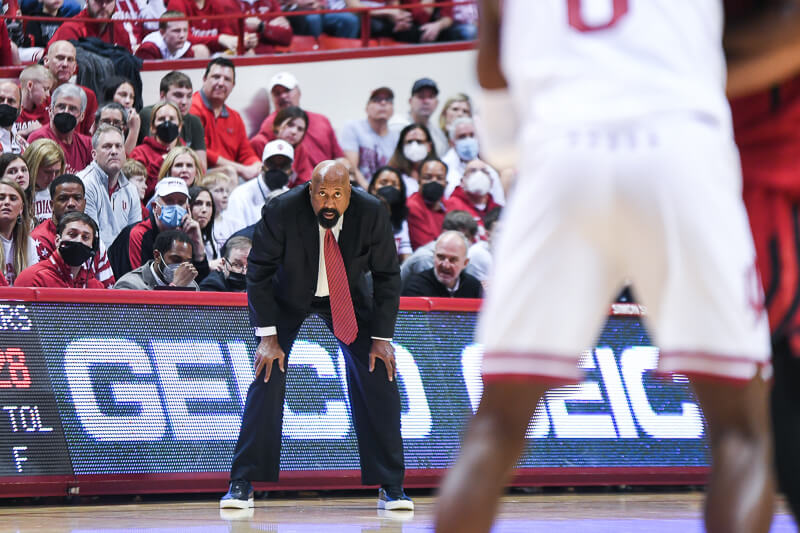 Indiana dropped its fourth home game this season on Wednesday, falling 66-63 to Rutgers. The loss dropped the Hoosiers to 18-11 overall and 9-10 in conference play with just one regular season game remaining.
Here are five takeaways from the loss to the Scarlet Knights:
The loss follows a familiar script
Indiana has been in nearly every game it has played this season, but the Hoosiers have often been able to close games out.
Mike Woodson has frequently talked about getting his team "over the hump" and "teaching them how to win," but that hasn't materialized with any regularity.
Wednesday's loss was the latest example of Indiana's failure to execute in the second half of a game. After a dominant first half from Trayce Jackson-Davis, Rutgers went zone for much of the second half to limit his opportunities. It worked. Jackson-Davis attempted just three shots in 15 second half minutes.
"He was beating the double-teams early, and then they just basically sagged and forced us to make shots," Mike Woodson said postgame. "We had a lot of good looks tonight, guys. Miller (Kopp) had some good looks. Parker (Stewart) had a bunch of good looks. We just didn't knock them down."
Indiana's inability to make 3-pointers consistently this season is a prime reason it is ranked outside of the top 100 in KenPom's offensive efficiency ratings. The Hoosiers knocked in just six of their 21 attempts from distance in Wednesday's loss. Through 19 Big Ten games, Indiana is shooting just 32.4 percent on 3s, which ranks 13th in the league.
Second half turnovers prove costly
After committing just three first half turnovers that didn't turn into a point for Rutgers, ball security was an issue in the second half for Indiana.
The Hoosiers turned it over six times in the second half, which led to 10 points for the Scarlet Knights. The tone was set early as Johnson made a bad pass on Indiana's first possession of the second half that led to a foul on Jackson-Davis.
When Rutgers took the lead at 38-37 with 15:32 to play, the Aundre Hyatt layup came after a turnover by Jackson-Davis.
The second-half mishaps came from a variety of positions as Johnson had two turnovers, Jackson-Davis had two and Race Thompson and Parker Stewart each had one.
Indiana had no answer defensively for Ron Harper Jr.
Ron Harper Jr. has earned the reputation of being one of the toughest covers in the Big Ten.
At 6-foot-6 and 245 pounds, Harper Jr. can shoot it from deep, can go off the dribble and can finish at the rim against smaller opponents.
He did a little bit of everything against the Hoosiers at Assembly Hall.
Harper Jr. finished with a team-high 19 points on 7-of-12 shooting from the field and added six rebounds and four assists in 38 minutes. Harper Jr. was 2-of-4 on 2s and 5-of-8 on 3s.
After Indiana tied the game at 63 on a Stewart 3-pointer, Harper Jr. hit the biggest shot of the night – a 3-pointer from the left wing in the closing seconds – to give Rutgers a much-needed win.
"I thought Race played really good defense," Jackson-Davis said of the last possession. "I almost think he tipped the ball honestly. He was right there. Then Ron hit a tough shot. There's only so much you can do."
Geronimo makes the case for more minutes with strong first half
Jordan Geronimo's minutes have been inconsistent for much of the season, but he's made a case in recent weeks that he's capable of more.
Geronimo was huge in the first half on Wednesday as he scored four points on 2-of-3 shooting in seven minutes. But in the second half, the second-year forward logged just two minutes, scoring two points and grabbing an offensive rebound.
When asked postgame whether there was a counter available on the roster to the missed 3-point opportunities by Kopp and Stewart, Woodson said he wanted to ride his upperclassmen down the stretch.
"I went with my senior guys tonight in a critical game," Woodson explained. "And we fell a little short."
It is, however, worth examining if Geronimo is worthy of an increased role the rest of the season.
Through 19 Big Ten games, he's shooting 61.5 percent on 2s in Big Ten play. He's proven himself capable of knocking in the occasional 3-pointer and has a solid midrange game that could have been beneficial in the middle of the zone against Rutgers.
Indiana now has major work to do to make the NCAA tournament
The baseline expectation for Indiana entering Woodson's first season in Bloomington was reaching the NCAA tournament.
The pieces on the roster, while not perfect, were in place to do just that.
But after dropping four of its last six games at home this season, the Hoosiers will now go to the Big Ten tournament next week with major work to do.
Assuming Indiana can't win Saturday at Purdue, it will likely need to win at least two games in Indianapolis to feel optimistic about its chances to end its NCAA tournament drought. At 13-23 all-time in the event, that appears to be a tall task for Indiana.
Filed to: Rutgers Scarlet Knights