News and notes from Mike Woodson's radio show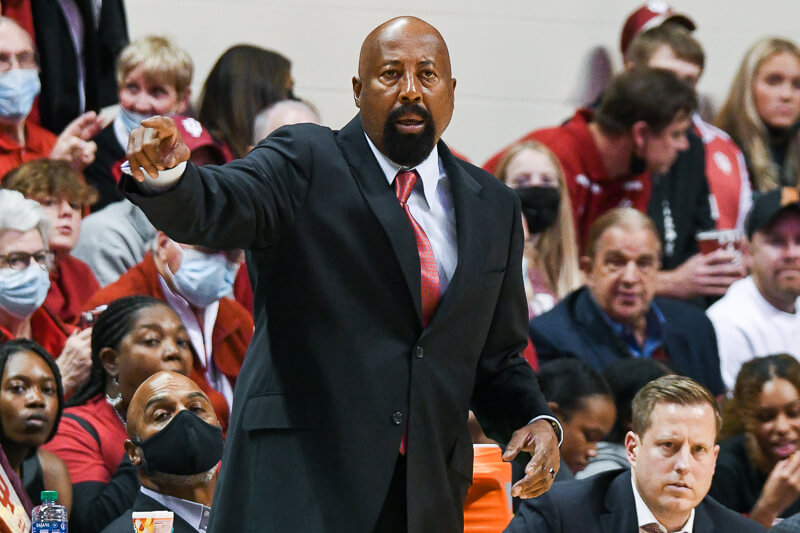 "Inside Indiana Basketball with Mike Woodson" returned Monday night as Woodson spoke with play-by-play announcer Don Fischer.
Woodson discussed Indiana's wins over Maryland and Minnesota and previewed the upcoming matchup with Rutgers.
• On the two wins, Woodson said: "They were great wins. I mean it keeps us… back in the hunt, you know, in terms of trying to get in the tournament." Woodson said "we control our own destiny… our guys have stepped up the last two games."
• On Indiana's five-game losing streak Woodson said: "Even in that five-game stretch, we played some pretty good basketball and a play or two here or there, you know, we probably win three out of the five games. But we didn't get it done and our backs were somewhat against the wall in terms of winning."
• Woodson on Xavier Johnson: "He's had his ups and downs, especially early on, and then I thought he kind of settled in about a month and a half ago, he was playing really good. And then he hit the wall again and now he's back playing really well… We're gonna need that the rest of the way."
• On Indiana's short-handed at the point guard position, Woodson said: "We've had to mix and match, you know, but we're not the only team, you know, that's out there in college basketball that's had injuries… So my thing has always been next guy up."
• Woodson said the win against Maryland was "pivotal because "you lose that game, then you have no shot." Woodson praised Xavier Johnson for his performance. "I think it makes guys around him play a lot better too when he's doing the things that he's doing," Woodson said.
• Woodson said the last two days prior to the Minnesota game, Rob Phinisee got shots up and did a little bit of running, but didn't practice with any contact. "I thought he played well," Woodson said.
• Woodson on Indiana's offensive hot streaks against Minnesota: "I thought last night when we made the run and stretched the lead to 27, man, the ball was just moving around and everybody was touching it and cutting and making plays off of one another."
• On Indiana letting Minnesota back in the game, Woodson said: "They were able to, you know, capitalize on our missed free throws, throwing the ball away.. those things start to add up. The 3-point shot changes the game." Woodson said Minnesota guard Payton Willis was "phenomenal."
• On Minnesota containing Trayce Jackson-Davis and Race Thompson, Woodson said: "We stepped up and we made some shots and X was just great, I thought, not only making shots but getting in the paint and making plays for his teammate."
• Woodson on Jordan Geronimo's putback against Maryland: "That was very bizarre."
• On the roster moving forward, Woodson said "it goes kind of both ways" with players deciding what they want to do and also the coaching staff getting together and figuring out what they want to do.
• Remembering back on his own senior night, Woodson said "It was a sad moment." He said his family and his mom was there. "To say, you know, bye to all the fans that have been in your corner all those years, man, it was just sad… But I've always come back, you know, and now I'm back here in a big way."
• Woodson on helping his players on and off the court: "It's my job, like I said, as the coach, to try to help them as much as I can. If they need a job, you know, I got to help them if I can and if I can help them continue their career in basketball, I'll do that as well."
• Evaluating Rutgers, Woodson said "They just got a nice mixture of players that play hard… If we don't play hard, it won't be a game."
• On Rutgers guard Paul Mulcahy, Woodson said "He's a big guy, big point guard. And, I mean, he's one of those point guards that can go get his anytime he wants and then he gets the ball pretty much where it needs to go." On Ron Harper Jr., Woodson said he's "kind of had his way throughout the Big Ten all season and when you slow him down then you really… put yourself in a nice position to win."
Filed to: Mike Woodson