Senior night and the importance of remembering what's important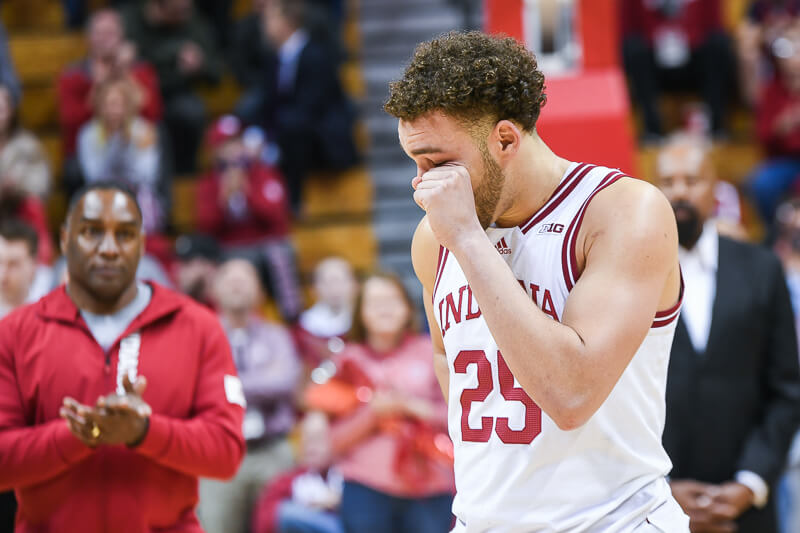 In the aftermath of a loss like Wednesday's, it could be easy to lose sight of some things.
It was another collapse down the stretch of a game. Same old story. Indiana, despite leading by seven at halftime and being aided by a raucous crowd, let the game slip away late. After a Parker Stewart 3-pointer to tie the game with ten seconds remaining, Rutgers' Ron Harper Jr. dribbled the ball up the court and sunk a 3-pointer right in Race Thompson's face. Harper Jr. skipped across the court and then took a bow.
The final score: Rutgers 66, Indiana 63.
It's totally understandable for there to be frustration after a game like this. Maddening, even. Indiana, once considered a safe pick to reach the NCAA tournament, now has its backs against the wall. All of this has been building up. The narrative in recent years has become relatively predictable. Indiana hasn't made the NCAA tournament since 2016. For a program that has won five national championships, that is not acceptable.
But then there's what happened after the game during senior night festivities.
Two parents that watched their son fight through emotions.
A mother that held her son tight. A father that was there only through remembrance.
This story isn't meant to tell you how to feel about Indiana's loss to Rutgers. It isn't to make excuses. But what happened after the game revealed something that is often lost. For all the good sports do, they can also act as a barrier. Some might see a statistic and not a person. Players are torn to shreds on message boards or social media. Some might see that Stewart shot just 2-of-9 from the field. Others might see Thompson let Harper Jr. hit the game-winner.
In reality, these are human beings. Sons. Brothers. Grandchildren. What happened after the game – during the senior ceremony for Thompson and Stewart — displayed something so simple yet so complex, something that connects all of us.
Humanity.
Speaking to the crowd, Thompson barely got through a sentence before he stopped to collect himself. "First off, I'd like to thank my parents," Thompson says, looking at his mother, Stephanie, and father, Darrell. But then he stops, dropping his head down, putting his fingers on his brow and then swinging his arms through the air as he regrouped. "I wouldn't be here without ya'll," he continues.
Then he looks at his teammates seated on the bench. His voice trembles. "My teammates, my brothers," Thompson says, before dropping his head again. Someone calls out "we love you, Race" and the crowd erupts in cheers. "Ya'll my brothers for real," Thompson goes on.
Thompson has been through a lot during his time at Indiana. He arrived in 2017 as Archie Miller's first recruit — outside of those that had already pledged to Indiana. He redshirted his first year and then dealt with a variety of injuries: concussion, groin, back, a face injury that required surgery and a mask. He went through a head coaching change this offseason, but decided to stay at Indiana as a fifth-year senior after initially entering the transfer portal. He has developed into an irreplaceable part of the team.
These years also saw Thompson grow as a human being. In May 2020, George Floyd, an unarmed black man, was killed by police in Minneapolis, spurring Thompson to speak out for change. Thompson, whose hometown is Plymouth, Minnesota, a suburb roughly 10 miles away from Minneapolis, peacefully protested that summer. "I feel like he has a purpose about him," Indiana Director of Athletic Performance Clif Marshall told Inside the Hall in 2020.
And now Thompson is standing on the Assembly Hall floor, thanking assistant coach Yasir Rosemond and Kenya Hunter and Dane Fife. He's thanking athletic trainer Tim Garl. He's thanking the managers. "To the fans, everybody," Thompson says. "Thank you. That's really all I got." He wraps his arms around both of his parents.
Before Thompson's speech, Stewart delivered a pre-recorded message on the Assembly Hall jumbotron. Unlike Thompson, this was Stewart's first season playing for IU. "This is my third school," Stewart said in the video. He began his college career back in 2017 at Pittsburgh. Then he transferred to UT-Martin to play for his father, Anthony, where he planned to finish his career. In November 2020, before Stewart's junior season, Anthony died unexpectedly. In December 2020, Stewart announced he was transferring to IU.
"I chose IU because it felt right," Stewart said in the video. "When Coach Hunter was recruiting me, he'd just lost his father and I'd lost mine too, so we related well."
While playing for IU this season, Stewart has dealt with the grief of losing his father. He wears No. 45, the number Anthony wore when he played at Mt. Union college, in his honor.
"I've seen him in a depressed state since his dad died," said Ronald Ward, who coached Stewart as an assistant at Union City High School. "One time, he wanted to give up basketball."
"…He didn't quit, he just felt like quitting," Ward said. "Cause when he talked to me about it, 'Coach, man I got nothing else to live for…' But like I tried to tell him, your dad didn't teach you all of this about basketball for you to give up now. What's your dad want you to do? It's to reach the NBA, reach overseas at the top level… That should be your goal. He's trying that now, but it's days and stuff, he'll call me, man, and say 'Coach I've been thinking about my dad all day."
Ward said Stewart has used music as an outlet. Stewart's rap name is P Stew. In his album"Lifer," there is a song called "Dear Dad." In the song, Stewart sings "Never thought you would leave me. I really wish you would've stayed. I ain't too proud to admit that I've been crying at night and I be thinking about how you really changed my whole life. And I be dreaming about you, hoping that them dreams come to life."
And on Wednesday, Stewart is in Assembly Hall, accompanied by his mother Cheryl, as the video continues. "Thank you to my father for giving me this dream, teaching me how to play the game I love." By the end of the video, Stewart's eyes are misty. His arm is wrapped around his mother. His father's number is on his back.
In the aftermath of a loss like Wednesday's, it could be easy to lose sight of some things. Important things. But not now. Now it's apparent this is about more than a game.
This is life. In its triumphs and flaws. And after senior night, after Stewart's video, after Thompson's speech, the next thing that happens isn't much of a surprise.
Filed to: Parker Stewart, Race Thompson