The Minute After: Rutgers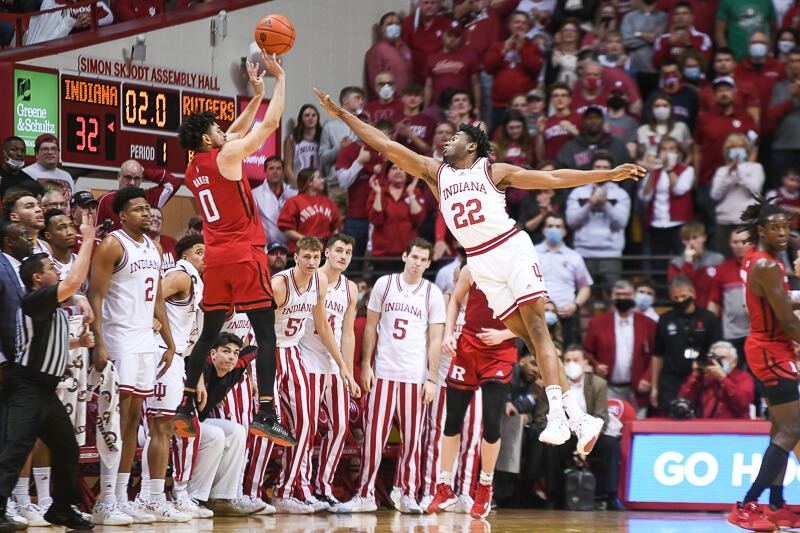 Thoughts on a 66-63 loss to the Scarlet Knights:
Trayce Jackson-Davis had his way down low early, dominating Rutgers from the tip. Indiana's junior ended the first half with 15 points on 6-of-8 shooting. The Hoosiers took a seven-point lead into halftime, 32-25.
But Steve Pikiell had an ace up his sleeve to change the narrative after the break. Rutgers went to a zone defense for a large part of the second half and it stumped Indiana. It took Jackson-Davis out of the game. The Hoosiers couldn't find the middle to exploit the zone. Indiana was stagnant. It was tentative. The offense lacked flow and movement. Jackson-Davis had just four points on 1-of-3 shooting over the final 20 minutes of the contest.
And even when Indiana was able to find good looks, they weren't falling. The Hoosiers have struggled to find looks for their shooters, Miller Kopp and Parker Stewart, this season. That wasn't the case tonight. Xavier Johnson set up Kopp in transition a couple of times in the first half from deep, but he just couldn't connect. Stewart got a number of looks you'd take 10 out of 10 times, but he failed to find the net tonight, too. Kopp was just 1-of-7 from the field and 1-of-5 from distance. All nine of Stewart's shots came from 3-point range. He made only two.
Stewart did hit a 3-pointer from the left corner to tie the game with 10 seconds to go. But Ron Harper Jr., who has a knack for drilling big shots, did so against Indiana to win this one, as his left wing 3-pointer dropped with just over two seconds to go. The Scarlet Knights have struggled mightily from deep of late, but perhaps because they were due, hit 8-of-18 (44 percent) from 3-point range this evening. Indiana made just 6-of-21 (28.6 percent).
The closing minutes felt all too familiar, as Indiana's opponent made plays on offense and got defensive stops on an Indiana offense that couldn't make buckets. Over the final 9:08 of the contest, Indiana made just four baskets. Stewart's 3-pointer with 10 seconds left was the only make for Indiana in the final three minutes.
After Mike Woodson put out the goal out of staying undefeated at home, Indiana lost four games inside Assembly Hall during conference play, three of those coming in its last four tries. The win against Maryland last week was Indiana's only home conference win in the last month of action.
So here it is, Indiana squandering a chance to beat another bubble team on its home court in early March. It ain't over yet. But the environment at Mackey Arena on Saturday is going to be tough to overcome and Purdue's offense is elite.
So that may leave Indiana with the Big Ten tournament as its last chance to get another win or two, its last-second heave to look a bit better in the eyes of the committee.
Another season about in the books. Another season Indiana failed to do enough to be talking about seeds and regions instead of the bubble and February collapses.
Such is the life of Hoosier Nation for too long now.
Filed to: Rutgers Scarlet Knights