At the buzzer: Purdue 69, Indiana 67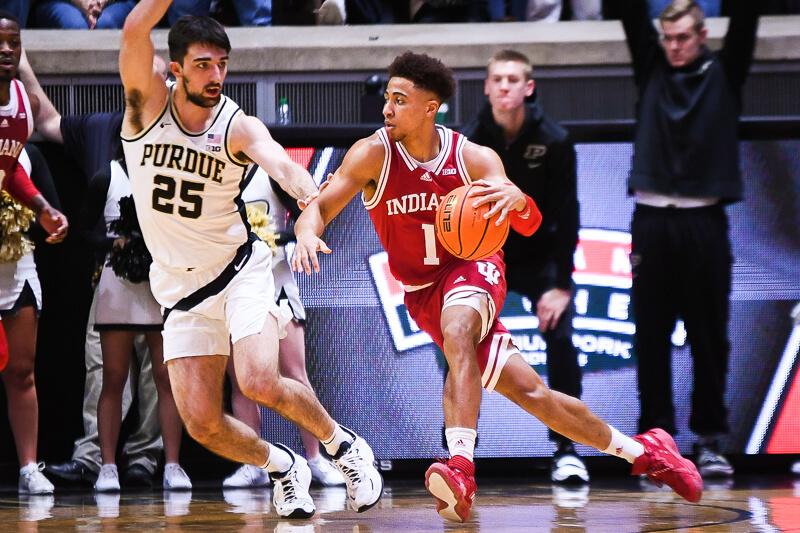 Quick thoughts on a 69-67 loss at Purdue:
How it happened: Indiana was able to hang tough with Purdue through the first eight minutes on Saturday afternoon. The Hoosiers tied the game at 14 on a pair of free throws by Michael Durr with 12:02 to play. But the Boilermakers went on a 15-2 run over the next six minutes to punch the lead out to 13 on a Jaden Ivey 3-pointer. Indiana, however, had an answer. The Hoosiers closed the half on a 9-0 run and trailed 33-29 at the break. Xavier Johnson was huge for Indiana in the first half with eight points, three assists and two steals in 18 minutes.
Purdue stretched the lead to nine twice early in the second half, but IU got back within four at 42-38 on a jump shot by Johnson with 14:31 to play. The Boilermakers, however, answered with a 3-pointer by Mason Gillis with 14:04 to play. A Trayce Jackson-Davis dunk made it 45-40, but Purdue hit another 3 – this one by Sasha Stefanovic – to make it 48-40 with 13:04 to go. Miller Kopp hit his second 3-pointer of the second half to make it 48-43 with 12:45 to play and then Johnson got the Hoosiers within three at 48-45 with 12:07 to go. A Johnson steal and a bucket made it 48-47 Purdue with 11:37 to play.
Indiana took the lead on a Johnson jumper with 10:31 to play and extended it to three on a Rob Phinisee layup with 9:54 to play to cap off an 11-0 run. By the under eight media timeout, Indiana led 53-52. Miller Kopp gave Indiana a four-point lead on a 3-pointer with 6:52 to play. Purdue tied it at 56 after a pair of free throws by Stefanovic and a jumper by Trevion Williams. Purdue regained the lead on a 3-pointer by Stefanovic with 5:10 to play at 59-56. Indiana got within two on a Jackson-Davis layup with 4:50 to play, but Purdue answered with a layup by Eric Hunter Jr. to make it 61-58. Indiana got within one again at 61-60 on another Jackson-Davis layup with 4:11 to go.
A pair of free throws from Stefanovic made it 63-60 Purdue with 3:54 to go and Hunter Jr. made a layup to make it 65-60 with 3:23 to go. Jackson-Davis answered with a 3-point play to make it 65-63 with 3:03 to go. Williams made a jumper with 2:36 to play to make it 67-63. Indiana got within two at 67-65 with 1:41 to go on a Kopp jumper. Trevion Williams missed a jumper on Purdue's next possession, but Indiana couldn't capitalize as Johnson turned it over. Out of a Purdue timeout, Hunter Jr. missed a layup and the ball went out of bounds off of Williams. Purdue used two fouls on IU's next possession, Parker Stewart missed a 3 and then Purdue used another foul after an IU offensive rebound. Kopp then turned the ball over with 12 seconds to go and IU fouled Williams, who hit both free throws to make it 69-65. Hunter fouled Johnson on the next possession and Johnson made two with 8.3 seconds to go to make it 69-67. Williams was fouled with 6.3 seconds to go and missed both free throws, but Johnson's wild shot from well beyond the 3-point line missed as IU dropped its 11th Big Ten game.
Standout performer: Johnson finished with 18 points, 12 assists, five rebounds and three steals in 34 minutes. Kopp added 14 points and Jackson-Davis had 15 points and six rebounds.
Statistic that stands out: Purdue grabbed 14 offensive rebounds and outscored Indiana 15-2 on second chance points.
Final IU individual statistics:

Final tempo-free statistics: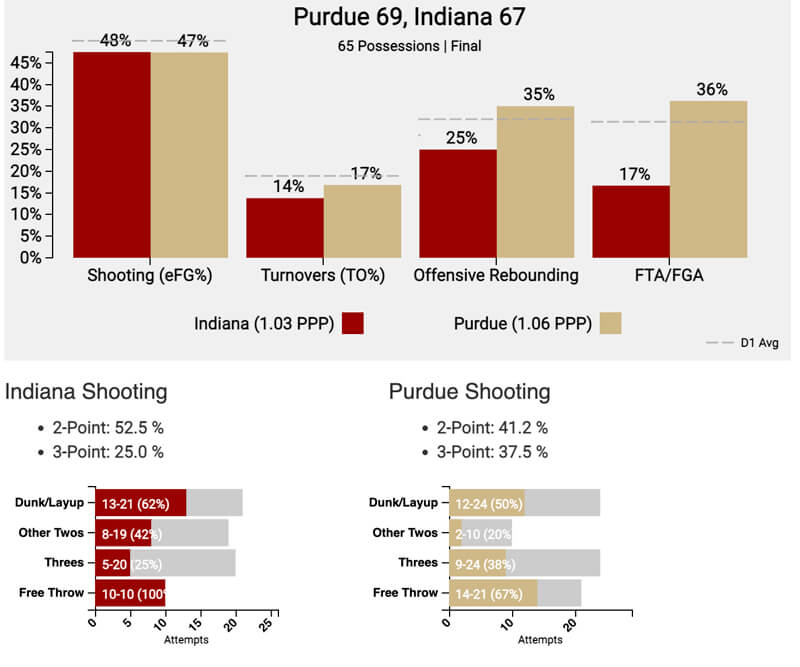 Assembly Call postgame show:
Filed to: Purdue Boilermakers