The admirable toughness of Race Thompson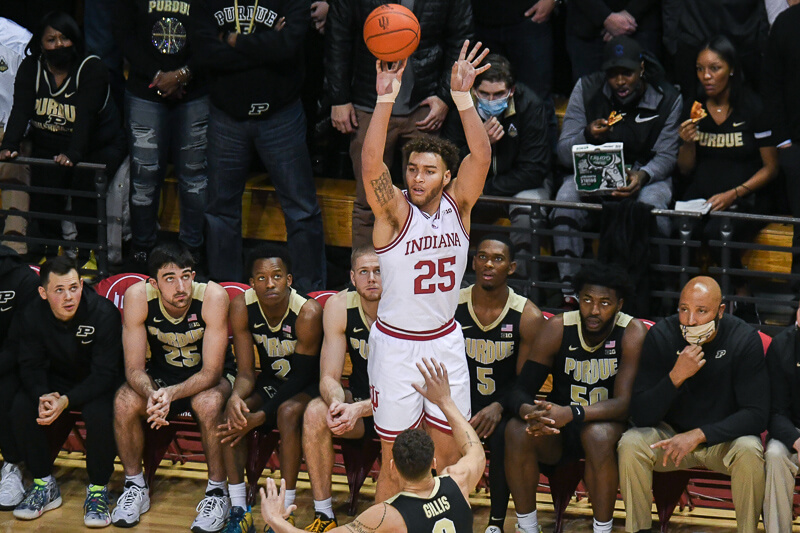 Race Thompson got off the VersaClimber machine and wasn't able to hold in his exhaustion. It was early in Thompson's career at IU, his first workout on the VersaClimber in front of Director of Athletic Performance Clif Marshall. The grueling cardio machine requires you to pump your arms and legs up and down. The workout wore Thompson out.
"I remember him just getting off the machine and saying 'Oh my gosh, my legs are cramping, I can't feel my legs,'" Marshall told Inside the Hall in 2020. "You know, and he was just really broke down and having a hard time."
That was then. By the summer entering Thompson's redshirt junior season, Marshall said Thompson finished first every week in the VersaClimber workouts. To get from this to that took grit. It took toughness. And in a metaphorical sense, Thompson has kept climbing. The two-time captain has developed into a nearly irreplaceable piece for Indiana this season, averaging 11.9 points and 7.8 rebounds per game. Although he hasn't announced whether he will use his COVID year of eligibility to return to Indiana next season, Thompson will be taking part in the Senior Day ceremony on Wednesday. It will mark the celebration of a career worth appreciating.
"He's come through, man," Indiana coach Mike Woodson said earlier this season. "I mean, he's doing a lot of wonderful things for this ballclub. Things that some people thought he couldn't do, you know, when I got here and he's gotten better because he's put in the work and that's a testament to him."
Thompson first arrived at IU in 2017. He was Archie Miller's first commitment — outside of those that had already pledged to Indiana. Originally a member of the class of 2018, Thompson enrolled at IU a year early. He joined a recruiting class that also included Al Durham, Justin Smith and Clifton Moore.
It didn't, though, take long for the challenges to start piling up. When Thompson first came to IU, Marshall said his knees hurt so badly that "it pained him to jump." His first year at IU, which he redshirted, was dedicated to developing his body physically. The following season was riddled with injuries. A groin injury early in the season. Then there was a concussion, which kept him out from mid-November to mid-February. "I talked to him all of the time and he'd be 'I'm in my room, I can't be on my phone, the light hurts my eyes,'" said Ted Johnson, a friend of the Thompson family. During that time, Thompson said he mostly came to the gym and did conditioning, but couldn't practice. He finished the season appearing in only nine games.
"I found part of me that I didn't know was there, the tougher part of me mentally," Thompson said. "And, I mean, you just gotta keep pushing. You can't get down on yourself."
As Thompson went from bench contributor in his redshirt sophomore season to starter in his redshirt junior season, he battled through obstacles as they were presented. As a redshirt sophomore, he missed three games with back tightness after taking a hard fall. In his second game back? He scored 10 points against Iowa in what was at the time a career-high 25 minutes. Heading into his junior season, the COVID-19 pandemic altered normal summer workouts. But Thompson still found a way to train, doing sprints up a hill and ball handling on a Zoom call. As a redshirt junior, he suffered a facial fracture in February, but wore a mask and continued to play. After a game against Michigan State shortly after, Miller said Thompson required minor surgery. Thompson, though, kept playing with the mask on and didn't miss a game.
Part of the reason Thompson is this way is because of his family. He grew up in a household of siblings that would all become college athletes. Thompson's brother, True, played football at Minnesota. "They were pretty competitive, whether it was wrestling, Xbox… you name it," Johnson said of Thompson and True. One of his sisters, Dominique, played volleyball at Wisconsin and his other sister, Indigo, played volleyball at San Diego State.
"I was the youngest of four kids, so I mean I got beat up on a little bit when I was younger," Thompson said. "But I think it's made me into who I am today and I appreciate that."
After entering the transfer portal this offseason, Thompson decided to return to Indiana, where he and Trayce Jackson-Davis have become one of the best frontcourts in the Big Ten. His 11.9 points per game are up from 9.1 last season. His 7.8 rebounds are up from 6.2 last season. Woodson has also given Thompson the latitude to showcase more of his perimeter game. Although it hasn't been consistent, Thompson has hit 11 3-pointers this season, almost double his career makes entering the year.
Of course, the grit is still evident. In December, he missed a few days of practice before a weekend game against Merrimack. Why? "I had the flu," Thompson said after the game. He played anyway, scoring 14 points and grabbing seven rebounds.
"He can… get like hit in the head, and like he'll come back in like regardless if coach is saying like 'hey, like sit out' or like 'take a lap,'" Jordan Geronimo said. "…He's always like saying 'nah I'm good coach, let's go'…He's always ready to like compete regardless of how he's feeling. Like me watching that… as a underclassman is really inspiring and it encourages me to do the same. Just keep fighting, you know, regardless of the situation."
In building culture, especially at a program like Indiana that's trying to re-establish itself in the national spotlight, what's done outside of competition is also important.
"He's always got time for a picture," Johnson said. "He's always got time for a hug. You know, and… (one) time they were in Minnesota, they had to hold the bus up, you know, because — 'c'mon Race, c'mon Race we got to get going, we got to get going' — but they held the bus up, you know, because there were some people and some little kids, just complete strangers, that just wanted to have a picture taken with him or have him sign something, you know. And, like I said, (he) never says no."
On Wednesday night, Thompson will be recognized. The stakes of the game against Rutgers, though, are high and the outcome may be a large factor in determining Indiana's NCAA tournament hopes. Thompson has never played in the NCAA tournament. He is the only member of his recruiting class left at IU. The coach that he initially committed to at Indiana was fired. There has been a pandemic. There have been injuries.
Thompson, despite all that he's been through, is still here.
"There's good days, there's bad days," Thompson said at Big Ten media day in October. "If you can get through the worst days then the best days are just great."
Filed to: Race Thompson