The Minute After: Purdue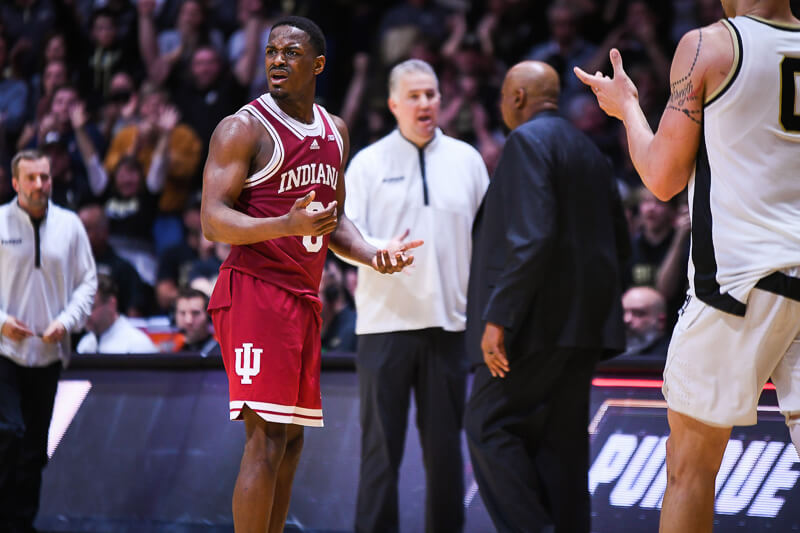 Thoughts on a 69-67 loss to the Boilermakers:
Mackey Arena roared, antagonizing an Indiana team fighting for its NCAA tournament life. The atmosphere appeared to be getting to the Hoosiers during a stretch in the first half where Purdue built a 13-point lead and no one on Indiana seemed interested in playing with confidence on offense.
But Xavier Johnson made sure Indiana would not go quietly in this one.
Over the final 4:46 of the first half, Johnson scored eight points and assisted on five others (a Trayce Jackson-Davis dunk, a Miller Kopp 3-pointer) to pull Indiana within four at the break.
Johnson's brilliance in the pick and roll kept coming in the second half, giving Indiana a go-to dynamic on offense that didn't have to rely on a Jackson-Davis post up, not the best matchup for him against Purdue's size up front. With Miller Kopp providing some pop from distance (3-of-5 from deep over the final 20 minutes) and Johnson making good reads for either himself or others out of ball screen action, the Hoosiers stuck right in this one all the way until the very end.
But, as has been the story of the season, Indiana just couldn't pull it out late when it was there for the taking. Indiana had three turnovers in the final 2:24 — two from Johnson, one from Kopp. Parker Stewart missed a go-ahead 3-pointer with 16 seconds to go.
Down two with six seconds to go, Johnson got the ball across half court and looked to draw a foul on a deep 3-pointer where he didn't get the call. That was the ball game.
Johnson scored 18 points (7-of-15, 4-of-4 from the line) and dished out 12 assists. But with the ball in his hands to win or tie the game, he came up frustratingly empty.
And yet:
Imagine there's some Xavier Johnson ire after that ending. His last five games:

19 ppg, 3.6 rpg, 6.4 apg, 9-20 from 3, 28-32 FTs

Long story short: Indiana isn't even in touching distance of the bubble right now without him, and gets run today otherwise. #iubb

— Zach Osterman (@ZachOsterman) March 5, 2022
After scoring just two points on two shots over the first 20 minutes of the game, Jackson-Davis came alive in the second half. He still struggled to get anything going against Zach Edey 1-on-1 in the post, but thanks to Johnson's ability to carve up Purdue in ball screen action, Jackson-Davis didn't have to settle for post ups in this one, as he caught in space on the roll and had a lot of success there. The junior had 13 points on 6-of-10 shooting in the second half. It was a welcomed sight to see Indiana continually running ball screens late in the contest and making Purdue work instead of pounding the ball into Jackson-Davis on the right low post.
"This is a tough building to win in and I felt we were very competitive," Mike Woodson said after the contest.
True, Indiana was very competitive in this game. But the reality is it's another loss, the Hoosiers' seventh in their last nine games. It was yet another game Indiana was right there late and just couldn't pull out the victory.
It's been the defining narrative of the season.
And save for a run in the Big Ten tournament next weekend, it'll be the reason Indiana misses out on the NCAA tournament yet again.
Filed to: Purdue Boilermakers