Five takeaways from Indiana's loss at Purdue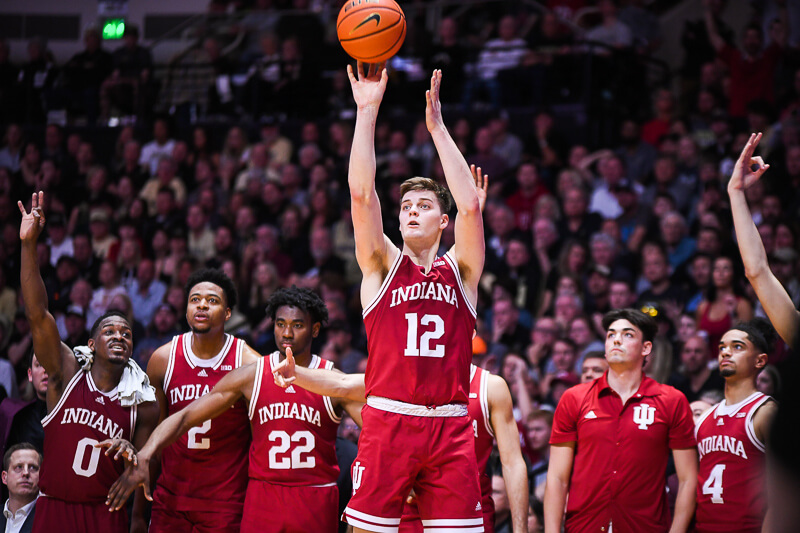 Indiana finished the regular season with a 69-67 loss to Purdue on Saturday at Mackey Arena. The loss dropped the Hoosiers to 18-12 overall. Indiana completed Big Ten play with a 9-11 record.
Here are five takeaways from the loss to the Boilermakers:
Indiana again showed fight, but late turnovers prove costly
Indiana entered Saturday's rivalry game at Purdue as a 10-point underdog. And for a time in the first half when the Boilermakers led by as many as 13 points, it looked like things might get away from Indiana.
But the Hoosiers battled all afternoon and led by as many as four late in the second half before again failing to close out in a close game.
The primary issue down the stretch in Saturday's loss was turnovers. Indiana committed three of them in the final 2:24. Two came from Xavier Johnson – who was a major reason the Hoosiers were even in the game – and Miller Kopp also committed a costly one with just 12 seconds to go.
"Miller made a bad pass," Woodson said postgame. "Normally we've completed that pass and he's done some good things on that play. It was a big play."
Late-game execution offensively has plagued Indiana for the majority of the Big Ten season. Often times it has been an inability to score or hit open 3-pointers. On Saturday, it was basic fundamentals in the final minutes that led to Indiana's seventh loss in its last nine tries.
Johnson continues strong stretch of play
Despite being a popular target for criticism this season, Xavier Johnson is playing his best basketball of the season in recent weeks.
Johnson once again proved how valuable he is to Mike Woodson and his teammates with a strong showing in a difficult road environment.
The 6-foot-3 point guard finished with a team-high 18 points on 7-of-15 shooting from the field. He made all four of his free throw attempts and dished out a career-high 12 assists. Johnson also had five rebounds, the third-highest on the team, and led Indiana with three steals in 34 minutes.
When Indiana took the lead at 49-48 with 10:31 to play, it was after three straight buckets from Johnson. In the second half alone, Johnson had 10 points and nine assists in 16 minutes.
Saturday was Johnson's fifth straight game scoring in double figures and he's averaging 19 points in those five contests.
Kopp comes through with strong shooting performance
Miller Kopp looked like he would be a major contributor offensively for Indiana when he dropped 28 points in IU's double-overtime loss at Syracuse back on November 30.
But Kopp, a transfer from Northwestern, didn't crack double figures again until he scored 10 points in a win at Minnesota on February 27.
Kopp delivered one of his best shooting games of the season on Saturday as he scored 14 points in 34 minutes. Kopp was 5-of-9 from the field and 4-of-6 on 3s. Indiana was a +7 with Kopp on the floor.
"I just shoot when I'm open," Kopp said. "I'm being more aggressive and looking for my shot a little more and guys are finding me in my spots."
For the season, Kopp is now shooting 37 percent on 3s and he's knocking down 35.1 percent of his 3-point attempts in conference play.
Indiana's defense holds up against the nation's best offense with one caveat
While there's plenty to dissect in terms of Indiana's offensive struggles this season, the defense has remained strong all season.
On Saturday, Indiana held Purdue to only 69 points on 39.7 percent shooting from the field. The Boilermakers scored 1.056 points per possession, a number that fell below their average of 1.132 points per trip in league play entering the game.
But there was one area where Indiana's defense failed in the loss: the defensive glass.
Purdue collected 14 offensive rebounds and scored 15 second-chance points. As hard as the Hoosiers competed, they didn't come up with nearly enough of the 50-50 plays.
"I thought they got all of the 50-50 balls," Woodson said. "And that was a big discussion before the game. You're on the road, you've got to win the 50-50 game. And they out-toughed us in that area tonight."
Indiana has to go on a run in Indianapolis to make the NCAA tournament
The regular season is complete. Indiana is 18-12 overall and 9-11. The Hoosiers left multiple opportunities for quality wins on the table by failing to close out games.
Now the Hoosiers will need a run in Indianapolis at the Big Ten tournament to break the program's NCAA tournament drought.
Indiana is locked into a Thursday tip at 11:30 a.m. ET at Gainbridge Fieldhouse as a result of its ninth-place finish in the league standings.
The opponent for the Hoosiers will likely be Michigan, but if the Wolverines beat Ohio State on the road on Sunday and Michigan State loses at home to Maryland on Sunday, IU would face the Spartans.
Regardless of the opponent, Indiana is going to need multiple wins in Indianapolis to get back into the tournament conversation.
"We know what is at stake," Kopp said. "We've got to win. That's what it is. Going into the Big Ten tournament, we've shown that we can beat, literally, any team in the country and any team in the Big Ten. Whether we finish the games or not, we know and we believe that we can beat any team that is going into the same tournament that we're going into."
Filed to: Purdue Boilermakers