6-Banner Sunday: Indiana improves to 16-5 with wins over Penn State and Maryland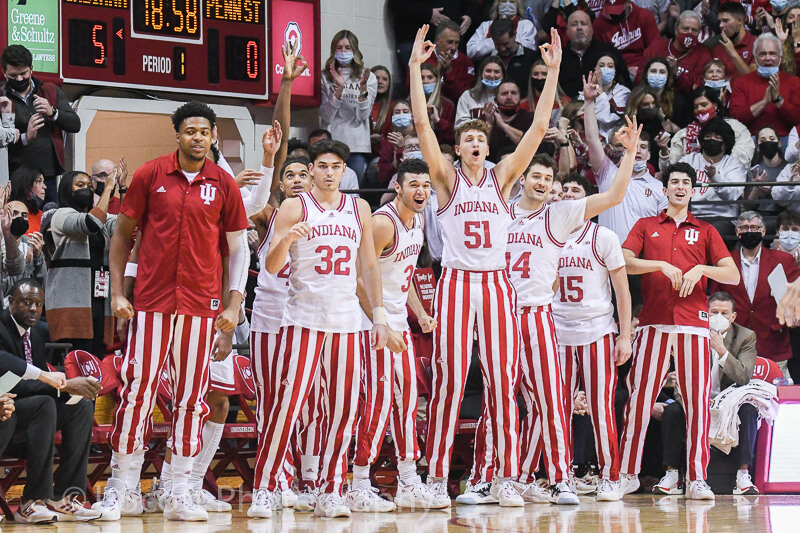 6-Banner Sunday is Inside the Hall's weekly newsletter in partnership with The Assembly Call. More than 9,000 Indiana fans receive the newsletter each week. In addition to appearing each week on the site, you can also opt to receive 6-Banner Sunday by email. A form to subscribe via email is available at the bottom of this week's 6-Banner Sunday.
Welcome to another edition of 6-Banner Sunday, a joint production between The Assembly Call and Inside the Hall where we highlight the five most essential IU basketball stories of the past week, plus take a look at how the other IU sports programs are doing.
Despite a setback against Michigan last weekend, IU continues to play very well and is on track for its first NCAA tournament appearance in six years per Andy Bottoms' Bracketology. The Hoosiers looked dominant in victories over Penn State and Maryland later in the week and are now 16-5 overall and 7-4 in the conference. We will as usual conclude with a look at how other IU sports are doing.
In some bits of brief news, Mike Woodson had his weekly radio show, and Alex Bozich had his Big Ten Power Rankings, as well as a feature article on Miro Little who completed his official visit to IU last weekend. He will choose between the Hoosiers, Villanova, and Baylor later this spring.
Also, Trayce Jackson-Davis was named to the Naismith Men's defensive player of the year watch list.
• Hoosiers beat Maryland on road for first time in 88 years
• IU dominates Penn State to avenge earlier loss
• Hoosiers suffer letdown against Michigan
• Podcast on the Brink and Assembly Call Radio
• Andy Bottoms' Bracketology
• Hoosier Roundup
Banner #1 – Hoosiers beat Maryland on road for first time in 88 years
The Hoosiers recently had several ominous streaks. The eight straight road losses and nine straight setbacks to Purdue were well known and broken a couple of weeks ago. On Saturday a lesser-known bout with futility was reversed when IU beat the Terps on the road for the first time since they joined the Big Ten in 2014-2015. Before Saturday, the last time the Hoosiers won in College Park was in 1934.
Not only did IU win Saturday, but the Hoosiers also dominated in a 68-55 win. After falling behind 8-0, the Hoosiers went on a 13-0 and led most of the rest of the day. IU had built the lead to seven points by halftime before pushing it to double figures in the second half and kept it there the final 15 minutes of the contest. The frontcourt for the Hoosiers was dominant as Jackson-Davis and Race Thompson combined for 35 points and 21 rebounds.
Afterward, Woodson and interim Maryland coach Danny Manning spoke, Ryan Corazza wrote his Minute After, Bozich penned Five Takeaways, and Alexander Darcy wrote a a piece about Jackson-Davis and Thompson.
Banner #2 – IU dominates Penn State to avenge earlier loss
After losing to the Nittany Lions 61-58 in maybe their most disappointing game of the season a few weeks ago in Happy Valley, the Hoosiers turned the tables and jumped all over Penn State in a 74-57 win. The game was not close as IU raced to an early double-figure lead and never looked back while building a 29-point halftime lead.
Afterward, Woodson and Penn State coach Micah Shrewsberry spoke, Inside The Hall had a photo gallery, Corazza had his Minute After and Film Session, Bozich wrote Five Takeaways, and Tyler Tachman had a feature on Xavier Johnson.
Banner #3 – Hoosiers suffer letdown against Michigan
It was not all roses this week as IU played their worst game of the year against the Wolverines at home last Sunday and lost 80-62. It was the first time this season the Hoosiers had not either won or been in the game and suffered a close defeat.
Afterward, Woodson and Michigan coach Juwan Howard spoke, Inside The Hall had a photo gallery, Corazza had a Minute After and Film Session, Tachman wrote Five Takeaways, and Grace Ybarra had a column about the disappointing loss.
Banner #4 – Podcast on the Brink and Assembly Call Radio
With no Thursday game finally, Assembly Call Radio returned to the air for the first time in several weeks and looked at how the season is going and what to expect moving forward. Also, Podcast On The Brink had an episode this week with Ybarra and it discussed the three previous home games against Purdue, Michigan, and Penn State.
Besides these two shows, Assembly Call was also busy with the latest episode of the Inside Scoop With Tamar Bates, as well as postgame shows for the contests against the Wolverines, Nittany Lions, and Terrapins,
Banner #5 – Andy Bottoms' Bracketology
For the first time since 2016 IU is in an excellent position to make the NCAA tournament. Even before the wins over Penn State and Maryland, Bottoms had the Hoosiers comfortably in the field in his latest bracketology published on January 25. At this point, he had IU as a nine seed in the South Region facing eight-seeded Davidson in Fort Worth, Texas.
Besides the Hoosiers, Bottoms' other Big Ten participants include six other conference foes in two seed Purdue, two seed Wisconsin, four seed Michigan State, five seed Ohio State, six seed Illinois, and eight seed Iowa.
Banner #6 – Hoosier Roundup
• Football officially introduced its new defensive staff.
• No. 6 Women's Basketball continued its COVID pause as their game against Illinois was postponed this week (although the Hoosiers have all their players through protocol now and this postponement was due to the Illini having issues with it). They finally return to action tomorrow night on ESPN2 at 7 pm against a top-flight Michigan team in Ann Arbor after two weeks off. During their hiatus, the team did get good news as the NCAA Tournament Committee released their first official bracket and IU is a two-seed right now and a near-lock to host the first two rounds of March Madness at home (the top four seeds get this privilege).
• Water Polo won their final game last weekend, before disappointing results to open this weekend.
• Swimming and Diving dominated Evansville this week. Also, the team earned Scholar All-American Honors and an athlete was awarded Conference Diver Of The Week.
• Track and Field competed at the IU Relays. Also, in some sad news former Hoosier Caitlin Engel passed away from cancer this week at just 32 years old.
• Wrestling fell to Purdue in a heartbreaking fashion.
• Cross Country was honored for its strong academics.
Thanks for your continued support for The Assembly Call and Inside the Hall. We'll be back next weekend with a new roundup.
Now go enjoy yourself a 6-banner Sunday.
Aaron (Ari) Shifron
Assembly Call Contributor
Filed to: