Five takeaways from Indiana's loss to Michigan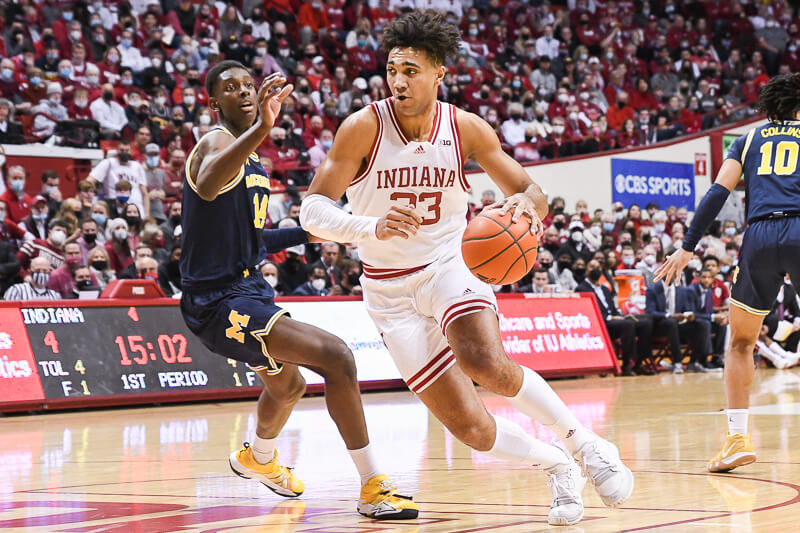 Indiana couldn't build off the momentum from its 68-65 win over Purdue on Thursday and was dominated by Michigan on Sunday at Simon Skjodt Assembly Hall.
The 80-62 loss dropped the Hoosiers to 14-5 and 5-4 in Big Ten play. Here are five takeaways from the loss to the Wolverines:
Hunter Dickinson and Caleb Houstan go off
Indiana was unable to slow down Michigan's duo of Hunter Dickinson and Caleb Houstan. Dickinson had 25 points on 9-of-12 from the field, grabbed nine rebounds and dominated in the paint offensively. Houstan had 19 points on 7-of-12 from the field and added six rebounds.
The rate at which both hit perimeter shots was also concerning. Both have struggled to convert from deep this season. Entering Sunday, Dickinson had only made six three pointers all season and Houstan was shooting 31.9 percent from deep. But on Sunday, both found their rhythm. Dickinson made 3-of-4 3-pointers. Houstan was 5-of-7 from deep.
"Obviously they came in here clawing, scratching for a win, and they needed this one bad," Trayce Jackson-Davis said. "They honestly played harder than us, and we didn't defend the line well at all, and that's something that we usually hang our hats on."
Indiana's defense falls apart
Indiana's defense has been arguably the most reliable element of its game this season. The Hoosiers have put up some impressive defensive performances this season, including holding Ohio State to 30.8 percent from the field and Minnesota to 38.3 percent from the field in back-to-back games. Entering Sunday, the Hoosiers allowed just 62.8 points per game with opponents shooting 37 percent from the field and 29.7 percent from deep.
On Sunday, though, Indiana's defense was exposed. Michigan shot 56.9 percent from the floor and 64.7 percent from deep. It wasn't just Dickinson and Houstan that contributed. Terrance Williams II had 10 points, including 2-of-2 from three. Moussa Diabate also had 10 points, hitting 6-of-7 shots from the free-throw line.
A variety of Michigan's shots — especially Houstan, Dickinson and Williams — were wide-open looks. Indiana was slow on rotations and had difficulty staying in front of the ball. Dickinson, who had four assists, was able to help facilitate the offense or take matters into his own hands in the paint.
"When we were doubling him, we were supposed to wait on his crab when he started to dribble the ball and we weren't doing that," Jackson-Davis said. "He was holding the ball, so it was easy for him to look over and watch and see who's coming instead of when he was posting up and trying to dribble."
The Hoosiers were also exploited in screen situations, allowing open looks after the screen-setter popped out.
"We were supposed to switch or veer if they died on the ball screen, so basically I take the guy and then our guard stays up, but they kept thinking that he was rolling but he was popping, so he was getting right open shots at the top of the key," Jackson-Davis said. "That's just something we're going to have to watch on film and then go back over."
Trayce Jackson-Davis and Xavier Johnson lead the way for Indiana
If there were any bright spots Sunday, it was the play of Xavier Johnson and Trayce Jackson-Davis. Johnson had 14 points, six rebounds, six assists and just two turnovers. While it wasn't his most dominant game, Jackson-Davis still had 17 points, eight rebounds, two blocks and two steals.
Over the last two games, Johnson has looked like the point guard that Indiana needs him to be. Against Purdue, Johnson had 18 points, four rebounds and two assists. Amid an up and down season, he continued to build on that performance on Sunday. He played with poise and was selectively aggressive within the flow of the offense. On one particular possession in the second half, Johnson unselfishly swung the ball to Race Thompson in the corner, who hit a 3-pointer.
Before the game, Woodson said that Jackson-Davis was "pretty healthy." This comes after Jackson-Davis took a hard fall in Indiana's win over Nebraska. Coming off arguably his worst performance of the season against Purdue, he bounced back on Sunday.
Indiana will need Johnson and Jackson-Davis to continue to put up production as Big Ten play continues. But it will also need the surrounding pieces to contribute too.
Indiana's offense sputters
Indiana has won many games this season thanks to its defense. Its offense has seemed to be a step behind but has often still been good enough to win. On Sunday, though, Indiana's offense was poor.
The Hoosiers shot just 39.3 percent from the field and 26.3 percent from deep. Besides the fact that Indiana missed looks at the rim, there was also a lack of perimeter shooting. Thompson was 1-of-4 from deep. Rob Phinisee was 0-of-3 from deep. Trey Galloway was 0-of-3 from deep. Johnson was 0-of-2 from deep.
Indiana has mostly relied on Parker Stewart and Miller Kopp, two transfers brought in to shoot, for its production from beyond the arc. On Sunday, Kopp was 1-of-1 from deep and Stewart was 3-of-6 from deep. Stewart started the game cold but hit three 3-pointers after checking in at the 7:25 mark in the second half to try to bring Indiana back in the game.
"The way teams are playing us, they know that they can make shots if they're open," Woodson said. "I thought our early shots that we had on the perimeter, we had so much pressure coming at us, instead of just pump faking and letting the guys go by, they made us miss. They weren't hoping we missed, they made us miss shots."
Indiana gets off to a slow start at the beginning of both halves
Indiana fell into a hole quickly on Sunday. Michigan opened the game on an 11-4 run. By the 7:16 mark in the first half, the Hoosiers were already down 29-13. To end the first half, though, Indiana rallied with a 17-9 run to cut the deficit to just eight at the break.
But Michigan extended its lead quickly again at the beginning of the second half. By the first media timeout, Michigan led 52-36. Indiana made some runs, but was never able to fully recover.
Getting off to slow starts in the first few minutes of each half was a similar trend against Purdue. On Thursday, the Boilermakers led 16-8 by the 13:35 mark. In the second half, Purdue went on a 14-6 run by the 16:00 mark. But whether it was some of the starters picking up their play or contributions from bench players, Indiana was able to bounce back after both of those slow starts.
On Sunday against Michigan, Indiana got down early in each half, but this time wasn't able to fight all the way back to victory.
"That falls on us," Jackson-Davis said. "It's our home court, and the starting five, we need to regroup and we need to figure that out because it's unacceptable honestly to come out with no emotion and no drive, and like when we were at the Purdue game, that second unit really helped us and got us going with Trey and all of them blowing up ball screens and stuff like that on defense. Our starting five is our starting five for a reason, so we've got to figure that out."
Filed to: Mike Woodson, Trayce Jackson-Davis, Xavier Johnson