The Minute After: Penn State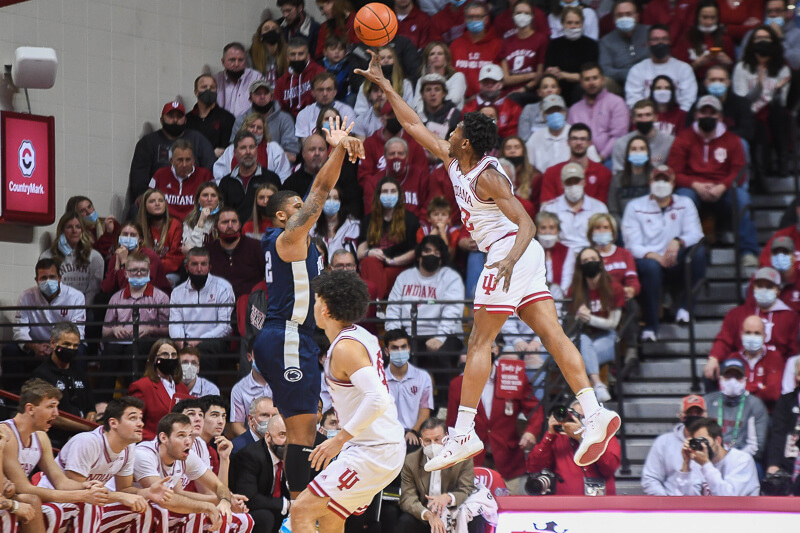 Thoughts on a 74-57 win against the Nittany Lions:
So much for the starters digging the early hole.
Trayce Jackson-Davis, Race Thompson, Parker Stewart, Miller Kopp and Xavier Johnson have taken some heat of late due to poor starts, the numbers from the last seven games telling an ugly +/- tale. But the starters flipped that narrative on its head tonight in a big way. From the jump, Indiana was locked in on both ends and took Penn State to the cleaners.
Indiana made the Nittany Lions uncomfortable on defense as it fought through screens, jumped passing lanes, got back in transition and blocked shots. Jackson-Davis had four of Indiana's eight first-half blocks. Jordan Geronimo had two, including an impressive swat of a corner 3-pointer on a closeout. Penn State missed some looks, sure. But IU's defense was absolutely dominant and the Nittany Lions wilted under it, scoring just .54 points per possession across the first 20 minutes of the contest.
On the other end in the first half, the Indiana trio of Jackson-Davis (13 points), Thompson (11) and Johnson (10 points) all scored in double figures on a combined 12-of-16 shooting. Jackson-Davis struck a nice balance between going for his and finding teammates when the Nittany Lions brought the double. Thompson had some nice looks down low and hit a 3-pointer. Johnson continues to push the pace while staying (mostly) in control.
Indiana also hit 6-of-8 from deep and 8-of-11 from the line. The Hoosiers scored an impressive 1.45 points per possession en route to a 29-point lead at half (46-17). Tamar Bates even got in the mix, hitting both of his 3-point attempts and showing some elation on the court for the first time in too long.
Considering this was a Big Ten opponent, one the Hoosiers lost to 24 days ago, it was about as impressive of a half as they come.
Yes, the Hoosiers let up a bit in the second half. The defense wasn't as sound. Indiana left shooters open and Penn State got hot from deep, hitting 8-of-16 over the final 20 minutes. The energy, intensity and focus all dipped after halftime. Penn State went on a 13-2 run late in the game to cut the lead to 14 with 3:15 to go. But despite a bit of a slide in the second half, the Hoosiers still won this game by 17 points and held Penn State under a point per possession (.95). They scored 1.23 themselves, a Big Ten best so far this season. Indiana also hit 10-of-13 from deep (76.9 percent) and 12-of-15 (80 percent) from the line. You'll take a performance like tonight just about any day of the week — especially in conference play.
Rob Phinisee came down with a lower leg injury in the first half and didn't return. And from Mike Woodson's comments after the game, it sounds like Khristian Lander is still not well enough physically to play, either. While point guard depth wasn't an issue in tonight's contest, if neither Phinisee or Lander are a go on Saturday afternoon in College Park, it could be.
Filed to: Penn State Nittany Lions