With NBA goal in mind, Finnish guard Miro Little completes official visit tour with stop at Indiana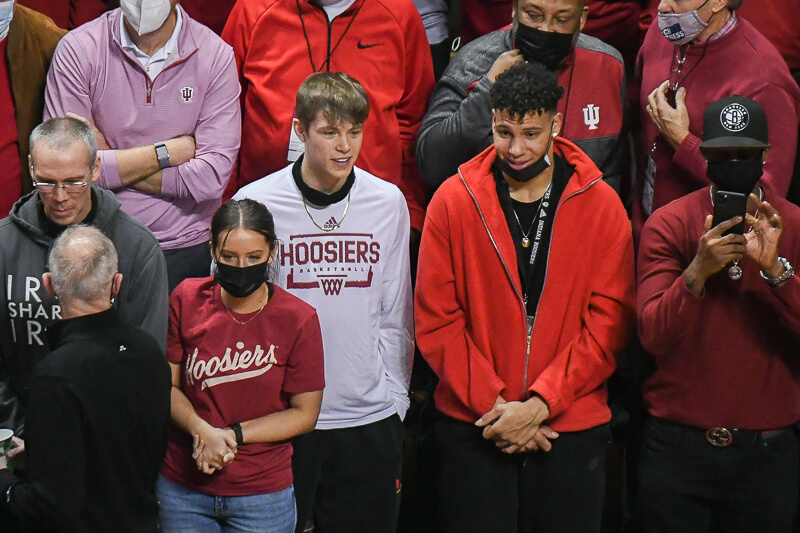 Finnish guard Miro Little has dreamed of playing in the NBA since he was a young child.
Little's mother, Kati Packalén, says her son has been on the basketball court for his whole life. Packalén, who moved to the United States from Finland when she was 18 to be an au pair, met Little's father La Trice in New York.
Packalén and Little both attended and played basketball at Mercy College in New York, a Division II school. The pair then moved to Finland. La Trice went on to play basketball professionally and later served as a referee. Packalén coached basketball after her days as a player were over.
Every step along the way, there was their son, Miro, with a basketball in his hands.
"He's been on the basketball court since he was born, basically," Packalén told Inside the Hall. "Miro grew up on the court. No parks or outside playing or swings, but playing on the court."
The path the 17-year old guard has taken now has him on track to be on campus starring for a major college program once he finishes his time at the Helsinki Basketball Academy in 2023.
To understand how Little has become a priority recruit for Baylor, Indiana, Villanova and other schools, you have to go back to his formative years and the decisions he made with basketball in mind.
When Little was in third grade, he told his parents that he wanted to attend an elementary school with a focus on sports. But in order for him to do so, he would have to take multiple buses each day to get there. Little did it each day, switching buses as he continued his improvement and development as a player.
Now, as a 17-year old, he plays for Helsinki Basketball Academy. Little lives on campus with his goal of playing at a top university in the United States and later in the NBA.
His coach at HBA, Hanno Möttölä, has helped many players come to the United States, including Lauri Markkanen.
"He's been so determined to make basketball his life and his career," Packalén said. "Obviously, he wants to be a pro but he's always known that before that, he's had certain steps that he wants to take. Playing in the HBA is one. Playing on the national teams was one. But then going to a high-level college or university is another step that he's always, as long as I can remember, he's had that planned."
Little's recruitment began to take off last fall when he starred for Finland in the U18 Nordic Cup.
There had been interest in him before that event, but things escalated after he averaged 18 points, seven rebounds and five assists in 23 minutes per game in the event. He also made 50 percent of his 3-point attempts in the Nordic Cup.
Indiana, with assistant coach Dane Fife at the forefront of the pursuit, went to Finland to meet Little and his family. Packalén said Fife's visit was great for creating trust since the beginning of the recruitment. Baylor also went to Finland, as did USC.
This month, Little, who has dual citizenship (the United States and Finland), embarked on a three-campus tour that included stops at Baylor, Villanova and Indiana.
Little was able to take in a game and thus the game-day atmosphere on each campus. At IU, Little attended the 68-65 victory against No. 4 Purdue at Simon Skjodt Assembly Hall.
"A great school, a great system. The fans and the atmosphere, it's unique," Packalén said of the experience at IU. "The town of Bloomington, it's all about basketball. It's just one of those things that you need to be there to really feel it. It was unbelievable. The people throughout the schools visits have been great, but the fans (at Indiana) are just crazy in a good way, I think. I know for a fact that whatever Miro chooses, I'll be an Indiana fan for life just because of the environment that they've been able to create there. It's perfect."
His time in Bloomington also allowed him to spend time with Mike Woodson, who has been everywhere Little wants to go as a player.
With his goal of playing in the NBA, it's no surprise that Woodson's experience there appeals to Little.
"Coach Woodson's presence, just when he speaks and Miro sits there and listens and tries to take all of it in," Packalén said. "The charisma, it's very powerful. The knowledge that he has, not only from the game itself but the business as a whole, it's very unique."
The family returned to Finland following the Indiana visit and now the 6-foot-4 Little will resume his season at Helsinki Basketball Academy.
According to Packalén, her son wants to wait until his season concludes to make a decision on where he'll attend college. That could be as late as April, depending on how far HBA advances in the playoffs.
Getting to see college basketball up close also provided Little a first-hand look at which skills he needs to continue working on before returning to the United States for college.
"I think coming from Europe, his strengths are his IQ and understanding of the game," Packalén said. "Playing in ball screens, understanding the spacing. In those areas, I think he's really advanced. But then, what he needs to catch up on are the athleticism and the speed of the game at the college level and the toughness of it."
Based on all of the sacrifices and hard work Packalén has watched her son make over the years, he'll be eager to incorporate what he observed on the trip to his game.
Like any newcomer in college basketball, there will be an adjustment period for Little. But from the time he was a young kid, he's been focused on his goal.
"He was four or five when he first told me at the breakfast table, 'mom, I'm going to go the NBA, but I don't know if it'll be the Chicago Bulls or the Miami Heat,'" Packalén recalls. "So since then, it's been really amazing to see how he's made his own path. He's been very determined."
Filed to: Miro Little