News and notes from Mike Woodson's radio show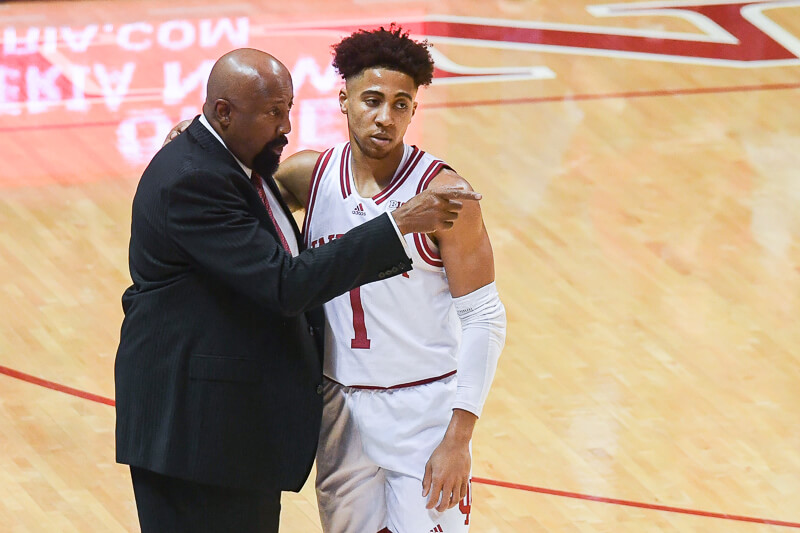 Mike Woodson and play-by-play announcer Don Fischer chatted via Zoom for this week's episode of "Inside Indiana Basketball with Mike Woodson."
Woodson discussed the highs and lows of Indiana's last three games, his plan for Penn State on Wednesday and his thoughts on the starting lineup.
• Woodson said his team played a solid game against Nebraska and made the plays it needed to down the stretch after losing Trayce Jackson-Davis for the final seven minutes.
• Woodson was said their game against Purdue was probably their best game on both ends of the floor.
• Woodson talked with Rob Phinisee ahead of the Purdue game, which he called his best game of the season so far: "When you have conversations with your players like that, you're anxious to see how they respond. I thought he responded in a wonderful way."
• The play at the end of the Purdue game was drawn up for Trayce Jackson-Davis, but Rob Phinisee said he wanted the ball
Mike Woodson said he was happy with Michael Durr's defense on Purdue's bigs: "Mike played the most minutes he's played all year…those were the most productive minutes he's played all year — especially when you've got to deal with those two big guys."
• Woodson on Xavier Johnson's development: "He's not picking up crazy fouls and things of that nature that's putting him in a bad place. He's trying to take a little more of a leadership role in running this team. It's nice to see the maturity there."
• He thought after a big game against Purdue with that crowd, the Hoosiers would come out. But Woodson said Indiana was flat.
• Woodson chalked a lot of the problems against Indiana up to his team's poor perimeter defense: "When we get caught like that, we lose."
• Woodson on his team overall against Michigan: "We just didn't have the bench, nor did we have the starters that started the game. It was just a bad combination all around."
• Woodson said Hunter Dickinson's 25 points on Sunday were the difference: "I knew he was good, but boy he really played his butt off here. We had no answer for him."
• After Michigan pulled away and Indiana didn't put in the effort to get back in the game, Woodson said he never really thought they had a chance to win.
• Woodson said his only goal is to win the Big Ten and that's all he's focused on.
• When asked if he looks at the standings, Woodson said: "We all watch the standings, but at the end of the day, in order to get up to the top of the standings, we've got to win."
• Fischer asked if he planned on revisiting the film from their loss at Penn State and Woodson said yes because it's important when their performance on the boards was that bad.
• Woodson said the quality of Big Ten play really hasn't surprised him since he was here: "If you don't come ready to compete, you can be beat."
• Woodson said he hasn't thought about changing the starting lineup.
Filed to: Mike Woodson