The Minute After: Michigan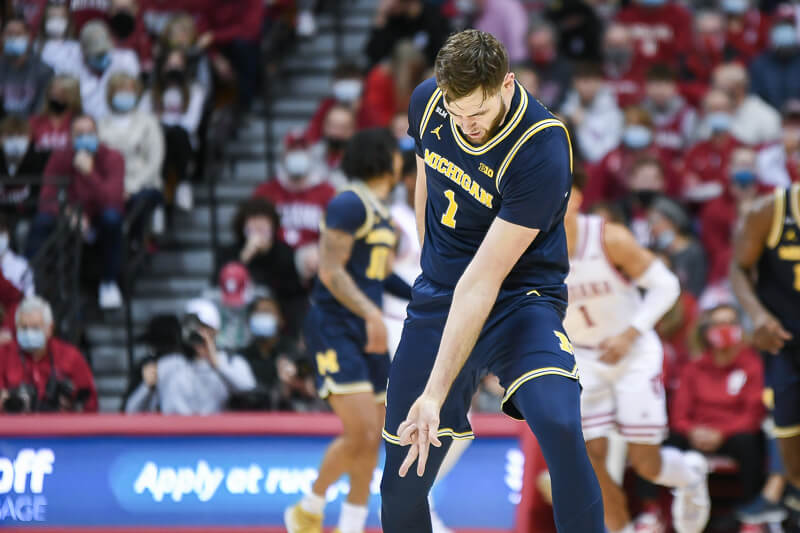 Thoughts on an 80-62 loss to the Wolverines: 
One nine-game losing streak over. Another just beginning.
Yup, it's now nine straight losses to the Wolverines after Indiana followed up Thursday's emotional win against Purdue with a stinker today.
Simply put: Michigan came into Assembly Hall on a mission and Indiana aided and abetted. Indiana's defense, such a strength for this team all season, was not in top form today. The 1.21 points per possession it surrendered to the Wolverines this afternoon was its worst of the season.
The Wolverines were crisp on offense, beating Indiana off the dribble, moving the ball with intent and getting contributions for a host of players. The Hoosiers were particularly poor guarding the 3-point line today, leaving Wolverines wide open the whole contest. Some of it came because Indiana doubled and showed extra attention to Hunter Dickinson, leaving shooters to do so. But the Hoosiers also failed to communicate and were simply not in position time after time and Michigan really made them pay from deep. The Wolverines finished 11-of-17 (64.7 percent) from 3-point range.
Caleb Houstan knocked in 5-of-7. Terrance Williams II made 2-of-2. Dickinson splashed 3-of-4. Speaking of Dickinson, when he wasn't raining from deep, he was taking Indiana to school inside. It was an absolutely dominant performance from Michigan's sophomore big man. He finished the contest a hyper-efficient 9-of-12, hit 4-of-6 from the line and scored a game-high 25 points.
The holes Indiana dug itself were just too big to crawl out of, especially with the way it defended today. Michigan got up 16 in the first half before Indiana was able to go on a run of its own to cut it to eight at half. But in the second half, it took Michigan just over four minutes to punch the lead back out to 16 on a Houstan jumper at the 15:54 mark. Indiana briefly got the lead down to nine after a Race Thompson 3-pointer with 14:14 to go, but that was as close as Indiana would get the rest of the way, as the Hoosiers eventually lost by 18 points.
This marks Indiana's first double-digit loss of the season and also its first at home.
Xavier Johnson followed up his strong performance against Purdue with another one this afternoon. Indiana's starting point guard was essentially the lone consistent bright spot of the starting unit. He scored 14 points (5-of-11), grabbed six rebounds and dished out six assists against two turnovers. Johnson was active in the first and second half, bringing sorely needed energy to the court for the Hoosiers. Trayce Jackson-Davis got his numbers (17 points, eight rebounds), but his day was made harder by Dickinson's defense. Johnson and Jackson-Davis were the only two in double figures for the Hoosiers this afternoon.
Indiana started running things for Parker Stewart late to try and get back into the game with 3-pointers. He hit 3-of-6 from deep to finish with nine points. Rob Phinisee followed up his magical performance against the Boilermakers by scoring just two points on 1-of-5 shooting. Indiana's offense mustered only .94 points per possession for the contest.
A three-game conference winning streak, a feat Indiana has not accomplished since the 2018-2019 season, was in reach today. But Michigan came to Bloomington and made more than sure that wasn't going to happen.
Considering how Indiana has performed away from Assembly Hall in conference play, it can't afford to lose too many more at home if it wants to remain in solid position for the NCAA tournament.
It'll get a chance to get back to its winning home ways against Penn State on Wednesday.
Filed to: Michigan Wolverines