At the buzzer: Michigan 80, Indiana 62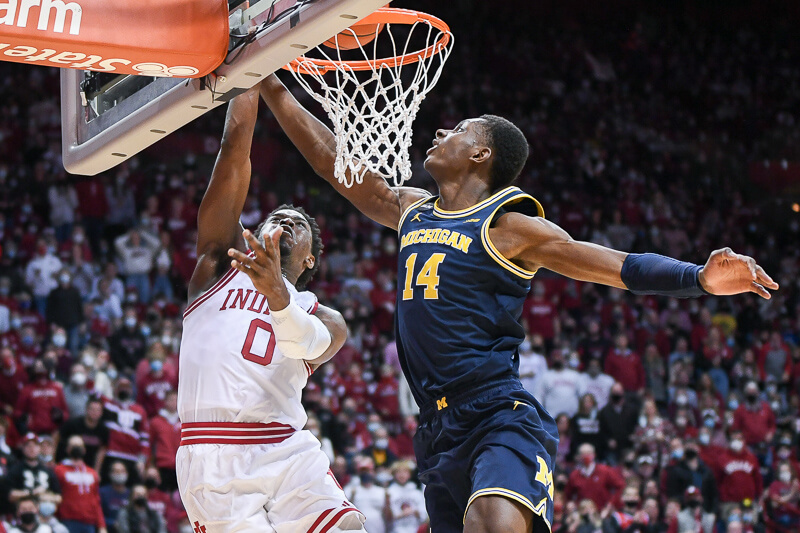 Quick thoughts on an 80-62 loss to Michigan:
How it happened: Coming off of a hard-fought 68-65 win over Purdue on Thursday night, it was a disastrous start for Indiana on Sunday afternoon in Assembly Hall. Michigan came out hot from the perimeter and Indiana came out flat on both ends of the floor. By the 7:16 mark of the first half, the Wolverines led 29-13 on a Terrance Williams II 3-pointer. Williams II, who had scored just seven points over Michigan's last six games, had 10 points in the first half. Indiana, however, closed the half strong with a 17-9 run to get within eight at intermission. A big reason for Michigan's comfortable halftime lead was their strong shooting from the field. The Wolverines were 51.9 from the field in the first half compared to just 35.5 percent for Indiana.
The second half started similarly to the first. Indiana's starters returned to the floor and Michigan seized control of the game. By the 17:47 mark, the Wolverines led 48-34 on a Caleb Houstan jump shot. The Hoosiers got within nine at the 14:14 mark, but never seriously challenged Michigan the rest of the way. Every time the Hoosiers had a chance to seize momentum, they simply couldn't get over the hump offensively and Michigan converted on the other end of the floor. After holding Purdue under a point per possession on Thursday, Indiana's defense was a mess in this game, allowing Michigan to score 80 points and 1.21 points per possession. The loss, Indiana's first at home all season, amps up the importance for a Wednesday rematch with Penn State in Bloomington.
Standout performers: Xavier Johnson was Indiana's best player on Sunday and finished with 14 points, six rebounds, six assists and three steals in 35 minutes.
Statistic that stands out: Michigan's 3-point shooting was the difference in the game. The Wolverines made 11 triples and outscored Indiana by 18 from behind the 3-point line.
Final IU individual statistics:

Final tempo-free statistics: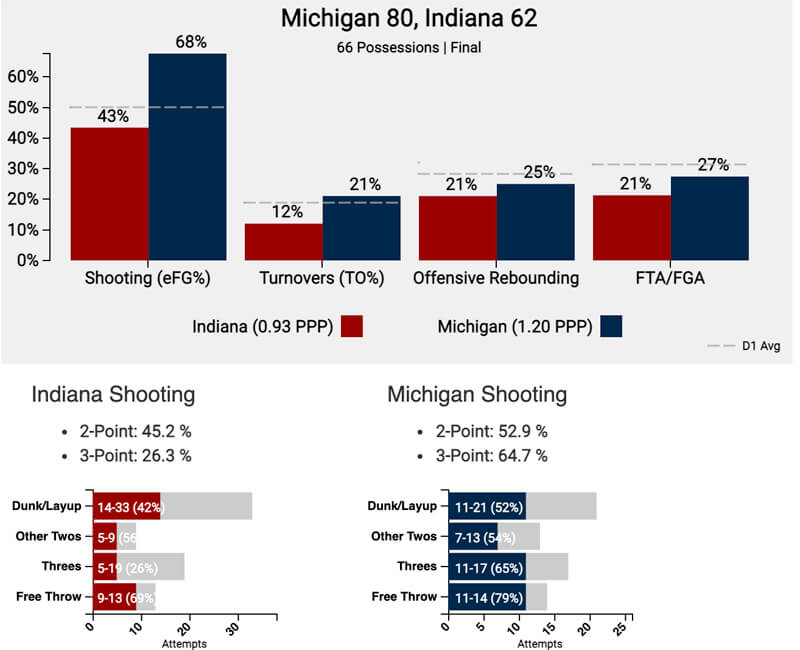 Assembly Call postgame show:
Filed to: Michigan Wolverines