Xavier Johnson is playing like the point guard Indiana needs him to be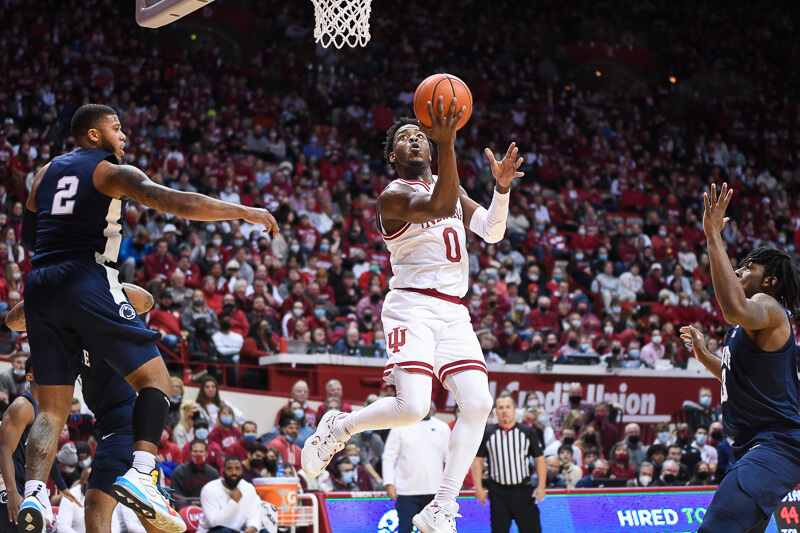 Xavier Johnson could've taken the shot.
It was a good look. Trey Galloway swung the ball to Johnson at the top of the key in the second half of Wednesday's game. By the time Johnson caught it, he still had plenty of time to get off the 3-pointer before the two converging Penn State defenders got there.
But Johnson didn't shoot. Instead, he pump-faked. One of the Penn State defenders went leaping by. The other was caught off balance and, by the time he recovered, Johnson was already darting by. As Johnson neared the left block, Trayce Jackson-Davis raised his hand to call for the ball on the right-wing. Johnson collected himself just outside the paint, drawing another Penn State defender, John Harrar, toward him, as Jackson-Davis slipped behind the defense.
Then Johnson lofted a pass over the outstretched arms of Harrar. Jackson-Davis took off of two feet, cocked the ball back and slammed with his left hand for the alley-opp.
In Indiana's 74-57 win over Penn State on Wednesday, this play was a portrait of how Johnson's recent performances. He's playing fast yet under control. He's selectively aggressive while also being a reliable facilitator. During that play on Wednesday, he traded a good shot for a great one. Johnson finished with 19 points on 7-of-12 shooting from the field, 3-of-3 from deep, four rebounds, six assists and three turnovers. He has been playing like the point guard Indiana needs him to be.
"I think X is starting to slow down and see things ahead of him," Indiana head coach Mike Woodson said after the game. "And he is making guys a little bit better around him, which is kind of nice to see because I've always thought point guards, that's their job and what they are supposed to do."
Coming into this season, there was little doubt that Johnson possessed talent. As a freshman at Pittsburgh, he was selected to the All-ACC freshman team. He continued his success over the next two seasons, averaging 11.7 points per game as a sophomore and then 14.2 points per game, along with team-high 103 assists, as a junior before he left the Pittsburgh program in February of last year and committed to Indiana in April.
Johnson's first half of this season, though, was filled with inconsistencies. He combined for 27 points in the first two games of the season, only to rack up more combined turnovers and fouls than points in the next. On the road against Wisconsin, Johnson played arguably the most efficient half of his career at Indiana up to that point with seven points, five rebounds and six assists. In the second half, he shot 1-of-10 in the second half and Indiana blew a lead that was once 22-points. After the loss, Johnson stood in front of the media and took responsibility for the game.
Johnson has an undeniable elusiveness, but there would also be turnovers and fouls. Johnson became a target of criticism for some of the fanbase. In the days following Indiana's December win over Notre Dame, in which Johnson had 11 points, four turnovers and shot 3-of-11 from the field, Woodson backed up his point guard when asked about boo's directed at Johnson.
"It means a lot," Johnson said earlier this month about Woodson backing him. "I mean, when I first came in he (Woodson) told me he had my back, and that was just the case scenario today, that he really had to have my back. That's the only person that I need to believe in me because he's my coach."
About a month ago, Johnson's family came out to visit him. Recently, his father Michael came to visit him again. Johnson's family is a big motivation. Johnson wants to set a standard for his younger brother Lathan, who also plays basketball. Both of his parents are Air Force Veterans. His mother La'Kesha used to drive four hours roundtrip every day, dropping Johnson at Bishop O'Connell High School in Arlington, Virginia, on her way to and from work so her son could pursue a future in basketball. Michael worked extra jobs while still on active duty, waking up around 3-4 a.m. to deliver newspapers, then sleeping in the parking lot of the Air Force Base before starting work there.
"I just knew I was in a slump, and I knew I was going to come out of it," Johnson said Wednesday. "And I was going to keep playing and keep getting better. I know when my dad came up here, my family came up here, I needed that."
Over the last three games, Johnson is averaging 17 points, 4.7 rebounds, 4.7 assists while committing just 1.7 turnovers per game. He played a stellar game of 18 points and zero turnovers in Indiana's rivalry win over Purdue. He followed it up with a 14-point, six-rebound, six-assist outing against Michigan.
Johnson also worked on the mental side of the game, which, he said, includes watching film. It allows him to see his body language. Recently, the improvement has been evident. Over the last three games, Johnson has picked up a total of only four fouls. Woodson also demands a lot out of his point guards, pushing them to be able to run the team. Johnson has been just that. On Wednesday, he was played with poise on both sides of the floor and frequently got Indiana's offense in order as he brought the ball up the court.
"He really helps set the pace of the game, and then again, it starts for him on defense," Race Thompson said. "I know if I see X playing defense and he is getting a steal, I know he is going down to finish or dish to somebody. Really he is just getting everybody involved, making everybody feel good."
Indiana hasn't had a dominant point guard that can truly dictate the pace of the game since Yogi Ferrell. Over the last few seasons, Indiana has suffered because of that. Johnson isn't the exact same type of player as Ferrell, but his significance in raising Indiana's potential is similar if he's able to continue to play at this level on a consistent basis.
"We're just going to keep getting better," Johnson said, "and I'm going to keep playing with my teammates and keep believing in them because I know they believe in me."
Filed to: Xavier Johnson