Big Ten Power Rankings: January 24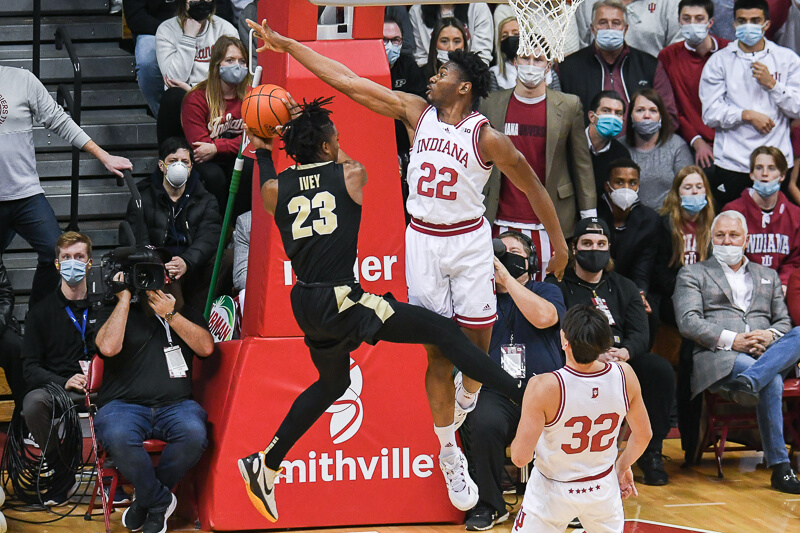 We're nearing the halfway point of conference play, but there's no clear favorite for the regular-season crown.
Michigan State is at the top of the league standings in the loss column, but Illinois, Ohio State and Wisconsin are just a game behind. Purdue is capable of putting together a lengthy winning streak and getting into the mix. And Michigan, one of the preseason favorites, appears to finally be hitting its stride.
Here's a look at how the league stacks up through Sunday's games:
14. Nebraska (0-8, .936 PPP, 1.178 PPP allowed)
Fred Hoiberg and the Huskers remain winless in the Big Ten after a loss to Indiana last week. Nebraska was forced to postpone its game on Saturday against Ohio State due to COVID-19 protocols. Moving forward, it'll be interesting to see if the return of Trey McGowens can give Nebraska a lift in the final stretch of the season. McGowens played for the first time in more than two months in Nebraska's loss to Indiana and he scored seven points in 21 minutes.
13. Minnesota (2-5, 1.031 PPP, 1.127 PPP allowed)
The Golden Gophers started the season 10-1, but have dropped four of their last five games. Minnesota picked up a 68-65 win at home against Rutgers on Saturday, which was impressive given that Ben Johnson was down Jamison Battle, EJ Stephens and Eric Curry. Three of Minnesota's starters played 40 minutes in the win and Payton Willis exploded for 32 points, including 8-of-13 shooting on 3s.
12. Northwestern (2-6, 1.022 PPP, 1.098 PPP allowed)
The Wildcats have now dropped six of their last seven games and their most recent performance was an 80-60 drubbing at Purdue on Sunday. The Boilermakers were without Jaden Ivey in the game, but Northwestern still allowed 1.33 points per possession in the loss. At 9-8 overall and 2-6 in Big Ten play, the NIT seems to be the ceiling for this Northwestern team. This would be the fifth straight season without an NCAA tournament appearance for Chris Collins, who guided the program to its lone tourney appearance back in 2017.
11. Maryland (2-6, 1.03 PPP, 1.087 PPP allowed)
The Terps showed some signs of life with an impressive 81-65 win against Illinois on Friday in College Park. Maryland is 2-2 over its last four after starting 0-4 in Big Ten play. Donta Scott exploded for 25 points off the bench in the win over the Fighting Illini, who were without Kofi Cockburn (concussion protocol). Maryland has been one of the biggest disappointments in the league this season, but there's enough talent on the roster to play spoiler down the stretch in conference play.
10. Penn State (3-5, .984 PPP, 1.049 PPP allowed)
The Nittany Lions have been respectable defensively in Big Ten play, but simply haven't had the offense to win consistently in league play. In its most recent Big Ten outing, Penn State was blown out 68-51 at Iowa. Sam Sessoms (42.9 percent), Myles Dread (45.8 percent) and Seth Lundy (38.6 percent) all continue to shoot the ball well from beyond the 3-point arc in conference play.
9. Rutgers (5-3, .991 PPP, .999 PPP allowed)
Steve Pikiell had Rutgers headed back towards the bubble conversation when the Scarlet Knights moved to 5-2 in Big Ten play with a 48-46 win over Iowa on Jan. 19. But the thought of the bubble was short-lived when Rutgers lost 68-65 at Minnesota over the weekend. Rutgers could very well finish close to .500 in Big Ten play, but it will be difficult to overcome losses to DePaul, Lafayette and UMass in non-conference play. Ron Harper Jr. is having an excellent senior season in Piscataway and is shooting 45.7 percent on 3s.
8. Indiana (5-4, 1.015 PPP, .987 PPP allowed)
The Hoosiers got a pair of much-needed wins last week (at Nebraska, Purdue), but were blown out at home on Sunday against Michigan. The loss to the Wolverines was particularly concerning because of how poor Indiana played defensively. Michigan scored 1.21 points per possession and made 11 of 17 3-pointers. Mike Woodson called the performance "awful." Indiana won't have much time to regroup as Penn State, which already beat the Hoosiers in State College, comes to Bloomington on Wednesday.
7. Iowa (4-4, 1.06 PPP, 1.026 PPP allowed)
Even though it lost Luka Garza and Joe Wieskamp, Iowa is squarely in the mix for another NCAA tournament berth because of its elite offense. The Hawkeyes rank seventh nationally in adjusted efficiency and have now won three of their last four games after a 1-3 start in conference play. Keegan Murray would be a first team All-Big Ten selection if the season ended today. KenPom projects the Hawkeyes to finish 21-10 in the regular season, which would be more than enough for another March Madness berth.
6. Michigan (3-3, 1.126 PPP, 1.029 PPP allowed)
Juwan Howard may finally be figuring things out with one of the league's most talented groups. Michigan picked up its best win of the season on Sunday when it throttled Indiana 80-62 at Assembly Hall. The résumé is still lacking in terms of quality wins and there's a lot of work for this group, but Hunter Dickinson is playing at an All-American level after missing a game due to COVID-19.
5. Wisconsin (6-2, 1.062 PPP, 1.051 PPP allowed)
Wisconsin's seven-game winning streak was snapped on Friday when Michigan State won 86-74 in convincing fashion at the Kohl Center. The Badgers have won a lot of close games so far in league play but simply had no answer defensively for the Spartans. Michigan State scored 1.23 points per possession in the win and had five players in double figures. Johnny Davis, meanwhile, needed 20 shots and eight free throw attempts to score 25 points in the loss.
4. Ohio State (5-2, 1.062 PPP, 1.01 PPP allowed)
The Buckeyes haven't played a Big Ten game since Jan. 16 and destroyed IUPUI this past week in Columbus in a non-conference tilt. This is an important week for Ohio State as it plays a pair of road games at Minnesota and Purdue. The Buckeyes have lost their last two road games by an average of 13 points.
3. Purdue (5-3, 1.12 PPP, 1.013 PPP allowed)
Purdue is the Big Ten's best team according to the KenPom ratings, but already has three losses in conference play. Its two road losses have come by a combined five points (Rutgers and Indiana) and the Boilermakers are going to need to tighten things up defensively in order to win the Big Ten crown. Still, the trio of Ivey, Trevion Williams and Zach Edey is among the best in the country as is the supporting cast led by Sasha Stefanovic, who is shooting close to 42 percent on 3s.
2. Illinois (6-2, 1.095 PPP, .988 PPP allowed)
The Fighting Illini dropped a pair of games last week to Purdue and Maryland. The Purdue loss came in double overtime at the State Farm Center and it marked the first time Illinois had its entire roster available in nearly two months. The full roster availability, however, was short-lived as Cockburn missed the Maryland game over the weekend due to a concussion and the Illini fell by 16 at the Xfinity Center.
1. Michigan State (6-1, 1.095, .982 PPP allowed)
There's nothing spectacular about this Michigan State team, but the Spartans have taken care of business so far in league play sans a slip up at home last week to Northwestern. Michigan State is atop the Big Ten at 6-1 and has the league's best defense and fourth-best offense. The Spartans have won 10 of their last 11 games and will try to remain unbeaten in true road games when they travel to Illinois on Tuesday. Michigan State is 4-0 on the road, including 3-0 so far in Big Ten play after its impressive victory over the weekend at the Kohl Center.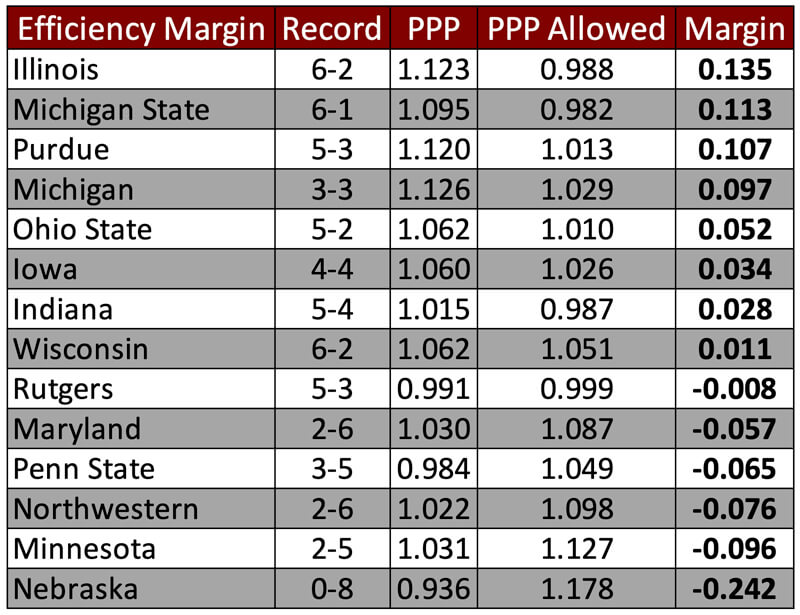 Filed to: Big Ten Power Rankings