In all-too-familiar fashion, Indiana falls flat against Michigan after big win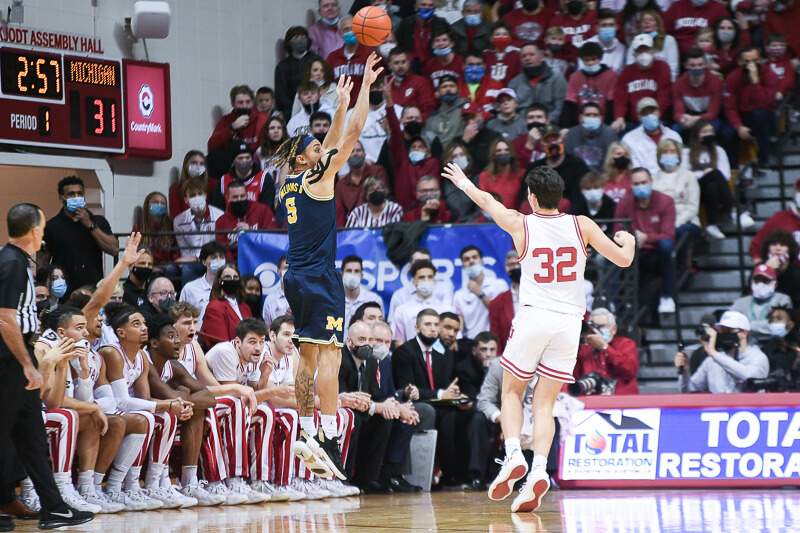 One of Mike Woodson's goals when he took over the Indiana program was to reestablish a home court advantage at Assembly Hall.
And the Hoosiers had done exactly that to begin the season – tallying 12 straight wins on Branch McCracken Court.
But just days after Indiana put an end to its losing streak against Purdue, the Hoosiers stumbled for the first time this season in Bloomington.
Indiana led by two points a couple of minutes into the game, but would never take back the advantage, falling 80-62 to Michigan on Sunday.
The Hoosiers had done this before — a poor performance following a big win. It happened almost two weeks ago when Indiana upset No. 13 Ohio State only to lose at Iowa in their next game.
That's why the players wanted to get ahead of it before it happened.
"As players, we've been talking about it a lot. We don't want to make that a continuous thing — getting a big win then losing," Michael Durr said Saturday.
Durr's words made it clear Indiana wanted to defend home court and ride its momentum from its upset against No. 4 Purdue into a matchup with a Michigan team performing below its preseason expectations. But Indiana's actions didn't match those words when it took the floor Sunday afternoon.
Hunter Dickinson and the Wolverines made it look easy and managed to get the same fans that stormed the court three days prior to head for the exits early on Sunday.
The 18-point loss was a mixture of shortcomings on both ends of the floor.
On defense, Indiana was lost and Michigan made it pay for it from deep. The Wolverines made 11 of their 17 3-point attempts, and a good majority of them were wide-open looks. Trayce Jackson-Davis said it was a combination of poor perimeter defense and Michigan knocking down shots.
"They came in here clawing, scratching for a win, and they needed this one bad," Jackson-Davis said. "They honestly played harder than us, and we didn't defend the line well at all."
Not only did Indiana struggle to defend 3-pointers, it couldn't shoot them either. The Hoosiers shot 5-of-19 from deep, and plenty of those 14 misses left the crowd baffled as open looks turned into ugly misses.
Indiana's shooting struggles weren't exclusive to jumpers as it missed 14-of-24 layup attempts.
The Hoosiers looked fatigued and it translated to their play — especially the starters. The first five gave up an 11-4 Michigan run to start the game, then let the Wolverines start the second half on a 12-6 run.
Miller Kopp, in just 19 minutes of play, was a minus-14. Parker Stewart, in 17 minutes, was a minus-17. In Indiana's last six games, they've each recorded four games on the wrong side of the plus/minus.
"The starting five, we need to regroup and we need to figure that out because it's unacceptable honestly to come out with no emotion and no drive," Jackson-Davis said postgame.
The poor play extended to the bench as Thursday's hero Rob Phinisee committed a quick two fouls and finished with only two points in 18 minutes.
Every player for Indiana finished with a negative plus-minus with the exception of Trey Galloway. Indiana played Michigan even when Galloway was on the floor.
"That just lets me know we weren't there tonight, which that's on me," Woodson said. "It's just unacceptable, especially coming off a great game like the Purdue game."
Indiana players knew what they couldn't let happen today. They talked about it. They knew they couldn't drop this game after a big win — not like it did repeatedly under the previous coaching staff.
Instead, it served almost as reverse psychology as so much talk about changing things prompted the same results.
Michigan, on the other hand, stuck to its normal routine. There was no talk about Indiana's upset. It was the typical two-day preparation before a quality road win.
"We just stayed focused. We also had a game, we saw what happened," Terrance Williams III said. "It didn't really have an effect on us to be honest, we just do what we do."
Filed to: Michigan Wolverines