That's A Wrap: Archie Miller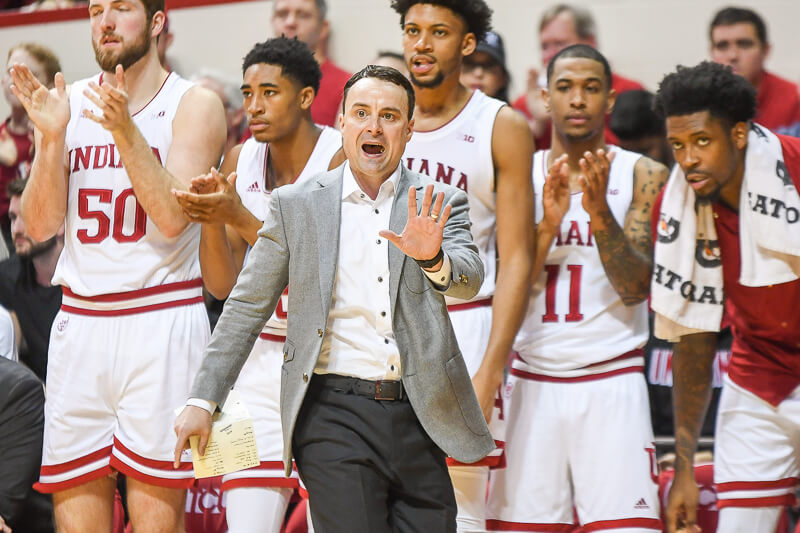 Welcome to "That's A Wrap," our recap of the 2019-2020 Indiana Hoosiers. Today, the series concludes with a look at coach Archie Miller. Previously: Armaan Franklin, Trayce Jackson-Davis, Damezi Anderson, Jerome Hunter, Rob Phinisee, Race Thompson, Al Durham, Justin Smith, Joey Brunk, Devonte Green, De'Ron Davis, Team offense, Team defense
In the first two seasons of his Indiana tenure, Archie Miller portrayed a stoic, steady demeanor. Sure, Miller raised his voice on the sideline. But compared to his contemporaries, he expressed less emotion, erring more towards calm and cool than hot and fiery. He rarely, if ever, snapped back at the media. Yet in his third season, the program staring down the prospect of a fourth straight season missing the NCAA tournament and playing in an unforgiving Big Ten, the best conference in the nation, Miller seemed to more outwardly wear the weight of his responsibility and all the pressure that comes with coaching at Indiana.
He started chomping golf-ball sized wads of gum on the sideline with fervor, something he reflected upon following the Ohio State game on Jan. 11. After a missed Race Thompson free throw in a home win against Penn State on Feb. 23, he punched a clipboard out of assistant Tom Ostrom's hands. (This happened to come on the 35th anniversary of Bob Knight's infamous chair throw.) He argued with assistant Bruiser Flint on the bench during a loss at Purdue on Feb. 28., wiping sweat from his brow with a towel during the exchange. He received a technical during a loss to Rutgers on Jan. 15, his first ever in Big Ten conference play. He tossed his jacket off on more than one occasion. And then there was the pièce de résistance: Miller's Sesame Street rant after a home loss to Wisconsin to close out the season, going after ESPN bracketologist Joe Lunardi in the process.
Miller also flashed more of a wry sense of humor this season, perhaps most clearly expressed during halftime of Indiana's Big Ten tournament win against Nebraska. After a conversation with officials, Mike Hall of the Big Ten Network asked Miller what was exchanged. He smiled and offered only this: "Pleasantries."
It may have taken three seasons in Bloomington, but maybe we've finally figured out why Ryan Miller's family nicknamed him after Archie Bunker as a child.
Miller's evolving demeanor aside, this is a results driven business, and the results were another season of steady improvement for the Hoosiers under his watch. Indiana's adjusted offensive efficiency has gone from 92nd (2017-2018) to 82nd (2018-2019) to 65th this season. As I chronicled earlier in the week, Miller created a clearer identity on offense this season, one looking to draw fouls (though the 2017-2018 team was pretty good at that, too) and that employed wheel action in a blocker-mover motion offense. Miller showed he could make adjustments, paring down the motion action down the stretch of the season and employing simple curls for the likes of Al Durham off down screens.
While Indiana has improved each season offensively under Miller, there's still a warranted gripe from the fans: The roster has lacked a pure, dead-eyed shooter or two — and sometimes, really, any reliable shooting — and it's held the Hoosiers back. They've struggled to hit from distance and from the line. This season in conference play, the Hoosiers finished just 12th in offensive efficiency, 10th in effective field goal percentage and 12th in free throw percentage. If Indiana wants to turn into an elite program, the offense, and particularly the shooting, must improve.
On defense, the pack line faces plenty of criticism when it goes wrong. Nebraska's 5-out attack against Indiana in December stretched it thin. Its reliance on stopping the ball getting into the paint meant continual hedging on ball screens from Indiana's bigs, which sometimes drove fans up a wall — especially when a wizard like Zaiver Simpson made the Hoosiers look silly. It's susceptible to 3-pointers. But it often doesn't get enough credit when it goes right, like when Indiana rotated and recovered with excellence against Florida State and then again against Iowa, the Big Ten's best offense. Miller's defense has steadily improved in his first three seasons as well, going from 65th (2017-2018) to 32nd (2018-2019) to 26th in adjusted offensive efficiency this season.
Miller came to Bloomington as a defensive-minded coach and he's delivered in that regard, though Indiana's conference-only defensive efficiency ranked 8th this year.
Bottom Line: Indiana finished under .500 (9-11) and 11th in conference play. Still, at 20-12 overall, it was the program's first 20-win season since 2015-2016. And with no bad losses on its ledger and a handful of tier 1 wins, Miller had his team poised for a return trip the NCAA tournament, a trip that never happened due to the COVID-19 pandemic. While just making the tournament isn't going to be enough to satisfy fans, Miller's ability to show year over year improvement as he reshapes the program and continues to bring in players that suit his system has things on the right track. In his first three seasons, he's taken the program from 71st to 52nd to 34th in the KenPom rankings.
Quotable: "I was told coming off the floor the unfortunate circumstances of the NBA putting on hold. I told our team that that happened and we'll brace ourselves for what happens next. It's obviously a very evolving situation and it's rapid. But it puts it into reality of the seriousness of it. And when world experts start to recommend things, you obviously better listen. Obviously you cross your fingers that the college basketball landscape can continue on, even if it means that there aren't fans. Because you grind it out and you get to this point in the season. It's the most special time for our young guys. It's the most special time for, obviously, the fans. And to get here with this happening is obviously a little unfortunate." — Miller after Indiana's win against Nebraska in the Big Ten Tournament on March 11
Filed to: Archie Miller