That's A Wrap: Team offense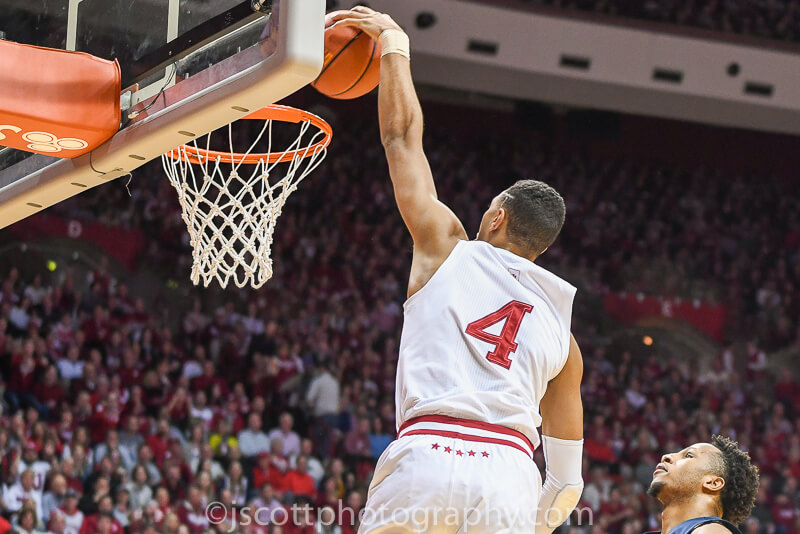 Welcome to "That's A Wrap," our recap of the 2019-2020 Indiana Hoosiers. Today: Team offense. Previously: Armaan Franklin, Trayce Jackson-Davis, Damezi Anderson, Jerome Hunter, Rob Phinisee, Race Thompson, Al Durham, Justin Smith, Joey Brunk, Devonte Green, De'Ron Davis
Team Offense (32 games): Adjusted Efficiency: 108.5 (65th), eFG%: 49.3 (191st), TO%: 18.3 (135th), 3PFG%: 32.6 (204th), 2PFG%: 49.5 (172nd), FT%: 67.9 (271st), FTA/FGA: 39.2% (36th), OR%: 32.4 (44th)
Once teams learned to pack the paint against the Hoosiers last season, Indiana's offense got stuck in the mud. It took away Juwan Morgan and Romeo Langford, daring poor shooters to launch 3-pointers. The results weren't pretty. Such a defensive strategy — and Indiana's inability to combat it — was a major reason the 2018-2019 team failed to make the NCAA tournament. But this year, Indiana's offense found more offensive freedom thanks to expanded options, increased trips to the line, strong offensive rebounding and a bit better outside shooting. It was all enough for an overall improvement on offense (82nd to 65th in KenPom's adjusted offensive efficiency metric) and what was almost certain to be a return back to the Big Dance.
Indiana's first order of business on offense was simple. Whether on a make or miss from the opponent, it looked to get the ball up the court quick and find a rim-running big man posted up down low. The intended result? A single-covered score or drawn foul. Joey Brunk and Trayce Jackson-Davis were often the recipients of these early-in-the-shot-clock passes. Jackson-Davis led the team in free throw rate (59.8 percent, also good for 57th in the nation), taking 168 free throws against 281 field goal attempts. And drawing fouls wasn't just Indiana's emphasis early in the shot clock. It was also important in its half court motion as well, allowing the likes of Al Durham (free throw rate: 52.6 percent) and Justin Smith (free throw rate: 40.3 percent) to draw fouls on their drives into the paint. De'Ron Davis saw limited minutes this season, but also excelled at getting to the line (free throw rate: 47.1 percent), rounding out the foursome of Hoosiers eclipsing a 40 percent free throw rate.
It was a successful strategy for the Hoosiers in one regard: Indiana led the Big Ten conference in free throw rate (36.2) and finished 36th best in the country (39.2). The problem, though? Indiana wasn't a good free throw shooting team. The Hoosiers finished 12th in free throw percentage in conference play (67.3 percent) and just 271st in the nation (67.9 percent). A high volume of trips to the line were created all season long. But the Hoosiers shot themselves in the foot by converting at a below average level.
Indiana's 3-point shooting wasn't elite (overall: 32.6 percent, 204th; conference: 32.0 percent, 7th), but it improved from a season ago, helping to supply more oxygen to the offense and keep defenses more honest. Some of Indiana's best wins of the season came in games the Hoosiers were hot from deep. In a key non-conference victory against Florida State on Dec. 3, the Hoosiers knocked in 7-of-15 (46.7 percent) from distance. In important conference play wins, they shot 52.4 percent (11-of-21) against Iowa on Feb. 13 and 50 percent (6-of-12) against Ohio State on Jan. 11.
Those hot 3-point shooting games were sometimes spurred on by ridiculous Devonte Green performances. Green attempted 165 3-pointers, by far the most on the squad, hitting 35.8 percent on the season. Al Durham took the second most (94 attempts), leading the team from a percentage standpoint (38.3 percent). But with Indiana's offense keying on inside play and drawing fouls, it tended not to seek out a high volume of attempts from deep. Only 29.2 percent of Indiana's shot attempts were 3-pointers, ranking them 326th out of 353 Division I teams. As the game, backed by numbers (three counts for more than two, after all), continues to move to the 3-point line, Indiana's offense has taken a more conservative approach under Miller.
In the halfcourt, Miller employed a popular college offense, running wheel action in a blocker-mover offense that involves a lot of cuts and screens. (Between the blocker-mover on offense and pack line on defense, Miller borrows heavily from Dick Bennett.) With Rob Phinisee seemingly hobbled for a decent part of the year and Indiana not always the surest passing, ballhandling or shooting team, the halfcourt offense could get bogged down, especially if teams sagged on the Hoosiers. Still, the movement allowed Indiana to get Jackson-Davis and Brunk isolated on the block to continue to hammer it inside or get Justin Smith, Durham, Phinisee and others into areas on the court to succeed. Green's presence could nuke the whole thing, however. While he certainly adhered to wheel action at times, his isolation-heavy game meant offense wasn't always worked or the best shot found. Instead, Green would just shoot whenever he pleased. Sometimes it was transcendent. Other times it meant quick, empty possessions that allowed runouts for the other team after a long rebound.
Indiana's strong ability on the offensive boards (fourth in conference, 44th in the country) was a secret sauce this season, allowing for a multitude of second-chance opportunities and putbacks. The Hoosiers ranked in the 74th percentile nationally in putbacks, per Synergy Sports, with Jackson-Davis, Smith and Race Thompson particularly skilled at it.
Bottom Line: Indiana's offense had some clunkers this season, especially in Big Ten road losses at Maryland (.852 PPP), Purdue (.757 PPP), Rutgers (.739 PPP) and Penn State (.702 PPP). Those four games accounted for four of their five worst games from a points per possession perspective, as Indiana had some dreadful shooting performances in each. Still, Miller's offense has now improved in three straight seasons, going from 92nd to 82nd to 65th in adjusted offensive efficiency. In year three, the Hoosiers carved out a stronger identity in terms of style and system, even if poor free throw shooting worked against it.
Quotable: "I think the key was, they got to the offensive glass and really impacted the game that way. When we did get stops, you got to get the ball. They're big and strong and it's what they do. They do it well." – Fran McCaffery after Iowa's loss to Indiana on Feb. 13 in Bloomington
Filed to: Trayce Jackson-Davis