That's A Wrap: Al Durham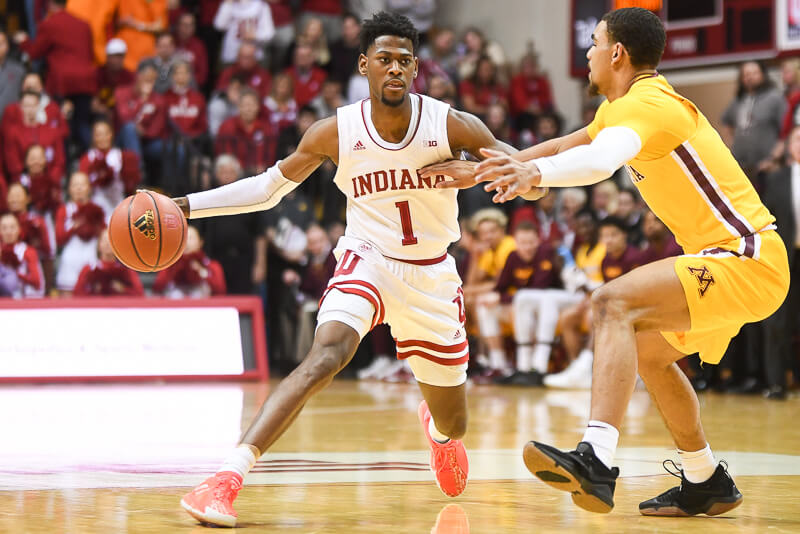 Welcome to "That's A Wrap," our player-by-player recap of the 2019-2020 Indiana Hoosiers. Today: Al Durham. Previously: Armaan Franklin, Trayce Jackson-Davis, Damezi Anderson, Jerome Hunter, Rob Phinisee, Race Thompson
Durham (32 games): 9.8 ppg, 2.1 rpg, 2.5 apg, 44.1% FG, 38.3% 3PFG in 26.4 minutes per game
By any metric, quantitative or qualitative, Al Durham has gotten better each year over the course of his three seasons in Bloomington.
One of the three recruits who stuck with Indiana after the coaching change from Tom Crean to Archie Miller, Durham has seen statistical improvements each season under Miller.
He's the best example of a player who has developed positively as a shooter under Miller. Among the notable jumps taken by the Georgia-native this season were a four percent increase in overall shooting percentage, a four percent increase in 3-point shooting percentage, a seven percent increase in free-throw shooting percentage, an increase of one more assist per game on average and an increase of nearly two more points scored per game on average.
Those are the undeniable positives, and while an early-season experiment with Durham as Indiana's primary ball handler didn't go all too well, Durham remains completely comfortable in a shooting guard role for the Hoosiers.
Durability hasn't been a problem for Durham at Indiana and this season continued that theme. He started all 32 of IU's games during the 2019-20 season, although he was ejected during the first half of the home loss to Arkansas.
The team captain shot a team-best 38.3 percent from distance, 81.1 percent from the foul line and had a career-best 80 assists, the second-most on the Indiana team.
What perhaps plagues Durham the most is the consistency factor.
There was a wide variance to Durham's scoring outputs this season. He once went five straight Big Ten games without scoring more than eight points (Indiana went 1-4 in that stretch) before scoring 38 points over his next three games (Indiana went 2-1 in those games).
His final performance of the season was emblematic of the Durham that Hoosier fans wished arrived every night.
Durham had 11 points (making two 3-pointers) and four assists with just one turnover in the Big Ten Tournament win over Nebraska.
For the season, Synergy Sports measured Durham as IU's best spot-up shooter, as Durham had 73 spot-up shooting situations and scored 80 points from them, the only Hoosier to average better than a point per possession in those situations.
Durham was also one of the best Hoosiers when it came to scoring in transition (82 points from 70 transition possessions per Synergy) and in off-screen situations (51 points from 58 possessions per Synergy).
It may not feel like Durham is the defining backcourt presence for Indiana, that distinction often went to Devonte Green and Rob Phinisee this season, but the Hoosiers are a team in need of Durham's 3-point shooting, and looking ahead to next season, his continued leadership.
Miller clearly outlined his goals for Indiana's guards last December. He said it's not as much about scoring for the guards, which makes sense given the ability of Trayce Jackson-Davis near the rim, as it is focusing on ball handling and assist-to-turnover ratio.
"As a group, their floor game on offense, making guys better, assist-to-turnover (ratio), then their floor game on defense in terms of not only one-on-one, but a commitment as a group to defend the other team's backcourt in a better fashion," Miller said.
Durham finished the 2019-20 season with 80 assists to 60 turnovers, a 4:3 ratio, by far the best job he's done at Indiana of taking care of the ball.
Bottom Line: While the scoring can be at times sporadic, Durham is efficient in several offensive situations for Indiana, the most important of which remains his continuing improvement from 3-point range.
He serves Indiana best as a distance shooter and not as someone who should be relied on for volume shooting, and while he's improving as a facilitator of the ball, it's also best if Durham isn't the main ball handler for Indiana.
All of those scenarios fell into place this season and helped allow Durham to have his best college season, and given the pieces coming back for Indiana next season, more of the same should be expected from a player likely to finish his IU career as a two-year captain.
Quotable: "He'll care about doing the right things, and he'll stay that way, too. You don't have to worry about him," Miller on what he likes about Durham during the February 24th edition of Miller's weekly radio show.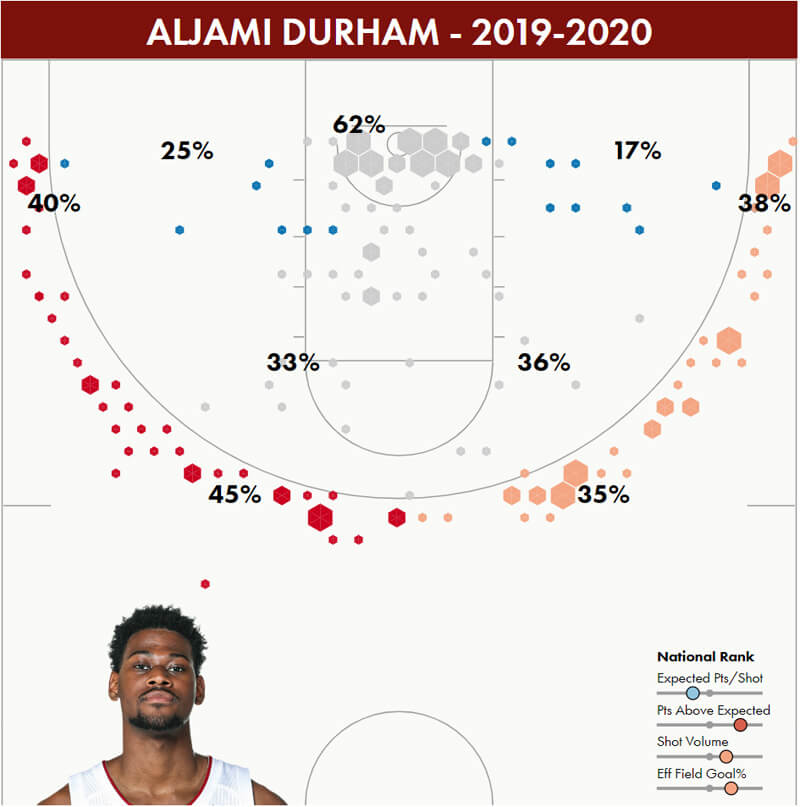 Filed to: Aljami Durham