That's A Wrap: Joey Brunk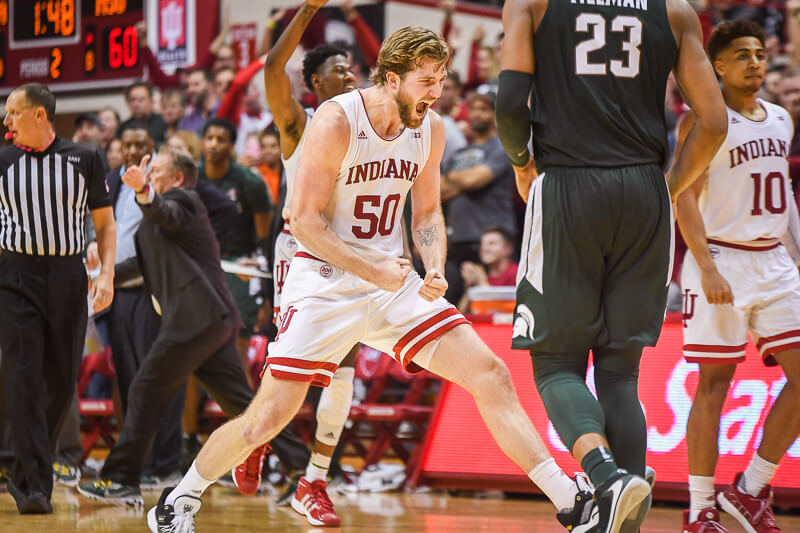 Welcome to "That's A Wrap," our player-by-player recap of the 2019-2020 Indiana Hoosiers. Today: Joey Brunk. Previously: Armaan Franklin, Trayce Jackson-Davis, Damezi Anderson, Jerome Hunter, Rob Phinisee, Race Thompson, Al Durham, Justin Smith
Brunk (32 games): 6.8 ppg, 5.2 rpg, 0.6 apg, 52.2% FG, in 19.5 minutes per game
Joey Brunk's debut season for Indiana had peaks and troughs, and perhaps more of them than any other player on the 2019-20 Hoosiers.
There was a period of play this season following Indiana's victory over UConn in the Jimmy V Classic in New York City, in which Brunk played a crucial role, that he was likely IU's best or second-best player.
In the nine games following the UConn win, encompassing both the end of nonconference play and the restart of Big Ten play for Indiana, Brunk had his best stretch of basketball. He averaged 9.5 points and 8.7 rebounds in these games, playing with swagger and a strong command of his game on both ends of the court (Indiana went 6-3 during this stretch).
But aside from this period there were only isolated moments in which Brunk's on-court play came without major flaws. The most noticeable of these flaws came on defense, as Brunk's lack of mobility hurt him within Indiana's packline system.
The Hoosiers made a habit of high-hedging against opposing big men, and Brunk's lack of speed was exploited frequently. Brunk was either beat for pace to the basket or beat for a lack of close-out ability at the 3-point line. Physicality around the rim was also at times an issue for Brunk, who saw his minutes (and when they were given to him) decrease significantly in favor of Race Thompson toward the end of the season.
Brunk averaged less than 13 minutes played across Indiana's final seven games, although the one outlier was an important one. He played 28 minutes and had 12 points and eight rebounds in a home win over Minnesota, the victory which likely solidified Indiana's NCAA tournament berth and put to rest questions about whether or not Miller should drop Brunk from the starting lineup (Brunk started 31 times for Indiana this season).
It was a throwback performance for the 'Brunkyard Dog,' and while Brunk never developed much of anything outside of the post, he did knock down the very occasional jumpshot.
But offensively that was fine for an Indiana team that spent 13.1 percent of its offensive possessions (334 in total) in post-up situations, per Synergy Sports. Of those, Brunk was used in 26.6 percent of the post-up situations (89 total), scoring 80 points.
That was actually more efficient than Trayce Jackson-Davis (Brunk averaged 0.899 points per possession in post-up situations, while Jackson-Davis averaged 0.824 points per possession in post-up situations, although he dealt with significantly more attention and double teams from opponents).
Of course, Brunk's lack of speed was a liability whenever Indiana tried to run a pick-and-roll, and Brunk was one of the worst players on the team at scoring after cutting to the rim (52 points on 53 possessions per Synergy).
Another Achilles heel for Brunk came at the foul line where he shot a woeful 44.6 percent on free throws.
But aside from the quantitative stats, some of struggles within which can be explained by Brunk's adjustment to a more physical brand of basketball in the Big Ten, there is also the off-court leadership Brunk brought to the table.
Brunk's work ethic, his command of the locker room and his overall guidance toward teammates was raved about in public comments from Archie Miller and other IU players.
Brunk's final season at Indiana will be interesting in terms of a defined role, especially if Race Thompson continues his ascendance, but it seems that no matter what, Brunk is a strong candidate to serve as a team captain who will continue to lead by example when the cameras aren't on.
Bottom Line: Brunk's first season in Bloomington provided plenty of clear-cut examples of what he's good at and not good at. Those things aren't likely to change much in the offseason either.
Brunk isn't able to stretch the floor at all, and playing him, similarly to De'Ron Davis, creates obvious mismatches against Brunk when IU plays opponents with mobile big men who can shoot from distance.
But there is a gritty, workmanlike quality to Brunk that shines through on the court, and clearly affects his teammates off of it. He's also prone to stretches of good play that, when they occur, compliment Jackson-Davis really well. The question will be whether Brunk has enough of those next season to justify playing time over Race Thompson.
Quotable: "It's not measurable what Joe has meant to us…there's no fake work ethic, he's at it every day. He's improved – for a first-year player in our system, learning what's going on with new players – he's improved as much as any player I've been around from month-to-month," Miller on Brunk after Indiana defeated Michigan State on Jan. 23.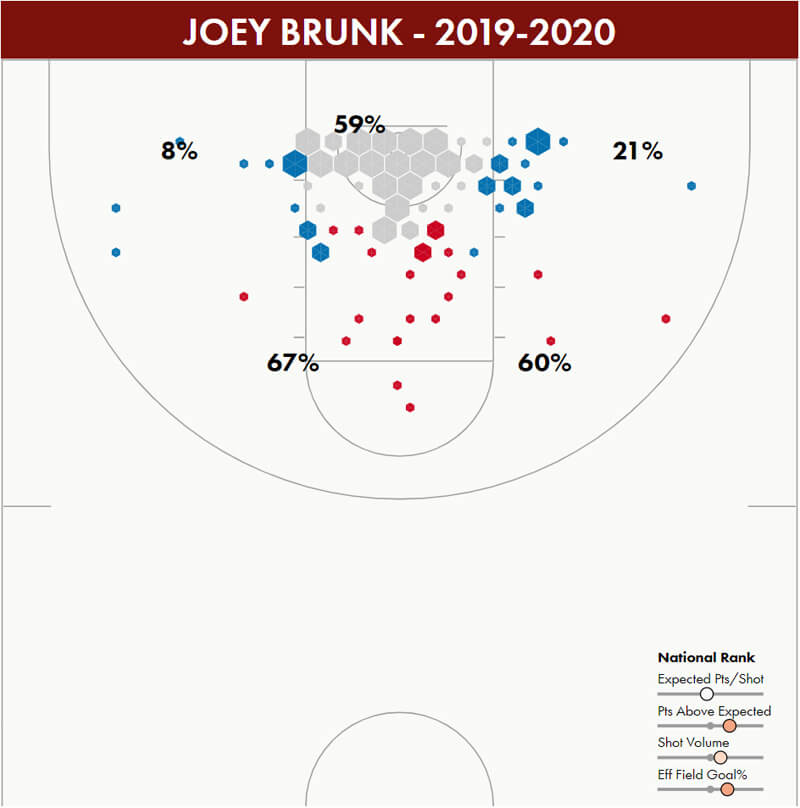 Filed to: Joey Brunk