Joey Brunk back at his best, bringing physicality and energy in Minnesota win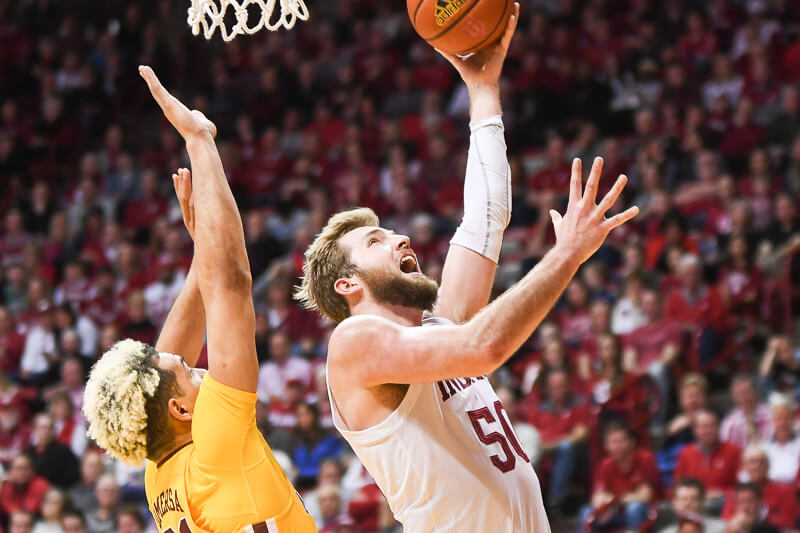 There was no doubt in Archie Miller's mind about changing up his starting lineup.
A question posed to Miller after Indiana's 62-57 win over Minnesota Wednesday night was in regard to switching up his starting five, but in reality, it was about one player in particular, and Miller knew it, too.
Joey Brunk, once Indiana's most consistent player from late December to early January, had become Indiana's biggest liability over the last month and a half. Race Thompson started the second half against Illinois on Sunday, and opinions arose that Thompson, or even at times De'Ron Davis, should get the starting position over Brunk.
But to Miller, there was never a question.
"You're in March. If you change your starting lineup, you change your starting lineup with a specific reason or a specific adjustment. I'll tell you this much, the minute you change, you lose guys," Miller said. "There's no reason to do that. Part of it is I think what Joey did tonight, you hang in there, hang in there. It's not easy to play well every night, but it's easy to play hard every night. I think Joe played extremely hard tonight."
Brunk's 28 minutes against Minnesota were the most he has played in a game since playing 24 minutes in the home loss to Purdue on Feb. 8. Wednesday night was also the first time Brunk made more than four shots since the Michigan State victory on Jan. 23.
His decrease in minutes over the previous six games were met with less production. But it never resulted in a decrease in effort for Brunk, who said he hasn't changed anything up despite his struggles.
The phrase "stick with it" was used by Brunk numerous times postgame.
"Just got to stick with it regardless of what is going on," Brunk said. "Continuing to lead in practice, have energy, keep plugging away."
It really was just a matter of plugging away for Brunk. Even after scoring the first basket of the game on Wednesday, he then missed some really easy shots at the rim, as well as getting burned on defense from hard hedging and not recovering quick enough.
But when the Hoosiers took a two-point deficit into halftime, it was Brunk who sparked Indiana in the second half.
He scored the Hoosiers' first points to start the second 20 minutes, he had a nifty move in the post that drew some "ooh's" from the crowd, and he took Minnesota's Jarvis Omersa off the dribble from just above the free-throw line and finished a driving layup while getting fouled.
"His energy. I mean, we needed it in the second half," Rob Phinisee said on Brunk. "We were down by two. Just him bringing the energy, getting those big buckets when we needed it."
It was reemergent performance for Brunk, who finished with 12 points and eight rebounds, as well as a team-high plus-minus of plus-17.
Because Trayce Jackson-Davis dominated Minnesota in the first meeting with 27 points, Minnesota coach Richard Pitino put Daniel Oturu on Jackson-Davis for round two. But Pitino said after the game that Brunk was able to dominate whoever he put at the four, saying Indiana basically has "two centers" down in the paint.
It wasn't just the offensive end where Brunk thrived either. He has had his struggles against some of the Big Ten's premier big men, but he held his own against Oturu. Even though Oturu had 24 points and 16 rebounds, he shot 11-of-27 from the field, and Brunk had a lot to do with those misses.
"I thought what Joe did tonight is he tried like crazy to stay between him and the rim," Miller said. "We got other guys to help a little bit. There was a lot of challenged balls around the basket tonight. Maybe there was a lot of contact at times, but this is the Big Ten. If there's no contact, there's something wrong."
With one final game in the regular season left for the Hoosiers, Indiana appears to be putting everything together at the right time, finding an identity that seemed unattainable to start conference play. Getting Brunk, who Miller called the key to the Minnesota win, back at his best will be beneficial for this team as they welcome the No. 24 Wisconsin Badgers on Saturday.
Filed to: Joey Brunk, Minnesota Golden Gophers