Five takeaways from Indiana's loss to Purdue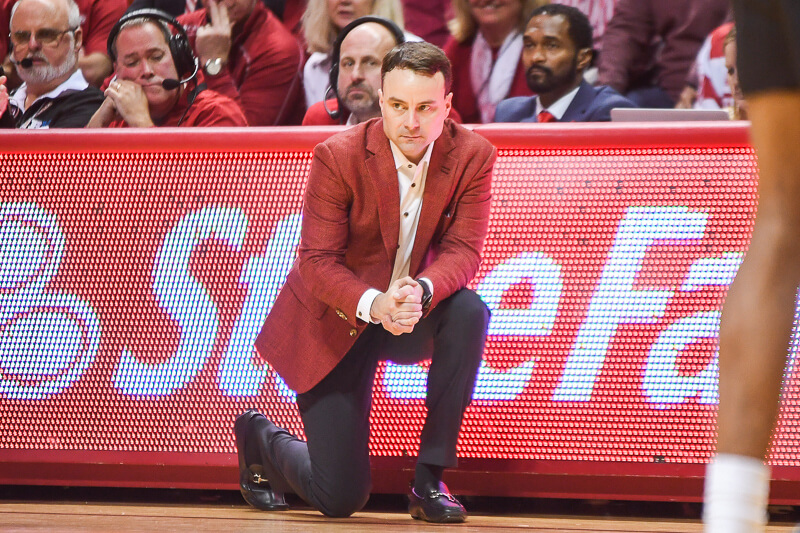 Indiana dropped its fourth straight game on Saturday afternoon, a 74-62 loss to Purdue at Simon Skjodt Assembly Hall. The loss dropped the Hoosiers to 15-8 overall and 5-7 in Big Ten play.
Here are five takeaways from the loss to the Boilermakers:
· With a week to prepare, Indiana delivers a listless performance: Indiana had six full days off to prepare for Purdue following its 68-59 loss to Ohio State last weekend in Columbus.
But rather than correcting the issues it showed in losses at Penn State and Ohio State, the Hoosiers continued to let a once promising season move in the wrong direction.
Indiana's turnover issues – the Hoosiers solidified their hold on last place in the conference in turnover percentage – kept it from finding any flow offensively. Purdue was the more physical and aggressive team in the paint and were rewarded with 10 more trips to the free throw line as a result. And Indiana's rebounding prowess, once a strength, continues to regress.
The end result was a listless performance and a loss in a game that Indiana desperately needed to regain momentum. With Iowa coming to town and four of its next six games away from home, it's hard to see this group turning a corner in the foreseeable future. The only question is, will the upcoming stretch bring a repeat of Indiana's disastrous Big Ten performance from a season ago and ultimately, another trip to the NIT?
· Guard play continues to underwhelm: Indiana's guards have struggled with their consistency for most of the season. With just four scholarship guards on the roster, the coaching staff doesn't have the depth to go to the bench when the starters don't perform.
On Saturday, none of IU's four scholarship guards delivered a strong performance.
Sophomore Rob Phinisee scored just five points in 28 minutes. Al Durham Jr. had five points and four rebounds in 23 minutes, but turned it over three times. Senior Devonte Green was a dreadful 1-for-7 from the field. And freshman Armaan Franklin played just 10 minutes and scored four points.
In total, IU's guards combined for just 17 points on 6-for-19 shooting.
· Purdue continues dominance over Indiana: Indiana may have five national championships in its history compared to zero for Purdue, but the Boilermakers continue to dominant the in-state rivalry.
Saturday's win was Purdue's ninth in its last 10 games against Indiana and dropped Archie Miller to 0-4 all-time in the series. Purdue now leads the all-time series over Indiana, 121-89.
Despite losing three of its best players from last year's Elite Eight team in Carsen Edwards, Ryan Cline and Grady Eifert, Purdue left no doubt on Saturday afternoon in beating Indiana. The Boilermakers led by as many as 16 points in the second half.
"I think you've got to give Purdue a lot of credit," Archie Miller said. "Looking at their win against Northwestern and the way they played against Iowa, and now they have gotten this one. They have found a way to plug through it and gotten themselves in a situation where they're playing really well."
· Jackson-Davis holds his own against Purdue frontcourt: If there was an individual bright spot for Indiana on Saturday, it was the play of freshman Trayce Jackson-Davis.
The 6-foot-9 forward finished with team-highs in points (16), rebounds (8), assists (4), blocked shots (3) and minutes played (34). Jackson-Davis took 10 free throws and made eight and took nine field goal attempts, also a team-high.
Still, it feels like Indiana often struggles to make Jackson-Davis the focal point of its offense. He's taking just over eight field goal attempts per game and his percentage of possessions used in conference play of just 21.6 is well below several of the league's other top big men.
Jackson-Davis is just 31st in the league in terms of percentage of possessions used, which ranks below Luka Garza, Trevion Williams, Nate Reuvers, Daniel Oturu, Kofi Cockburn, Kaleb Wesson, Jon Teske, Jalen Smith, Mike Watkins, Xavier Tillman and Matt Haarms.
· Knight return produces special moment for fans: Regardless of your personal feelings on Bob Knight, there's no denying that his return to Assembly Hall on Saturday afternoon produced a special moment for IU fans.
Knight didn't make any public comments at Assembly Hall, but received an ovation that lasted several minutes and he interacted with fans and former players on Branch McCracken Court.
It was Knight's first public appearance at Assembly Hall since he was fired in 2000.
"Randy Wittman and Quinn Buckner and Isiah Thomas, a lot of those guys that conversed over the course of time to make that happen," Miller said. "It was huge. But also the inclusion of Coach Knight meant a lot to those guys.
"And for us to be able to host them and have Coach Knight officially come through the doors was a big thing. And I think, hopefully, that makes those guys and everybody that's been a part of the long-standing tradition that only played here coached here and obviously all our fans, hopefully that makes some things go in a different direction moving forward, continuing to tie things together. So very, very happy about that for those guys."
Filed to: Purdue Boilermakers