Former Indiana coach Bob Knight returns to Assembly Hall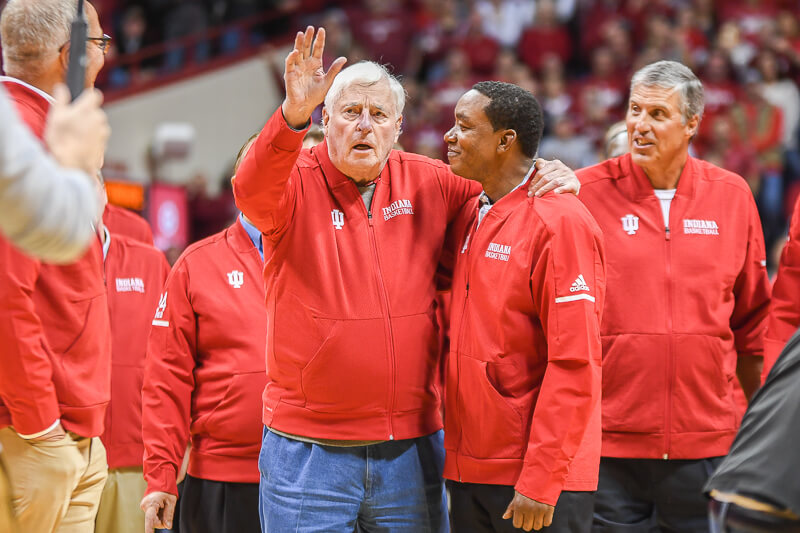 Bob Knight is back in Assembly Hall.
For the first time publicly since he was dismissed as Indiana men's basketball head coach in September 2000, Knight has returned to the arena he once towered over as a coach.
The occasion for Knight's return was a rivalry game Saturday afternoon between Indiana and Purdue.
It had been confirmed days prior to the game that former Purdue coach Gene Keady would be in attendance inside Assembly Hall. Saturday's game will also feature a halftime ceremony honoring the 1979-80 Indiana men's basketball team that won the Big Ten.
Coached by Knight, this team featured members of the 1979 NIT Championship team, the 1981 National Championship-winning team and the 1983 Big Ten Championship team.
Many recent public Indiana basketball reunions have been as notable for who attended as for who didn't.
Saturday marked the end of that discussion, as Knight made his public return to Assembly Hall.
The pieces surrounding a potential return for Knight have fallen into place over the past few years.
Speaking engagements around the state of Indiana, including at Bloomington High School South and Bloomington High School North, have kept Knight in the public eye, as he often recounted stories of his time as Indiana head coach along with Keady and former Bloomington Herald-Times sports editor Bob Hammel.
In February 2019, IU radio broadcaster Don Fischer said Knight was "not well" during a radio show appearance, and later released a statement saying Knight's health "has declined."
Last April, Knight made his first public return to the IU campus since his firing, watching a baseball game at Bart Kaufman Field between Indiana and Penn State.
More recently, Knight attended basketball games at Marian University in Indianapolis, watched the Indiana State men's basketball team practice and delivered a pregame speech to the Bloomington South boys' team.
Following Knight's 29-year coaching tenure in Bloomington, he no longer lived in the city on a full-time basis, but that changed last summer. Property records from July 2019 revealed Knight and his wife, Karen, purchased a home in Bloomington three miles from Assembly Hall.
The fall brought plenty of public sightings of Knight, usually at different restaurants around Bloomington. His most noteworthy public appearance came in November at The Bluebird, a downtown Bloomington bar.
As part of a live event for an Indiana men's basketball podcast, Knight spoke to the assembled crowd and said "let's go tomorrow" in response to a question about returning to Assembly Hall.
Now, he's back.
Knight's return to Assembly Hall also comes after years of spurned offers from the university to return, most notably in November 2016 during a reunion of Indiana's 1981 national title team.
It's also a far cry from the 2017 interview Knight gave on "The Dan Patrick Show," in which he said he had "no interest in ever going back to that university," in reference to Indiana.
Filed to: Bob Knight