'Time heals all': Will a new year and decade bring an Indiana basketball return for Bob Knight?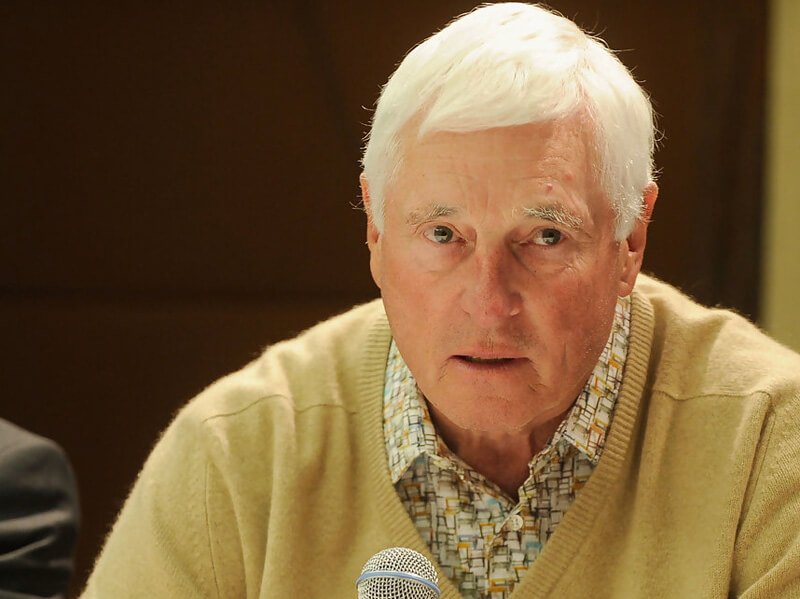 Bob Knight's words were straightforward, but in the end metaphorical.
Since relocating back to Bloomington in the twilight of his life, the former Indiana basketball coach has slowly increased his public appearances.
Recent years have brought speaking engagements around the state featuring Knight, former Purdue coach Gene Keady and former Bloomington Herald-Times sports editor Bob Hammel.
They offered a chance to relive the glory days.
But Knight's presence has also shifted more directly to Indiana.
There was the Indiana baseball game he attended last April, marking Knight's first public appearance on campus since he was fired in September 2000.
In November, Knight was at The Bluebird, a downtown bar in Bloomington, as part of a live event for the 'Hoosier Hysterics' Indiana men's basketball podcast. His appearance was a surprise, and the assembled crowd chanted Knight's name as he took the stage and spoke.
That's when the words came.
A fan asked Knight when he would return to Assembly Hall.
"Let's go tomorrow," he responded.
The event took place on a Saturday, and while there was an Indiana women's basketball game scheduled for that Sunday, Knight was a no show. His words weren't meant to be literal but rather symbolic, showing that an Assembly Hall return for Knight was no longer an impossible event.
Plenty of Indiana home games have been played since Knight's dismissal, and many of them have featured spontaneous cries for Knight to return, whether during the pregame video introduction or when his former players return, as was the case in November 2016 when the 1981 national title team had a reunion before a win over North Carolina.
All this is to say the desire is there, on the part of alumni, fans and former players, for Knight to return to the arena he once towered over.
But despite this, the timetable for a homecoming remains blank.
It's certainly not lost on those who follow the Indiana program, but it also persists as a national storyline.
Current ESPN commentators LaPhonso Ellis and Seth Greenberg both went against Knight on the court in the past.
Ellis, a four-year player at Notre Dame, played against Knight's Indiana teams for four straight years from the 1988-89 season through the 1991-92 season.
Greenberg was an assistant coach on the Virginia team which beat Indiana in the Elite Eight of the 1984 NCAA tournament, and he also went head-to-head against Knight as the head coach of Long Beach State in 1989 (Indiana won 92-75).
They have seen Knight in action and followed his continued fallout from IU.
Before Indiana took on UConn in December's Jimmy V Classic at Madison Square Garden, Ellis and Greenberg discussed what Knight's return would mean.
"It's hard because when you have a legend like that…Bobby Knight was great over his tenure," Ellis said. "It's really tough for the new coach coming in because we have a tendency to compare them to the great one before him."
"Indiana's got to figure out a way to bring Coach Knight back to Assembly Hall," Greenberg said bluntly. "They got to figure out a way to have Quinn Buckner, Scott May and coach (Knight), and maybe even a Purdue game with Coach Keady. Try to find a way to build a bridge between everything."
"Time heals all, and it's been enough time."
Knight's trips to Bart Kaufman Field last spring and to The Bluebird last fall were surprises. His speaking engagements aside, there hasn't been a set time or place where fans could go to see Knight, and to let whatever appropriate reaction wash over them.
Greenberg believes it's this element, a lack of closure, which makes getting Knight back to an IU basketball game such a pressing matter.
"He's part of the great history of Indiana basketball," Greenberg said. "I mean, what he was able to accomplish as coach of Indiana and the lives that he touched is significant."
In the wake of Saturday's blowout loss at Maryland, questions have been renewed about current coach Archie Miller's ability to navigate the Hoosiers back to the great heights of college basketball once experienced under Knight.
Since Knight was fired, five different head coaches have led the Hoosiers. Ellis has a theory for why consistent success has evaded Indiana under each one.
"I felt like the fans were a little bit too hard on the guys in between (Knight and Miller)," Ellis said. "I was just hoping that this time around they would actually give him (Miller) a chance to coach the team, give him a chance to recruit. I think right away he established himself."
Ellis explained that Miller's in-state recruiting — his ability to keep high school talents like Trayce Jackson-Davis, Romeo Langford and Rob Phinisee in Indiana for college — harkens back to the days of Knight.
"That's a really positive sign. I just hope that everyone's patient with him to allow him to build it," Ellis added.
While success has come in fits and spurts in recent decades, Knight has remained absent.
His infamous 2017 interview on "The Dan Patrick Show," the one where Knight said he had "no interest in ever going back to that university" in reference to Indiana, is slowly emerging in the rear-view mirror.
Greenberg is quick to point out the mutually beneficial aspects to Knight's return to Assembly Hall. He mentions the closure it would provide, not only to Knight, but also to Indiana's administration and Knight's former players, who would no longer have to choose between the university and their college coach.
"You can bring all the factions together and be one Indiana," Greenberg said. "I think that makes sense."
The physical embodiment of Knight's separation from the Indiana program can be found right outside Assembly Hall.
There are five granite slabs lining the entrance to Assembly Hall's south lobby, dedicated to Indiana's five national-title winning teams.
Each one includes the names of the coaches and players on those teams.
Inside the south lobby, there are five sculptures depicting moments from Indiana basketball history. Knight is absent from those, something Indiana said was the result of Knight declining to be portrayed.
Anytime Knight's presence has returned inside the arena, it has been from hopeful fans or players awaiting his return, never from the man himself or the Indiana higher-ups.
Bob Knight is a part of Indiana basketball's past. His involvement in its future is still unknown.
"No one's perfect, but you can't ignore what the man accomplished," Greenberg said. "You can't ignore the lives that he impacted. To me, it is unfortunate what happened. But still, it's part of your history."
Filed to: Archie Miller, Bob Knight, LaPhonso Ellis, Seth Greenberg