Indiana discovers mental toughness as season reaches critical stretch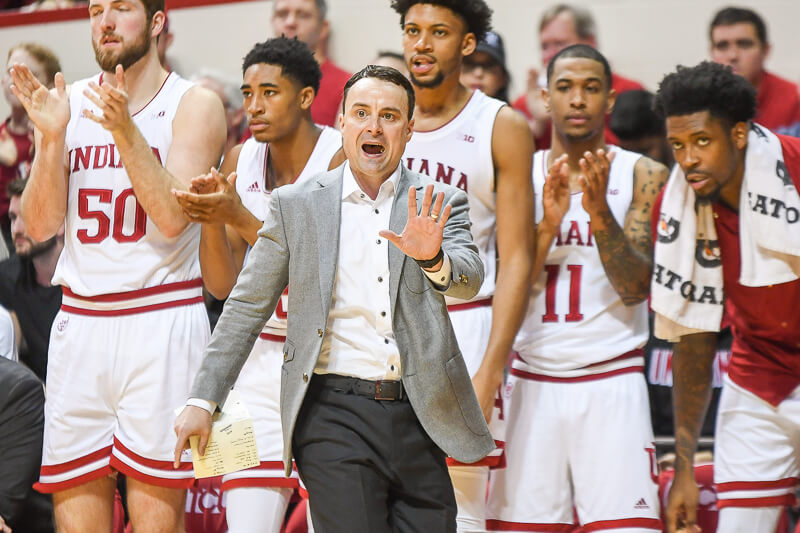 Indiana will finish the 2019-20 season with a 2-8 record in true road games.
That statistic is now fact, unable to be altered no matter what happens during the rest of Archie Miller's third season in Bloomington.
The true road games are now gone for the Hoosiers, and though their final two ended in defeat, the lessons learned from them could translate into meaningful success in the month of March.
Both following Sunday's loss at Illinois and during his Monday night radio show appearance, Archie Miller enthusiastically praised his team's newfound mental toughness.
He said the switch occurred after an embarrassing 24-point loss at Michigan in mid-February, comparable to change that came last season after a 21-point loss at Minnesota.
From that point onward the 2018-19 Hoosiers finished the season 4-2, with close losses to Purdue and Iowa followed by rousing home wins over Wisconsin and Michigan State that nearly hauled Indiana back into the NCAA tournament.
Since the Michigan loss this season, Indiana has gone 2-2, and the chance to match last season's 4-2 closing stretch is a possibility as the Hoosiers end the regular season with tonight's home game against Minnesota and Saturday's Senior Day against Wisconsin.
Mental toughness is at the heart of this late-season surge, starting with Indiana's road mentality.
"Your commitment level and how you have to approach the road has to be different," Miller said Sunday. "You've got to have an attitude, quite frankly, you just don't give a shit about nothing. When you go into the game it is about competing, and it is about playing as hard as you possibly can."
Competitive spirit and effort could rightfully be questioned after most Indiana road games this season, but not following last week's losses.
Indiana's two closest road defeats of the season came to Purdue and Illinois, and weren't due to a lack of desire but rather execution.
"We're not good enough to go and just knock somebody on their back in the first 10 minutes of a road game," Miller said. "We are good enough that if we play hard for long stretches, to hang around and find a way to get one."
This mindset change was first harnessed during Indiana's road win at Minnesota on Feb. 19, which preceded a gritty home win over then-No. 9 Penn State.
It continued into last week, as Miller said Monday there was no gas left in his team's tank after losing to Purdue by eight points in West Lafayette.
"The Purdue game I thought was very frustrating for our team, but they didn't play like it," Miller said. "I didn't think we handled it as a very frustrated team."
And after describing his team's effort against the Fighting Illini as being enough to win the game, Miller heralded the "unbelievable turn" in Indiana's focus that has come since the Michigan loss.
"We have a lot of guys right now, in my opinion, rowing in the same direction," he said.
This manifests itself in different ways. From the perspective of Trayce Jackson-Davis and Al Durham, it's Indiana's defensive adjustments that have spawned offensive success and competitive road games.
Alternative points of reference could also be Indiana's improved 3-point shooting, decreased turnovers and scoring contributions from bench players.
All of this is to serve the same point.
Indiana discovered how to competently play on the road far too late this season, and Archie Miller's 8-25 record in true road games with the Hoosiers remains a real concern.
But if year-over-year improvement and game-by-game development is to be realized for Indiana, the moment has arrived to display it.
Filed to: Al Durham, Archie Miller, Trayce Jackson-Davis