News and notes from Archie Miller's radio show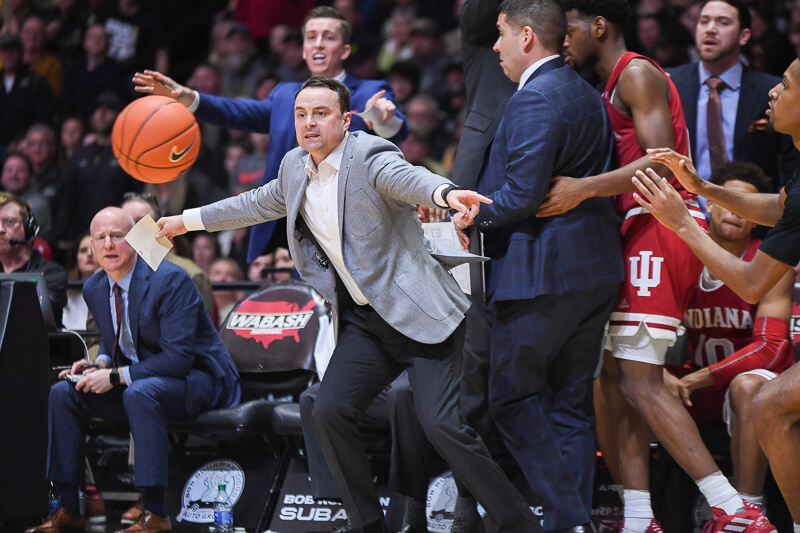 "Inside IU Basketball with Archie Miller" returned Monday night with Archie Miller and Devonte Green spending a combined hour with host Don Fischer to discuss the last week in Indiana basketball, which included an two tough road losses at Purdue and Illinois.
Here are the highlights from Miller and Green's evening with Fischer:
– Archie Miller said he knew going into the week that his team needed to play well in order to be competitive on the road. In terms of the Purdue game, he said the offensive execution was what cost them in that game, as well as their live-ball turnovers at the end of the first half where Purdue went on a 6-0 run to take a nine-point lead into halftime. He mentioned how the offense was much better at Illinois, which is why Indiana stayed in the ball game and gave itself an opportunity to win at the end.
– As frustrating as Indiana's offense was throughout the Purdue game, Miller said his team didn't play like they were frustrated. He said, "it seemed like every play was life or death," in terms of the environment and toughness everyone was playing with on the floor.
– Trayce Jackson-Davis' quiet outing against Purdue was because of the Boilermaker's post defense, bringing quick double teams any time a Hoosier got the ball with their back to the basket. "We weren't able to get the ball out of the trap enough and make them pay," Miller said.
– A sly smile came across the face of Miller when Fischer brought up the tough calls at the end of the Illinois game, including Al Durham's 3-point shot where it looked like he got fouled, a Rob Phinisee turnover where it looked like he got tripped, and an Illinois timeout when it looked like it was a jump ball. Miller said his team played well enough at Illinois to win that game, which is also what made things so frustrating at the end.
– It was revealed on the show that Trayce Jackson-Davis sprained his ankle in the Purdue game and was a little "gimpy" in the game against Illinois, where he finished with 12 points and 12 rebounds, putting Indiana's record at 8-1 when Jackson-Davis records a double-double. Miller didn't elaborate on the injury, but rather talked about how well he thought Jackson-Davis played on Sunday, so expect him to be ready to play against Minnesota.
– Miller was pleased with the 3-point shooting at Illinois as Indiana went 8-of-16 from beyond the arc. Durham, Phinisee, Green and Jerome Hunter all hit two. "That's what we're going to need at this time of year," Miller said. "We're going to need guys to step up make the ones that are makeable." Most of the Hoosiers' makes from the outside were from drawn up plays or out in transition, resulting in good looks that the players knocked down. Indiana ranks sixth in the Big Ten in 3-point shooting.
– When asked where he feels the team is at from a maturity standpoint, Miller said, "best we've been." He said they've been really focusing on attitude and effort lately, and the last time that lacked was Feb. 16 at Michigan, so Indiana has had four straight games where that hasn't been in question. Miller said at the end of the season you have to find a way to keep things simple and fresh. Even in yesterday's practice after two straight road losses, Miller said the team was engaged because they realize "we are 100 yards from the finish." The team knows their postseason fate remains in their control in this final week of the regular season.
– Miller said Minnesota should have had two wins last week, calling Maryland's one-point victory over the Terrapins one of the most "miraculous" wins of the season. Then at Wisconsin, it came down to a 50-50 ball that the Badgers came up with that led to a three for a two-point win. He said the Gophers are a good team and called Marcus Carr and Daniel Oturu two stud all-conference players.
– Miller also gave Jackson-Davis credit for the level of play he's been able to achieve this season going against the bigs of the Big Ten. "It's not like he's going out there playing against a bunch of 6'6 guys." Whether it be Oturu, Luka Garza, Kofi Cockburn or Kaleb Wesson, there is no easy night for Jackson-Davis in the Big Ten, and Miller is pleased with the way he has played this season against players like that.
– A fan question asked Miller if he ever played in a conference tournament that his team was able to bus to, and Miller said it's really convenient for Indiana to be able to just take a bus to Bankers Life Fieldhouse next week. He also gave the anecdote that after the Hoosiers flew to Minnesota on Feb. 19, he told his team they didn't need to take a plane anywhere else for the rest of the season, "until our name is called on (Selection) Sunday."
– Devonte Green was the player guest on the show, and he said his four years at Indiana have flown by and that it felt like yesterday when he was playing his first game in the cream and crimson. He also talked about getting recruited by Tom Crean, calling Crean a great recruiter and a great coach.
– It's no secret the first three years of Green's career have resulted in Indiana missing the NCAA tournament, but Green said when you have losing seasons, it's just more lessons. He said how Indiana has learned how to get up off the mat and bounce back this season and are able to fight through an entire game even when things are going bad.
– Green said it was an honor to be named a captain heading into the season. He admitted that last season he would give up on himself a lot and get down himself, which could have brought bad energy to the locker room, but this season he said he has grown and learned who he is and what he can bring to the team. "I think my teammates have seen that, and that's why they elected me captain," Green said.
– Green graduates in May and will have a degree in public non-profit and community recreation. Even though Green wants to try and play basketball for as long as he can and hopefully make money doing that, he has other aspiration as well. He wants to open a recreational facility back home in New York where basketball tournaments can be played or even just for kids to shoot around in. That aspiration got a round of applause from the fans in attendance.
Filed to: Archie Miller, Devonte Green