Big Ten Power Rankings: March 2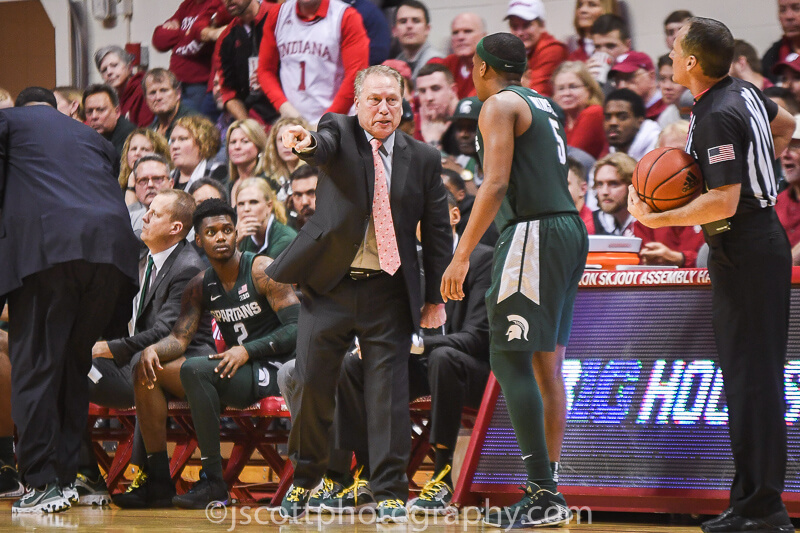 We've hit the final week of the Big Ten regular season, but there's still plenty to be decided in the race for the conference crown. Maryland can win the title outright with a pair of wins this week, but if the Terps falter, Michigan State, Illinois and Wisconsin each have a chance to grab a share of the title.
In our final edition of this season's power rankings, here's a look at how the conference shapes up after another entertaining week of basketball:
14. Nebraska (2-16, .941 PPP, 1.071 PPP allowed)
The season hit a new low for the Cornhuskers over the weekend with an 81-76 home loss in overtime to Northwestern. Nebraska has now dropped 14 straight games and unless it wins at Michigan or Minnesota this week, it will be the No. 14 seed in next week's Big Ten tournament. After starting 2-2 in Big Ten play, Nebraska is winless since beating Iowa on Jan. 7.
13. Northwestern (2-16, .941 PPP, 1.092 PPP allowed)
Northwestern snapped a 13-game losing streak on Sunday with its win over Nebraska in Lincoln. The Wildcats now have two league wins and both came over the Cornhuskers. Despite the win over Nebraska, Northwestern is likely to finish with the Big Ten's worst defense. Through 18 games, Northwestern is surrendering 1.092 points per possession.
12. Minnesota (7-11, 1.009 PPP, 1.022 PPP allowed)
Minnesota's NCAA tournament chances have completely evaporated as the Gophers have dropped five of their last six games and are 13-15 overall. Minnesota had a pair of narrow losses last week that came by a combined three points. In fact, four of its last five losses have come by six or fewer points. The Gophers will look to reverse their recent woes as they travel to Indiana on Wednesday and then close out the regular season at home against Nebraska on Sunday.
11. Indiana (8-10, .986 PPP, 1.026 PPP allowed)
Indiana had two of its better road efforts this season last week, but still finished the week with a pair of losses. The Hoosiers turned in a dreadful offensive performance on Thursday in an eight-point loss at Purdue and then battled Illinois on Sunday afternoon in a one-point loss at the State Farm Center. The Hoosiers are still in position to earn an at-large bid to the NCAA tournament for the first time since 2016, but need to bounce back in a pair of important home games this week against Minnesota and Wisconsin.
10. Purdue (8-10, .999 PPP, .992 PPP allowed)
The Boilermakers continue to own their in-state rivalry with Indiana. Purdue moved to 10-1 in its last 11 games against the Hoosiers with a 57-49 win on Thursday night. At 15-14 overall, Purdue has significant work to do to get back in the NCAA tournament conversation. A win on Tuesday at Iowa would be a good start, but even if the Boilermakers win both of their games this week, they'll have plenty of work to do in Indianapolis to get back on the right side of the bubble.
9. Rutgers (9-9, 1.000 PPP, .977 PPP allowed)
At one point, Rutgers appeared to be a lock for the NCAA tournament. The Scarlet Knights are still in the field as of today, but are trending in the wrong direction. Rutgers has dropped its last three games and it will close the regular season with a home game against Maryland followed by a road trip to Purdue. If the Scarlet Knights drop both games, they will likely need to win their first game in Indianapolis to avoid missing the tournament.
8. Michigan (9-9, 1.053 PPP, 1.027 PPP allowed)
It was a rough week for the Wolverines, who had won seven of their last eight entering Thursday's home game against Wisconsin. Michigan lost 81-74 to the Badgers in Ann Arbor and then were beaten soundly by Ohio State in Columbus to close out the week. Michigan is going to make the NCAA tournament, but unless it can win at Maryland to close out the regular season, will finish no better than .500 in conference play.
7. Penn State (11-7, 1.025 PPP, 1.009 PPP allowed)
The Nittany Lions avoided disaster by hanging on to beat Rutgers at home on Wednesday. The Scarlet Knights went on a 14-2 run late in the second half to take the lead before Myles Dread hit a decisive 3-pointer to lift Penn State to victory. Penn State finished the week with a nine-point loss at Iowa. With losses in three of its last four games, Penn State needs to regain its footing entering postseason play. That will be no easy task as Michigan State comes to State College on Tuesday.
6. Iowa (11-7, 1.093 PPP, 1.066 PPP allowed)
Iowa can't be trusted defensively, but the Hawkeyes are good enough offensively that it doesn't matter on a lot of nights. Since losing 89-77 at Indiana on Feb. 13, Iowa has won three of four and will host Purdue before traveling to Illinois to close out the regular season. Luka Garza appears to be a lock for the league's player of the year award and given his dominance offensively, he'll be a deserving recipient.
5. Ohio State (10-8, 1.060 PPP, 1.016 PPP allowed)
The Buckeyes are now 8-2 in their last 10 games and are second in the Big Ten in efficiency margin. Sunday's win over Michigan was impressive, but Ohio State has a tough slate to close out the regular season this week. Illinois comes to Columbus on Thursday before a roadtrip to Michigan State on Sunday. After scoring just eight points in a loss at Wisconsin on Feb. 9, Kaleb Wesson has scored in double figures in six straight games.
4. Wisconsin (12-6, 1.047 PPP, 1.015 PPP allowed)
The Badgers have won six straight and are the Big Ten's hottest team entering the final week of the regular season. Wisconsin is one of three teams just a game behind Maryland in the league standings with a chance to grab a share of the league title if the Terps slip up this week. In order to stay in the mix, Wisconsin must take care of business this week in a home game against Northwestern before traveling to Indiana on Saturday to close out the regular season.
3. Illinois (12-6, 1.009 PPP, .972 PPP allowed)
Ayo Dosunmu continues to prove he's the league's best closer. In Sunday's win at home over Indiana, Dosunmu hit a huge 3-pointer late to give the Illini a five-point lead and then hit a pair of free throws to give Illinois a four-point cushion in a one-point win over the Hoosiers. After losing four straight games, Illinois has responded with a four-game winning streak and is well on its way to its first NCAA tournament bid since 2013.
2. Maryland (13-5, 1.035 PPP, .997 PPP allowed)
The Terps are still in the driver's seat for the Big Ten regular season title, but a home loss against Michigan State over the weekend eliminated any margin for error. Maryland can win the regular season title outright by winning at Rutgers and at home against Michigan this week. If Maryland drops either game, Michigan State, Illinois and Wisconsin all have a shot at grabbing a share of the crown.
1. Michigan State (12-6, 1.046 PPP, .951 PPP allowed)
While the Spartans may not end up with a piece of the Big Ten regular season title, there's no disputing who the best team in the conference is right now. Michigan State has the best efficiency margin in league play by a significant margin. And even though its overall record isn't as sterling as predicted before the season began, Michigan State is going to be a nightmare matchup in tournament play because of experience on the sidelines (Tom Izzo) and in its backcourt (Cassius Winston).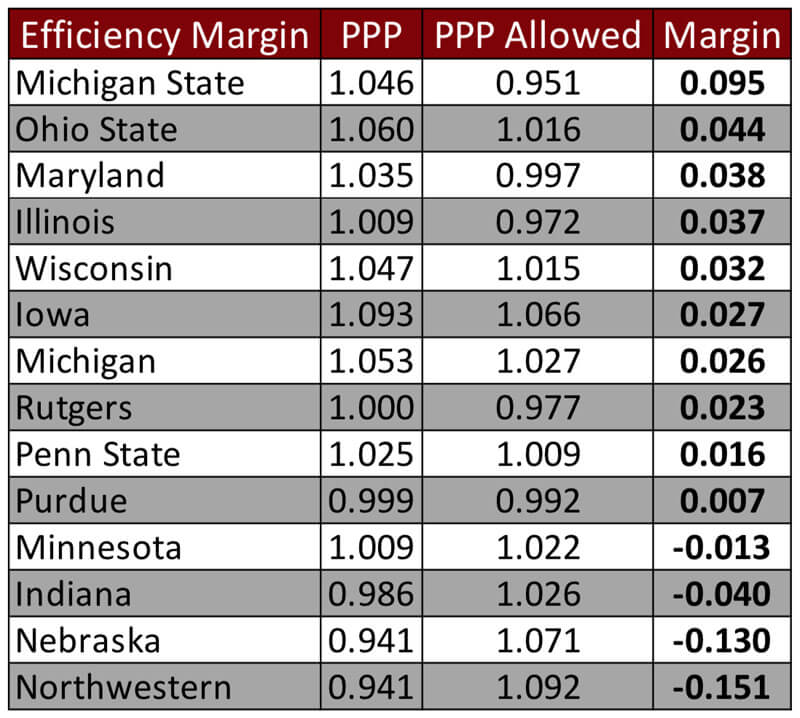 Filed to: Big Ten Power Rankings