What to expect: Minnesota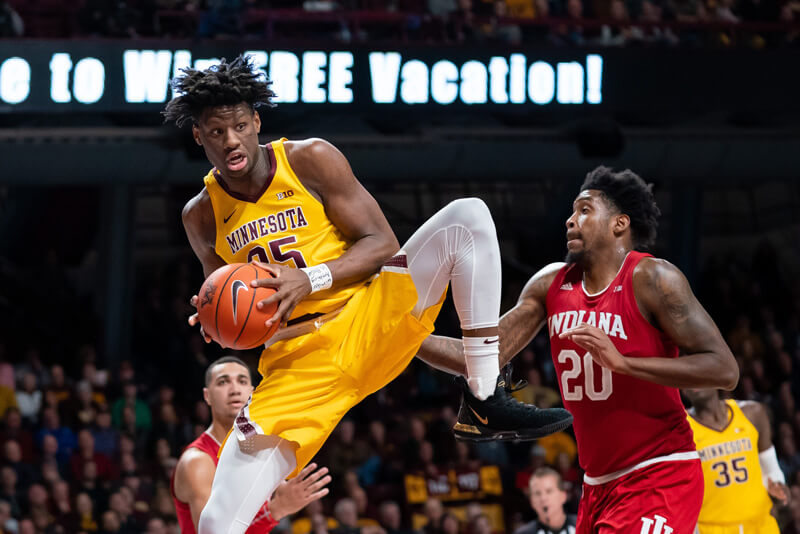 Indiana will seek its 19th win when it hosts Minnesota on Wednesday night at Simon Skjodt Assembly Hall. The Golden Gophers are 13-15 overall and 7-11 in the Big Ten.
Wednesday's game will tip at 7 p.m. ET on BTN with Kevin Kugler and Brian Butch on the call:
Indiana remains on the right side of the NCAA tournament cut line, but the Hoosiers have an important week ahead in Bloomington.
With a pair of wins this week, Indiana will secure an at-large bid to the tournament for the first time since 2016 and likely avoid playing on Wednesday in the Big Ten tournament in Indianapolis. A loss (or two) this week could make it necessary to win a game (or two) at Bankers Life Fieldhouse and would most likely place the Hoosiers into one of the Wednesday games. (You can examine the different Big Ten tournament seeding scenarios here.)
First up is a meeting with Minnesota, which has lost five of its last six games, but remains strong in the computers. Through Monday's games, the Golden Gophers are 31st in the KenPom ratings and 46 in the NCAA's NET rankings.
THE FIRST MEETING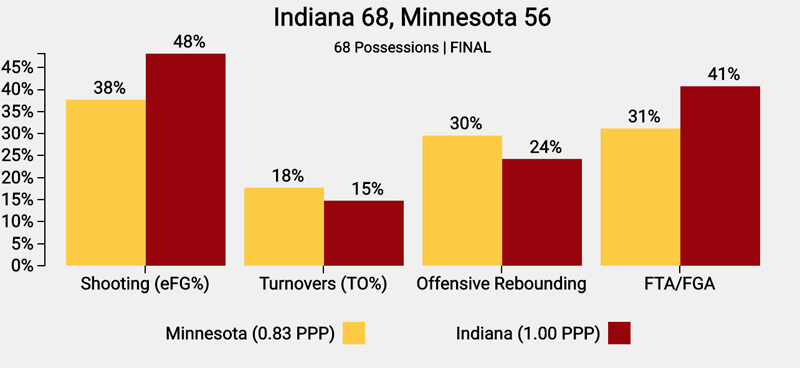 Indiana won the first meeting between the two teams, 68-56 in Minneapolis on Feb. 19, on the strength of a monster performance from Trayce Jackson-Davis, a porous shooting performance from the Golden Gophers and their inability to convert on second chance scoring opportunities.
Jackson-Davis outplayed Daniel Oturu, a strong candidate for first team All-Big Ten honors, in arguably his best game of the season. The freshman forward went for 27 points, 16 rebounds and two blocked shots in 35 minutes. The Center Grove product went 11-of-15 on 2s and 5-of-9 from the free throw line. Oturu, meanwhile, had a double-double of his own with 11 points and 14 rebounds. He shot poorly, though, with just a 5-of-15 mark from the field and a 1-of-4 performance from the free throw line.
Whether it was a strong defensive effort from Indiana, a poor shooting performance from Minnesota or a combination of the two, the Gophers turned in a dreadful shooting night at the Barn. Minnesota was just 4-of-25 on 3s (16 percent), 10-of-19 from the free throw line (52.6 percent) and 17-of-36 on 2s (47.2 percent). It was the third time in Big Ten play that Minnesota, the league's worst 3-point shooting team, shot 17.9 percent or worse from behind the arc.
Minnesota won the rebounding battle at the Barn, but inexplicably failed to record a second chance point despite grabbing 13 of its missed shots. Indiana grabbed eight offensive rebounds and scored 10 second chance points.
The Gophers have played better since the Indiana loss, but have just one win in three games to show for it. In a pair of crucial games last week, Minnesota lost 74-73 to Maryland in Minneapolis before falling 71-69 to Wisconsin in Madison. Despite its poor overall road record in conference play, Minnesota has been competitive in most games. Five of its last six road losses have come by eight or fewer points.
The pertinent question entering Wednesday is just how engaged Minnesota will be coming off those deflating losses last week. The collapse against Maryland is neck-and-neck with an earlier collapse to Iowa for the biggest meltdown in league play this season. And after holding a win probability of over 75 percent with under two minutes to play in Madison, the Gophers again couldn't seal the deal as a late Brevin Pritzl 3-point ultimately lifted Wisconsin to victory.
TEMPO-FREE PREVIEW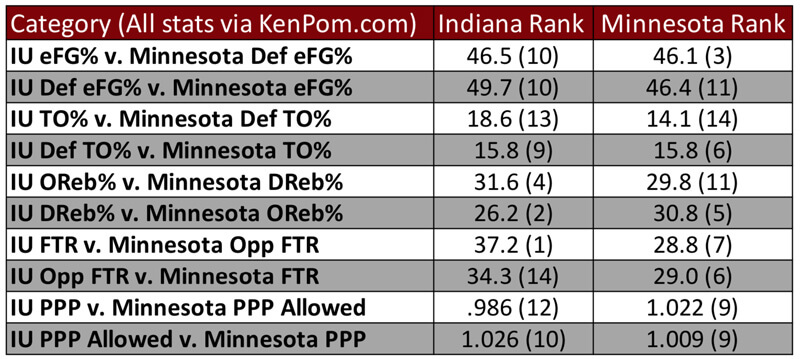 From an efficiency margin standpoint, Minnesota has been better than Indiana in league play through 18 games. The Hoosiers and Gophers are two of just four teams in league play with a negative efficiency margin. Indiana is being outscored by .040 points per possession by Big Ten opponents while Minnesota is being outscored by .013 points per trip.
Although it is beating a dead horse at this point, the keys to success for Indiana remain rebounding and getting to the free throw line. The Hoosiers remain ranked in the top four of the conference in both offensive and defensive rebounding percentage. Minnesota, meanwhile, is a poor defensive rebounding team.
Indiana remains the Big Ten's best at getting to the line, but has now fallen to last in opponent free throw rate (FTA/FGA) at 34.3 percent. The Hoosiers enjoyed an advantage from the line in Minneapolis as they knocked down 16-of-22 attempts compared to just 10-of-19 for the Gophers.
WHAT IT COMES DOWN TO
The KenPom ratings favor Indiana by two with a 59 percent chance of a Hoosier victory. The Sagarin numbers favor Indiana by five in the rematch.
Indiana could have given itself breathing room in regards to the NCAA tournament as well as Big Ten tournament seeding with a win last week, but the Hoosiers simply didn't get the job done despite improved effort away from Assembly Hall.
This week, however, will be telling in regards to the resolve of this Indiana team. Based on Archie Miller's comments on his radio show Monday night with Don Fischer, it sounds like these Hoosiers are engaged mentally and looking forward to the opportunity to punch their tournament ticket.
Photo credit: Minnesota Athletics
Filed to: Minnesota Golden Gophers