The Minute After: Minnesota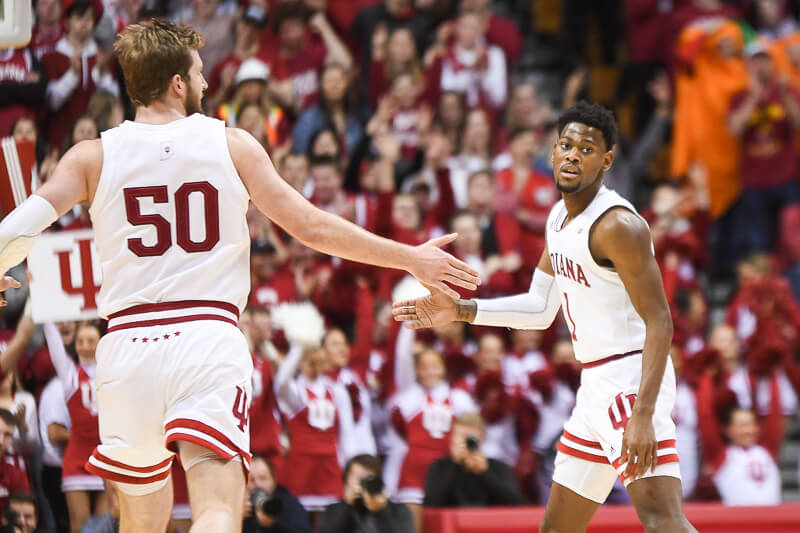 Thoughts on a 72-67 win against Minnesota:
For all the good Indiana did in the first half — leading for much of it, getting up by as many as 10 points and playing with intensity — it was negated by lapses on defense. The Hoosiers didn't guard the ball well on the perimeter and allowed Minnesota to get good looks from deep. And unlike at the Barn, the Golden Gophers were actually hitting from deep. Daniel Oturu needed plenty of shots again to score, but he was affecting the game on offense as well.
So a sloppy final few minutes of the first half coupled with an Isaiah Ihnen 3-pointer with seven seconds to go meant the Hoosiers would head into halftime down 34-32, the momentum swinging in Minnesota's favor.
The Golden Gophers have been close a number of times on the road this season. Indiana was giving them ample opportunity to get the luck on their side and finally punch through.
But the Hoosiers did just enough in the second half — especially late — to ensure the victory, an important one with the buzz being it might be just enough to get them back into the NCAA tournament. It was a balanced effort tonight as five Hoosiers scored in double figures, just the second time that's happened all season. Start with Joey Brunk. Brunk has seen his playing time diminish over the last several contests. He's scored just six points in Indiana's last four games. But Brunk got back to his old ways this evening, scoring 12 points and grabbing eight rebounds. Ten of Brunk's 12 points came in the second half on 5-of-6 shooting, including a bucket with 1:48 that put Indiana up nine points and effectively sealed the game.
"Lots of ups and down in a season," Brunk said to the Big Ten Network's Brian Butch on the floor after the contest.
Trayce Jackson-Davis, sore foot and all, made his mark on this one as well. The freshman recorded a near double-double (18 points, nine rebounds) on an efficient 8-of-12 performance from the floor. Al Durham had some nice scores off down screen curl action on his way to 11 points (4-of-8). Rob Phinisee also connected on 4-of-8 from the floor for 11 points. Justin Smith scored 10 points (4-of-6, 2-of-2 from the line). Thanks to a concerted effort to get the ball inside coupled with a number of transition scores, the Hoosiers scored 52 of their 72 points in the paint. It helped offset a poor night from distance (3-of-15) and from the line (9-of-17).
Minnesota, not typically a strong 3-point shooting team, stayed hot tonight, splashing in 7-of-16 (43.8 percent). But Oturu needed 27 shots to score 24 points. And Gabe Kalscheur was the only other Golden Gopher in double digits (11), though Payton Willis and Ihnen each had nine.
"We got a great group of guys," Brunk said. "We want to keep this thing going."
Next up for the Hoosiers? A streaking Wisconsin team. The Badgers are winners of six straight and have a shot at a Big Ten regular season title. If Indiana can play spoiler on Saturday afternoon, it'll be another quad 1 win on the NCAA tournament resumé. A resumé that looks like it's finally going to matter for the first time in the Archie Miller era.
Filed to: Minnesota Golden Gophers