That's A Wrap: De'Ron Davis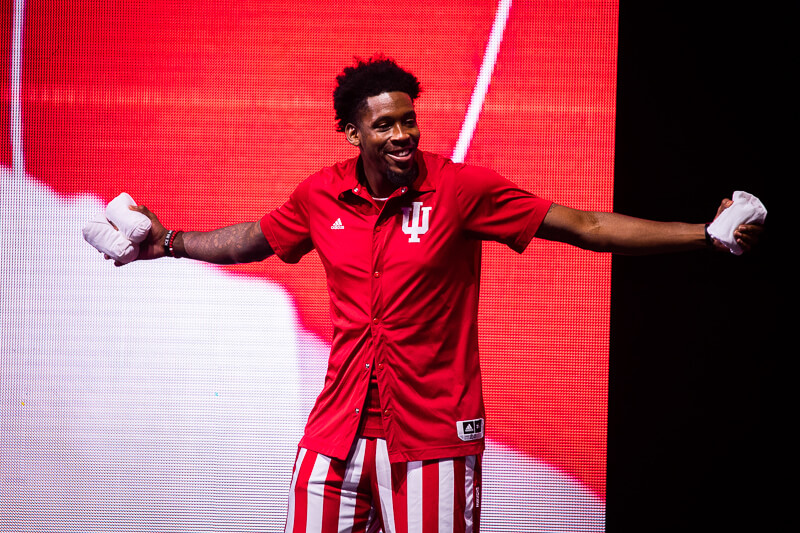 Welcome to "That's A Wrap," our player-by-player recap of the 2019-2020 Indiana Hoosiers. Today: Devonte Green. Previously: Armaan Franklin, Trayce Jackson-Davis, Damezi Anderson, Jerome Hunter, Rob Phinisee, Race Thompson, Al Durham, Justin Smith, Joey Brunk, Devonte Green
Davis (31 games): 2.7 ppg, 1.3 rpg, 0.4 apg, 50% FG in 8.6 minutes per game
At the beginning of the season it didn't seem like De'Ron Davis had a defined role on this Indiana team.
Joey Brunk was the starter alongside Trayce Jackson-Davis in the frontcourt, and Al Durham, a junior, joined Devonte Green as the two captains of the team. So, Davis, the second senior on the team, wasn't seeing a lot of playing time to start the year and his seniority wasn't accompanied with the captain position.
There was potential that Davis wasn't fully healthy as he has dealt with injuries his whole career, or maybe Archie Miller was saving him for Big Ten play, where the opposing frontcourts become much bigger and physical.
After Indiana got blown out by 20 in its first Big Ten game of the season at Wisconsin, a game where Davis only played four minutes, Miller called out his team for lack of communication and leadership.
The next game against UConn in the Jimmy V Classic at Madison Square Garden, Davis provided the Hoosiers with a little spark off the bench. He only had four points in nine minutes, but in a grind-it-out 57-54 victory for the Hoosiers, all the contributions mattered.
Perhaps more importantly, Davis stepped up in the locker room during a time when the team needed it.
"I thought De'Ron did a good job the last few days," Miller said after the game. "I wasn't surprised in the first half he got off to a good start. You know, second half he missed a couple chippies, but De'Ron has done a really good job for our team as a leader here these last two weeks. He's really stepped up in that regard."
Once the Big Ten season got into full swing, Davis' minutes started to increase, as well as his production. Joey Brunk started to struggle in the middle of January and as his minutes decreased, Davis stepped in and provided solid minutes for Indiana as Race Thompson started to emerge as well.
It allowed Indiana to fully explore the depth of its frontcourt that was a big storyline heading into the season. Davis has always been a gifted passer in the post, and that was a big reason why he and Jackson-Davis worked well in stretches.
"De'Ron is always looking to pass the ball in the post," Jackson-Davis said. "He draws a lot of attention because he has great post moves, so I'm just always trying to make sure I'm always available just in case he can't get a shot up."
Davis' most memorable performance of the season came at Michigan, where he went a perfect 9-of-9 from the field and scored a career-high 18 points. He tied an IU record by making all nine of his field goal attempts, which was set by Will Sheehey in 2013 at Purdue.
He got his only start of the season on senior day against Wisconsin, where he and Green shared the spotlight of scoring the team's first 17 points.
Davis finished his career 10th all-time in field goal percentage at 54.7 percent.
Bottom line: Davis' career was full of so much potential when he came in as a freshman, but unfortunately injuries derailed him from becoming the player he had the chance to be. He made the most of his reserve role this season and provided good moments and was always a fan favorite for the student section at IU. Davis should be appreciated for sticking with the program despite all the injuries and the coaching change, and for trying to become a leader off the court for some of his younger teammates.
Quotable: "I stuck with it because it's the love for the game I have. I like being out there with my teammates playing, and it was just fun. It was some ups and downs with my Achilles injury and then me coming back and hurting my ankle. Had been out for like five games after that my junior year. My sophomore year was kind of cut short from the injury, and then my junior year had the ankle injury. It was a rocky two years, but because I love basketball and I like being out there with my guys, it made everything worth it." – Davis prior to his final home game at Assembly Hall.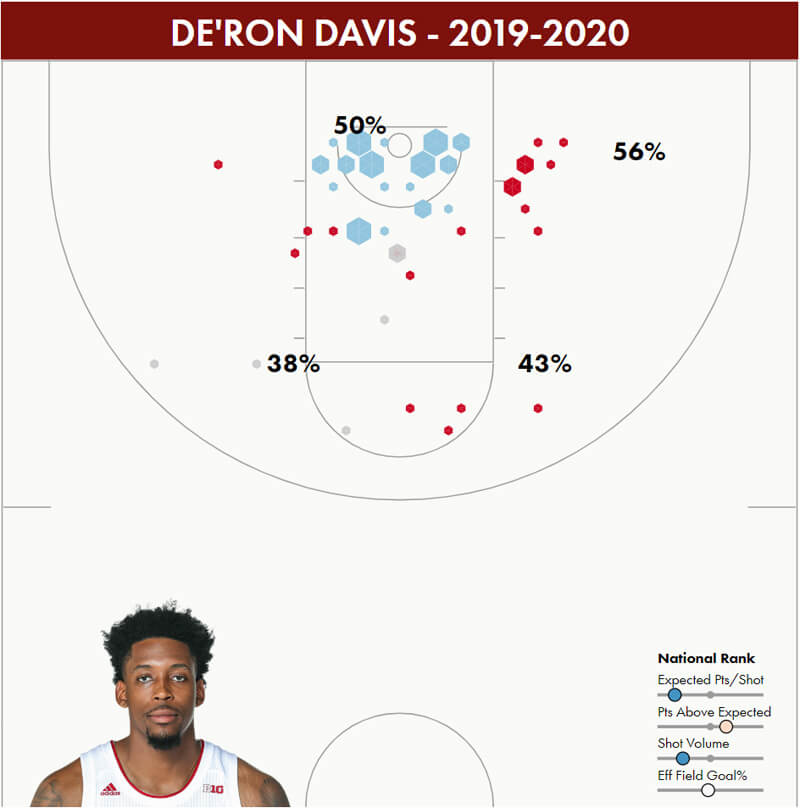 Filed to: Deron Davis