De'Ron Davis' presence starting to be felt on and off the court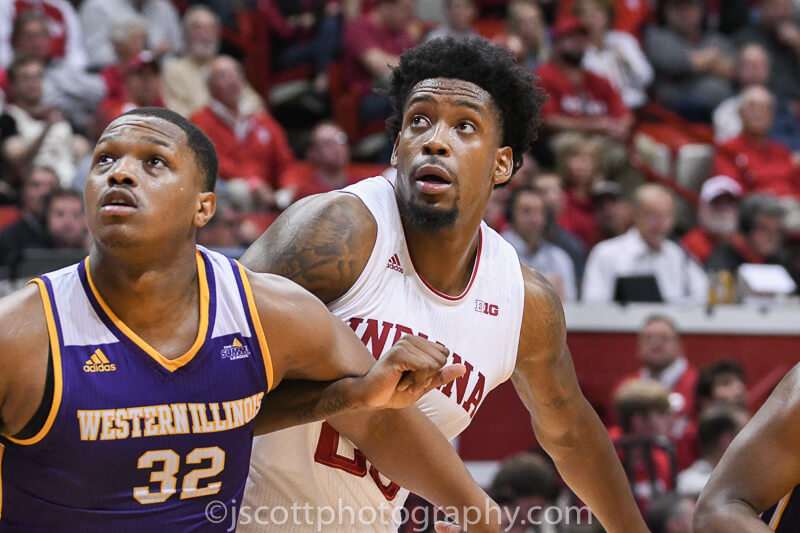 NEW YORK — Indiana was amidst a four-minute scoring drought early in the first half, UConn was on an 8-0 run and it all looked eerily familiar to what happened to the Hoosiers in Madison, Wisconsin.
In an attempt to fix things before they got out of hand, Archie Miller subbed Rob Phinisee in the game. It was his first appearance since missing the last four games, and the Hoosier faithful in attendance at Madison Square Garden gave the sophomore guard a nice round of applause, happy to see him back.
But another player checked in with Phinisee. One that has seemed to be out of the lineup as much as Phinisee has despite being available. One that didn't receive any special cheer when he checked in. Phinisee was looked at as a large presence entering the game, but it's hard to get larger than the 6-foot-10 De'Ron Davis.
Davis has had an interesting season so far. Once looked at as a dominant post player that Indiana's offense could run through quickly seemed like nothing more than a bench warmer.
But on Tuesday, particularly when Joey Brunk was struggling on both ends of the floor, Davis seemed to have the answers.
He was in with a lineup consisting of Phinisee, Armaan Franklin, Damezi Anderson and Race Thompson. On paper, that lineup doesn't seem offensive-minded, but what it does is force Phinisee to play aggressive as the main ball-handler and playmaker, and more importantly, puts an emphasis on playing through Davis in the post.
Just over a minute after he checked in, Davis went to work in the post and got a basket, cutting UConn's lead to just five. Later in the first half, Davis did the exact same thing and kept the Hoosiers within distance before they surged to take a lead into halftime.
In the second half, Davis got more minutes, and although he missed some easy shots, he put pressure on the defense with his size and strength on the block. His contributions weren't eye-opening, but it's arguably the most he has done for Indiana this season.
Davis' four points were the first time he scored more than two points in a game since Nov. 12, and his six shot attempts were a season-high.
According to KenPom, Davis has the third-highest percentage of possessions used at 25.5 percent this season, only behind Devonte Green (27.5 percent) and Phinisee (28.4 percent). It's clear Indiana likes to use Davis, the only problem is he hasn't played enough to where he can be effective.
His nine minutes on Tuesday were more than half of what he has played in the previous four games combined (16 minutes). He is currently averaging a career-low in almost every statistical category, most notably minutes (7.4) and points (1.8).
But on Tuesday, when he got the chance to play for an extended time, he showed just how effective he can be. Offensively, he's as good a post player the team has. Miller has often spoke highly of Davis' ability to pass out of the post. Defensively, he still needs some work, but seems to hedge screens just as well if not better than Brunk does.
But no matter what is happening on the court, Davis has remained a large presence off the court. Communication was a big issue when the team lost by 20 at Wisconsin, and Miller urged his players to have more leadership.
Davis only played four minutes in that game, but from when that game ended up until Tuesday, it was the senior forward who found his voice.
"I thought De'Ron did a good job the last few days," Miller said. "I wasn't surprised in the first half he got off to a good start. You know, second half he missed a couple chippies, but De'Ron has done a really good job for our team as a leader here these last two weeks. He's really stepped up in that regard."
The Jimmy V Classic could be a sign of things to come for Davis in terms of an increased role. No matter how you look at it, the Hoosiers will need his large presence on the floor, especially with the big and physical obstacles in Big Ten play.
His ability isn't something new to Indiana fans, either. For three years, people have seen what he has been able to do, so when Davis checked in at Madison Square Garden with Phinisee and scored his first basket, one fan took notice.
He said, "De'Ron, where have you been baby? I love you."
Filed to: Connecticut Huskies, Deron Davis