Film Session: Florida State
After Dominik Olejniczak scored in the paint to put the Seminoles up 11-4 at the 16:33 mark of the first half, Florida State didn't hit another field goal until a jumper from RaiQuan Gray at the 8:49 mark, a span of almost eight minutes of game time without a bucket.
It was during this stretch the Hoosiers turned a seven-point deficit into a four-point advantage before pushing the lead out to 15 later in the half.
"We knew it was going to come down to a one-on-one game," Archie Miller said after the game. "They have physical driving guards, physical wing players that they try to, for lack of a better term, they really try to get their shoulder down and get by you … for a good stretch of the first half we kept the ball in front of us."
We'll see how the Hoosiers were able to contain the Seminoles during Florida State's first half scoring drought in the latest edition of Film Session:
Balsa Koprivica sets a ball screen on Al Durham on the left wing: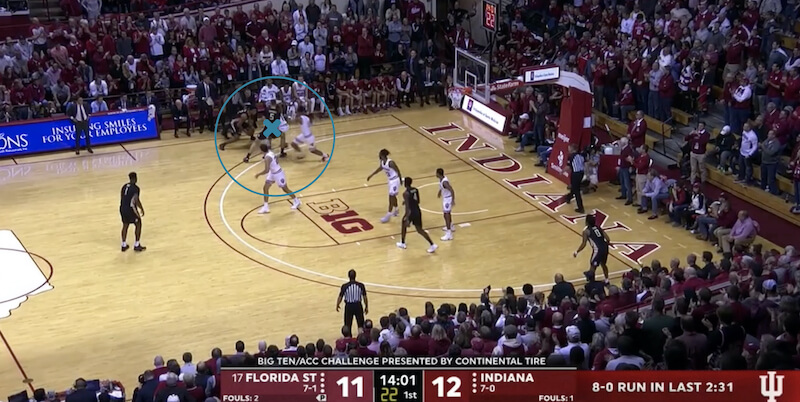 Trent Forrest takes the screen right and Durham stays in front of him. With Damezi Anderson shading over and Trayce Jackson-Davis recovering back to Koprivica, Forrest passes up top to Gray: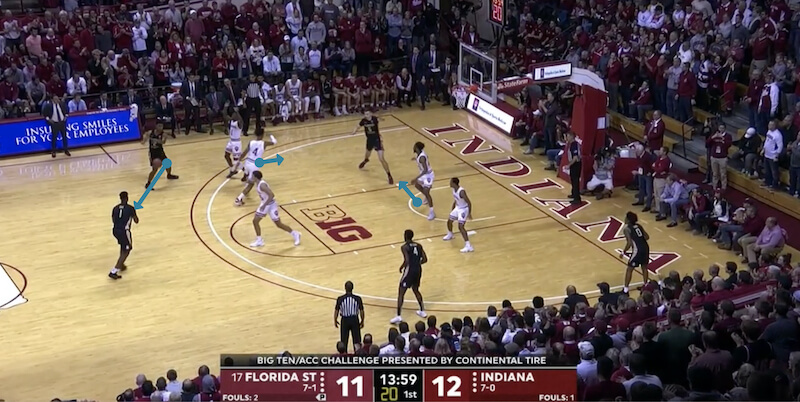 Gray swings to Patrick Williams on the right wing. Anderson comes up from the paint to guard Williams, as Devonte Green quickly stunts at him: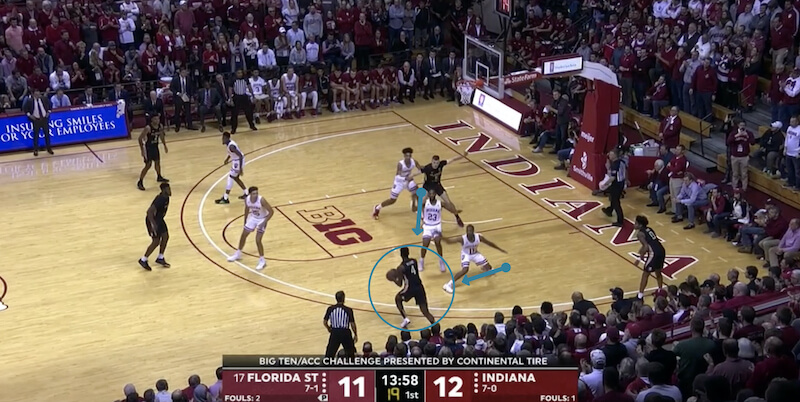 Anderson cuts off Williams as Race Thompson now stunts over with Green near the corner: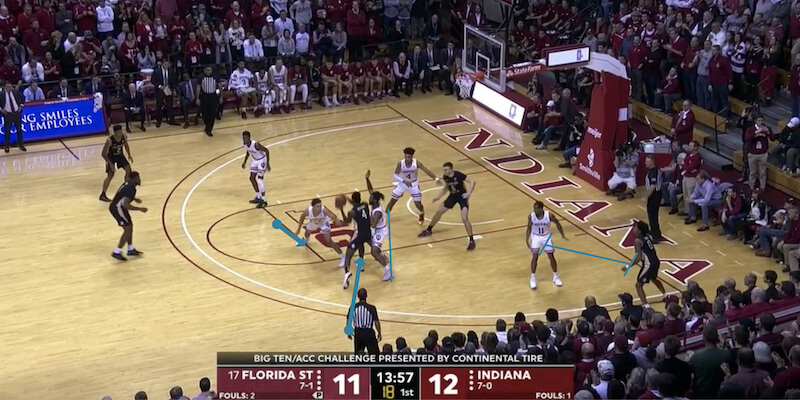 Williams gets up in the air and twisted around a bit from Thompson and Anderson's defense. He barely avoids a travel on a pass up top to Gray: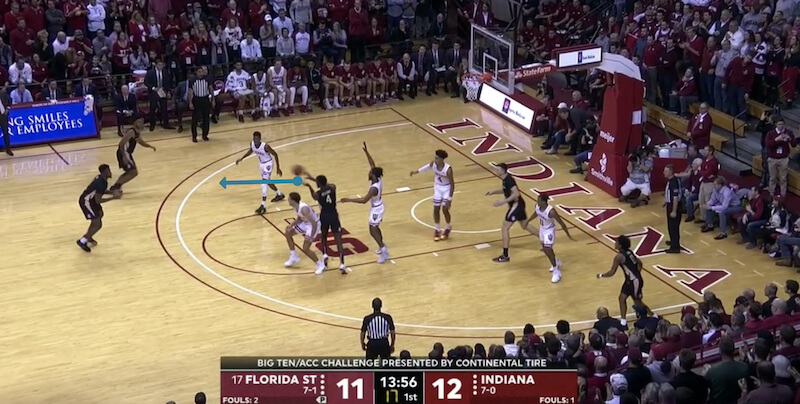 Gray tries dribbling in off the perimeter. But Thompson stays in front and Durham and Anderson are cutting off downhill options as well: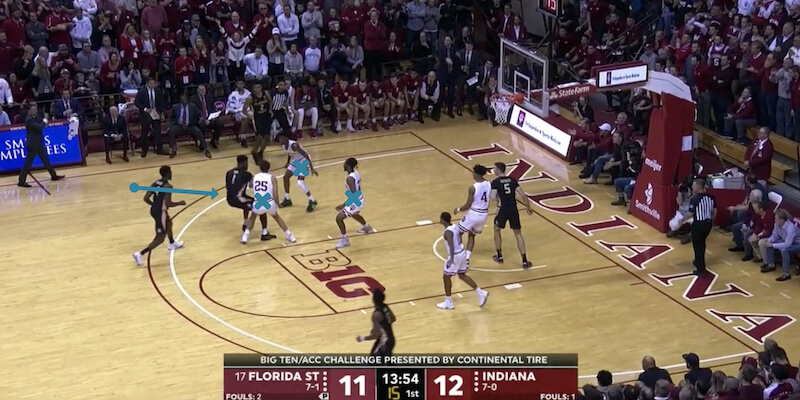 So Gray passes to Williams up top: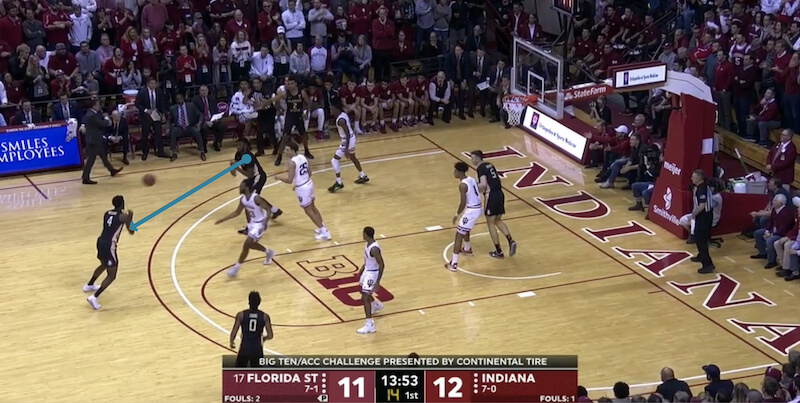 Williams drives right on Anderson. Green stunts to try and slow him: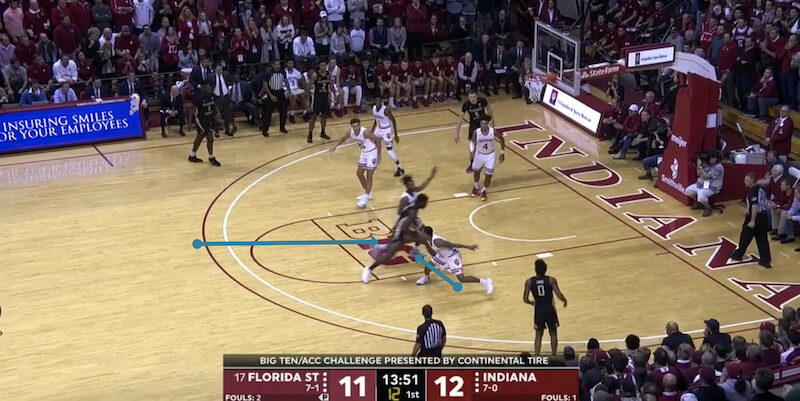 Anderson keeps Williams in front of him as Jackson-Davis comes over to contest. Williams decides it's too much to go through, so he turns back around: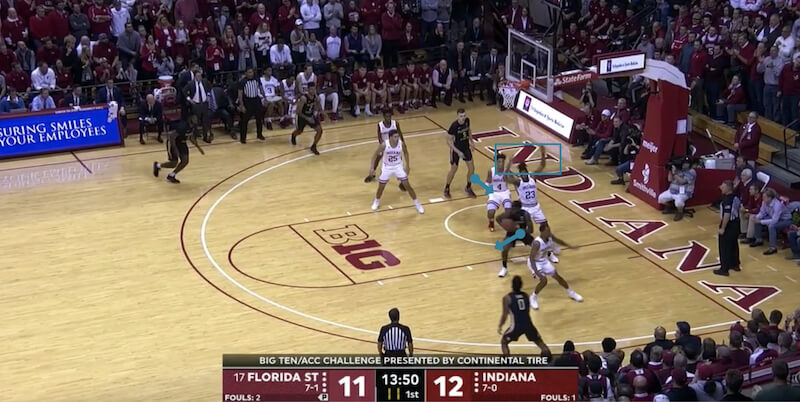 Williams takes a tough, contested fallaway jumper that doesn't drop: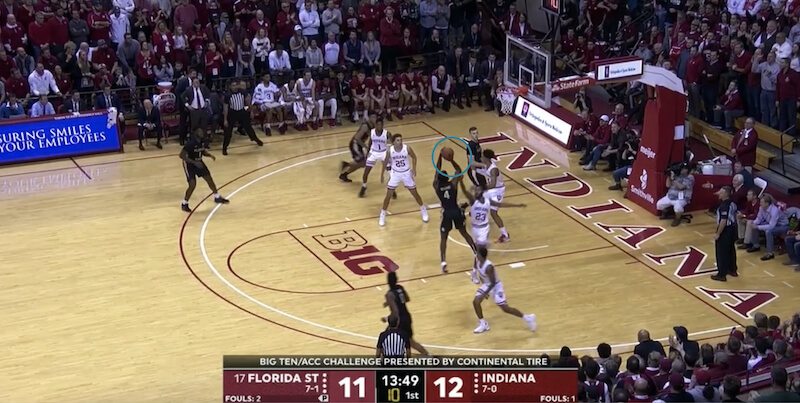 Multiple times in this possession the Seminoles tried getting downhill to the rim. And multiple times multiple Hoosiers made sure it didn't happen.
Video:
Filed to: Florida State Seminoles