A closer look at Big Ten predictions for the 2014-2015 season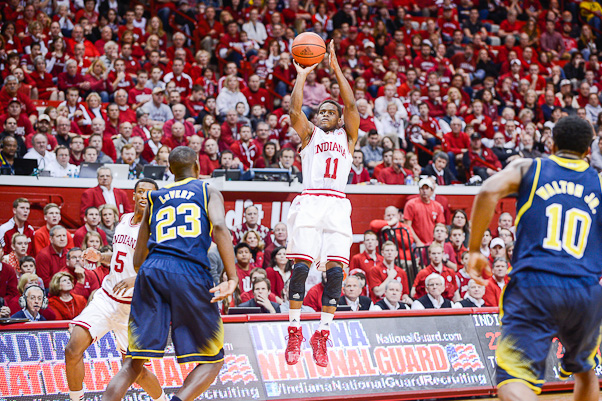 Practice is underway across the country, Big Ten media day is next week in Chicago and we're less than a month away from the season's first exhibition games, which means it is time for a closer look at expectations for the conference at-large and more specifically, Indiana.
We've given you a rundown of the preseason projections from all of the major preseason magazines, including Athlon Sports, Blue Ribbon, Lindy's Sports and The Sporting News.
But as we've done in the past and to provide a better snapshot of how the league is being viewed nationally, we've combined the projections from those four magazines with ESPN Insider's picks as well as those of Dan Hanner of RealGM.com. (Note: Hanner's picks are included because they are backed up by his model's numeric projections. While those haven't been released yet for the Big Ten, he confirmed to us that the order the teams are listed in his write up are indeed his projections for the order in which the league will shake out.)
Here's a look at all six sets of projections along with a seventh column that includes the order of finish if you average them out:

It's no surprise that Wisconsin is the overwhelming and consensus favorite to win the conference as the Badgers return nearly everyone from last year's group that reached the Final Four.
What is a bit surprising, however, is that there is a somewhat clear No. 2 pick in the league in Ohio State. The Buckeyes were picked second in four of the six projections and no lower than fourth, earning them a pretty comfortable position in the composite projections. In his league preview, Hanner brought up a pretty interesting point on Ohio State's offense and how it could be poised for a bounce-back season:
Let me make a statement that may seem controversial: Ohio St.'s offense will be substantially better in 2014-15. I understand why people expect the Buckeyes to fall off the map. They weren't a very good offensive team last year, and they lose three key scorers from last year's team. But I think people are massively under-estimating this year's team. Thad Matta is a great offensive coach. Since 2007, his offenses have ranked 3rd, 63rd, 30th, 8th, 1st, 5th, and 11th in the nation, before the offense was 128th last season. Last season looks like a tremendous fluke.
After Ohio State, the next three teams were all close. Michigan State, Nebraska and Michigan had minimal separation when averaging all six projections. There was a bit of a dropoff to the next tier, which includes, in order: Iowa, Illinois, Minnesota, Maryland and then Indiana.
The interesting thing about all of these teams is that they all have major questions to answer, which can also be said for Ohio State:
· Michigan State lacks a legitimate star and go-to scorer.
· Nebraska is playing with expectations, which is quite different than playing when being projected to finish last in the league.
· Michigan lost three NBA draft picks and will be relying on two freshmen in the post.
· Iowa lost its leading scorer and collapsed down the stretch last season.
· Illinois just lost its point guard for the season and its best scorer is average from an efficiency standpoint.
· Minnesota didn't really upgrade its roster in any major way and it's fair to ask if that's going to be enough to do more than a NIT bid.
· Maryland had massive offseason turnover and will be relying on a lot of freshmen in key roles.
· Indiana will be relying on several unproven players in its frontcourt.
All of these questions and story lines are what makes the Big Ten one of the country's more intriguing leagues. And it's also what makes Indiana a candidate to outperform its expectations if a few things break the right way.
After that tier of teams, there's another significant drop to the final four teams in the conference: Penn State, Northwestern, Purdue and Rutgers, the consensus pick to finish last.
From top to bottom, the Big Ten doesn't appear to be as strong as the past few years, but it does appear to have as many as ten teams who are capable of reaching the NCAA tournament, a legitimate national title contender and teams at the bottom who will be capable of playing the role of spoiler.
Filed to: 2014-2015 season preview