2014-2015 ITH season preview: Northwestern Wildcats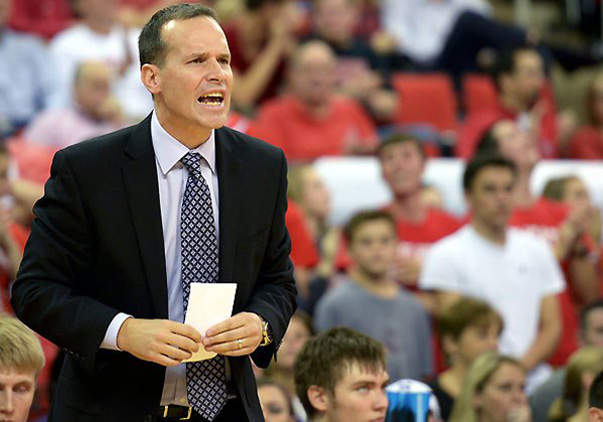 With the start of college basketball season on the horizon, we'll be taking a long look at the conference at large as well as Indiana's roster over the next month. Today, we continue our look at the Big Ten with the Northwestern Wildcats.
Welsh-Ryan Arena has a new high-definition, 23-foot wide video scoreboard.
It will have little to do with Northwestern's on-court play, but for those witness to the archaic, somewhat laughable screen that still hung from the rafters just last season, it's symbolic of the program's shift from Bill Carmody to Chris Collins: Modernity is the new rule.
Freshman Vic Law, a local product from St. Rita, arrives as the program's top recruit in two decades (Evan Eschmeyer, 1993) — and just maybe its best ever. Law figures to draw the starting wing spot for Collins and be a top contributor from the get-go. Northwestern loses veteran Drew Crawford (15.7 PPG) off a team with limited bodies last season, but JerShon Cobb (redshirt senior, 12.2 PPG) and Tre Demps (reshirt junior, 11.0 PPG) return. They were the only other double-digit scorers for Collins during the 2013-2014 campaign.
Down low, Alex Olah is back for his junior season. At 7-foot and 265 pounds, he's a bruiser and tough cover. Olah made great strides last season, developing more of an offensive game and improving his field goal percentage (41.5 percent to 50.9 percent). Olah also became a more respectable shooter from the charity stripe (58.3 percent to 68.0 percent) and proved a modest threat from distance (30.3 percent) for a player his size. He'll be essential for the Wildcats during the physical Big Ten season on both ends of the court (block percentage of 6.3).
Redshirt sophomore Sanaj Lumpkin — who started 32 of 33 games for the Wildcats a season ago — will help out with the boards up front, while senior transfer Jeremiah Kreisberg (Yale) figures to give Collins some depth on the block.
Senior Dave Sobolewski would be appear to be the incumbent at point guard, but a rough junior season, one that included a concussion, leaves that in doubt. Collins welcomes five other freshmen to campus (Bryant McIntosh, Johnnie Vassar, Scottie Lindsey, Gavin Skelly and Nick Segura, a walk-on) in addition to the talented Law. It's possible either Vassar or McIntosh — the two best of the bunch — could supplant the Benet Academy product in the backcourt.
Bottom Line: While Northwestern has some talent (and Collins surprised for a bit in the Big Ten last season with limited bodies thanks to a stout defense), it's likely not going to be enough to make the Wildcats serious contenders in the conference. Which means the team's first-ever NCAA Tournament appearence is probably not on its way this season. That said, this freshmen class could be the group that finally punches through to the tourney if Collins can mold them. But it's going to take some time.
Quotable: "Vic should be a guy who gets 10-12 points, 7-8 rebounds, 4-5 assists, a couple of steals and a couple of blocks. He can affect the game in a lot of different ways. Maybe he can become a go-to scorer when he gets older. He'll have a key role right away. He's different than a lot of the guys we have." — Collins on Law, Chicago Tribune, Aug. 6
Previously: Rutgers, Penn State
(Photo credit: Getty Images)
Filed to: 2014-2015 Big Ten preview, Northwestern Wildcats