2014-2015 ITH season preview: Rutgers Scarlet Knights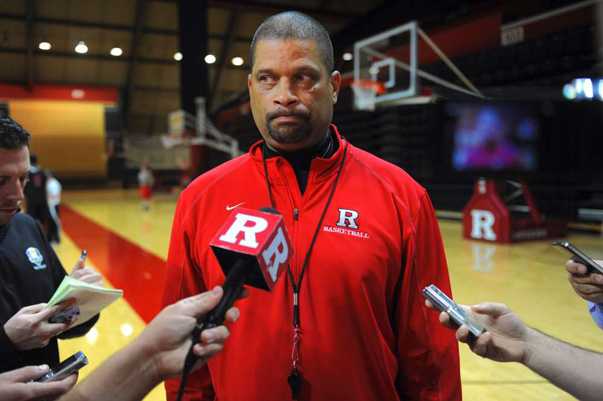 With the start of college basketball season on the horizon, we'll be taking a long look at the conference at large as well as Indiana's roster over the next month. Today, we continue our look at the Big Ten with the Rutgers Scarlet Knights.
Last season was Eddie Jordan's first at the helm of the Rutgers basketball program, and it didn't come easy.
The Scarlet Knights struggled and lost to the likes of UAB, Drexel, William and Mary and Farleigh Dickinson — and that was just in the non-conference season. Playing their first and only season in the American Athletic Conference, the Scarlet Knights finished just 5-13 in conference action, ending the season with a 92-31 loss to Louisville in the AAC tournament and an overall 12-21 record.
And things won't get easier from here. On July 1, Rutgers officially joined the Big Ten, a perennial power league in college basketball. And for a school that has not had an overall record at or above .500 since the 2005-2006 season and a league record of .500 or better since 2001-2002, it will face an uphill battle as it makes the transition from the old Big East to its new home in the Big Ten.
For Jordan, he sees the process as "rebuilding." Over the offseason, the Scarlet Knights lost two starters in Wally Judge and J.J. Moore. Both were forwards and former transfers, averaging a combined 18.7 points, 9.1 rebounds and 1.4 blocks per game and giving Rutgers some experience and stability in an otherwise tumultuous season. Rutgers also lost guards Jerome Seagears and D'Von Campbell, who both transferred out of the New Brunswick school.
But there are quite a few positives for the Rutgers faithful, heading into this season. The Scarlet Knights' two leading scorers, their rebounds leader and their assists leader from the season prior are all returning. 5-foot-10 Myles Mack is entering his senior year, having led the team with 14.9 points, 4.3 assists and 1.6 steals per game during the 2013-2014 campaign. And 6-foot-9 captain Kadeem Jack also returns for his redshirt senior year, having averaged 14.3 points and a team-best 6.8 rebounds last season.
The Scarlet Knights also add freshmen big men D.J. Foreman and Ibrahima Diallo and guard Mike Williams to the mix, all of whom were ranked in the top 400 of the 247Sports Composite. And they all could get playing time in their first season at Rutgers, as Jordan continues to build the program.
Bottom line: This Rutgers squad likely won't be one that competes for the top half of the Big Ten this season as it continues the long process of building a competitive program. And in their first season within the Big Ten, things will not come easy for Jordan and his team. The Scarlet Knights have voids left from last season's team that need to be filled, and though they have two important returnees, newcomers will have to make an instant impact as well. After all, Rutgers won't have the luxury of facing UCF, South Florida and Houston twice each this season. The Big Ten will be much more demanding.
Quotable: "I know what the Big Ten is about. I've seen the teams. I know where we are, and we're going to be young. I know we're going to take our lumps. That's just part of rebuilding. Our kids know that. But we also know what we have to continue to address with our players: You keep competing, you stay together, you keep the locker room solid, you give great effort and you keep harmony. That's been our mantra." — Jordan to ScarletKnights.com in June
Filed to: 2014-2015 Big Ten preview, Rutgers Scarlet Knights