2014-2015 ITH season preview: Minnesota Golden Gophers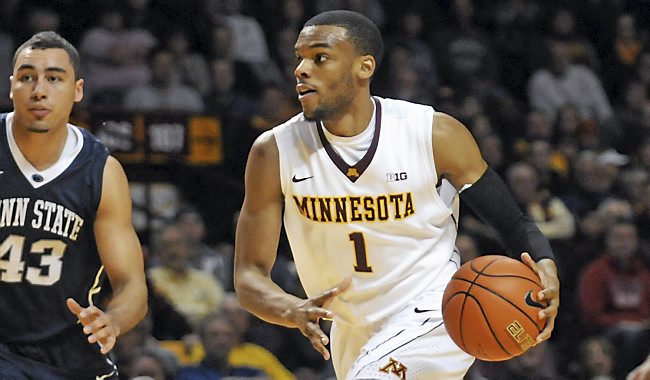 With the start of college basketball season on the horizon, we'll be taking a long look at the conference at large as well as Indiana's roster over the next month. Today, we continue our look at the Big Ten with the Minnesota Golden Gophers.
Despite the fact that he won 20 games in five of his six years at the helm of the Gophers, Minnesota fired coach Tubby Smith following the 2012-2013 season. And after a lengthy coaching search saw the program get turned down by several of its leading candidates, AD Norwood Teague ultimately settled on a coach with just one year of head coaching experience in Richard Pitino.
The first year of the Pitino-era at Minnesota ended with a NIT championship and a 25-13 record, but the team scuffled down the stretch of the regular season after amassing a 15-5 record to start the year. A postseason championship of any kind is nothing to scoff at, but after only losing one starter, there are expectations for improvement in year two for Pitino.
The Gophers return one of the better backcourts in the conference with seniors Andre Hollins and DeAndre Mathieu, two players that both made our preseason list of the top 25 Big Ten players. Hollins battled an ankle sprain during the second half of the conference schedule, but still finished as the team's leading scorer at 13.6 points per game. And Mathieu, a 5-foot-9 guard with tremendous quickness, is the top returning player in terms of assist rate at 31.1 percent.
Chipola Junior College (Fla.) guard Carlos Morris is expected to take on a major role in his first season and could slide right into the position departed by Austin Hollins.
Up front, the Gophers return Maurice Walker, who lost a ton of weight prior to last season under Pitino and morphed into a productive player. Elliott Eliason, one of the league's best shot blockers and rebounders, also returns. Walker averaged 7.8 points in just 15.8 minutes per game and if he can become less foul prone (6.4 per 40 minutes), he should be the team's third scoring option. Eliason is the league's best returning defensive rebounder and second best returning shot blocker. Junior Joey King, who hit 38.2 percent of his 3-pointers and is 6-foot-9, also returns in the Gophers frontcourt.
One thing that will be interesting to follow with Minnesota over the coming years is how their recruiting progresses under Pitino. The program was unable to secure a commitment from its loaded in-state class of 2014 that included Tyus Jones (Duke), Reid Travis (Stanford) and Rashad Vaughn (UNLV) and the top 2015 player from the state, Alex Illikainen, just committed to Wisconsin. Pitino is, however, off to a strong start in the 2015 class with three early commitments.
Bottom Line: Minnesota is a part of a large group of teams that will be fascinating to watch compete for a finish in the top half of the conference and a NCAA tournament bid. The Gophers have a solid cast of returning players and Williams Arena always presents a tough environment for visiting teams in conference play.
Quotable: "People think on paper Michigan State is not going to be as good, or Michigan. You'd be silly to bet against Tom Izzo or John Beilein. We don't feed into any of it. We were picked to finish 11th last year and we finished seventh. None of it matters to us. It really doesn't. If we get picked second, what does that do? Doesn't mean we finish second. So we really don't look at any of them. I prefer us to be picked low, so we can use it against everybody." – Pitino on preseason projections for his team.
Previously: Rutgers, Penn State, Northwestern, Purdue, Iowa, Maryland
(Photo credit: Pioneer Press)
Filed to: 2014-2015 Big Ten preview, Minnesota Golden Gophers