2014-2015 ITH season preview: Purdue Boilermakers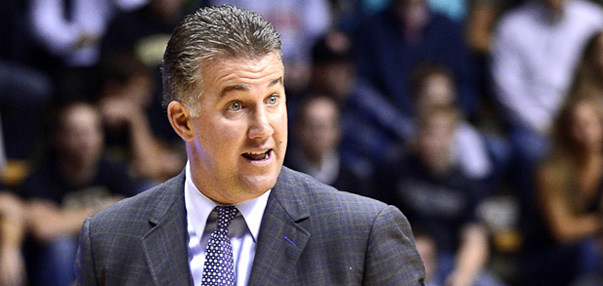 With the start of college basketball season on the horizon, we'll be taking a long look at the conference at large as well as Indiana's roster over the next month. Today, we continue our look at the Big Ten with the Purdue Boilermakers.
After a CBI appearance two seasons ago and missing the postseason altogether last season, it may be a make or break season for Matt Painter in West Lafayette. The Boilermakers finished just 15-17 a season ago, which led to a candid speech from Painter following a home loss to Northwestern on March 9.
"First of all, it's my fault," he said. "It's my job to get guys to play together, it's my job to get guys to play, it's my job to get guys to play smart, and we don't do any of those. And so that is my fault. When you start off, people will always give you a break. But when you're somewhere for nine years, they shouldn't. They absolutely shouldn't, because it is my fault we are in this position."
If Painter is to orchestrate a turnaround this season, he'll have to do so with a made over roster. Last season's leading scorer Terone Johnson graduated, point guard Ronnie Johnson transferred and three other rotation players are gone.
A.J. Hammons opted to return for his junior season, which was a major offseason victory for the program and three sophomores who showed promise a season ago — Basil Smotherman, Kendall Stephens and Bryson Scott — are all back as well. Purdue also welcomes a five-man recruiting class that includes a 247Composite top 100 post player in Isaac Haas, a solid point guard in P.J. Thompson and Vince Edwards, another top 150 recruit.
The centerpiece for Purdue is clearly Hammons, who has been an enigma over his first two seasons. The 7-footer averaged 10.8 points, 7.4 rebounds and 3.1 blocks as a sophomore, but played just 25 minutes per game. Assuming he's focused and in shape for his junior season, Hammons should be the Big Ten's best true post player.
On the wing, sophomore Kendall Stephens looks like a potential candidate for a breakout season after averaging eight points and hitting 37 percent of his 3-pointers as a freshman. Sophomore Bryson Scott figures to get the first opportunity to replace Johnson, who transferred to Houston, at the point guard, but could be pushed by Thompson, a Brebeuf product. Sophomore Basil Smotherman and junior Raphael Davis also figure to remain in the rotation, with Smotherman (58.5 eFG percentage) the more efficient offensive player of the two.
Purdue was one of the Big Ten's worst teams on both ends of the floor last season, but the defense, a staple of Painter's successful teams, is particularly concerning. The Boilermakers gave up 1.08 points per possession in league play and were the league's worst team at creating turnovers. Whether Purdue can fix that problem with a relatively young team could determine the outcome of its 2014-2015 campaign.
Bottom Line: The program Painter built that competed for Big Ten championships won with toughness and unselfishness, which are two traits he'll try to infuse back into the program for the upcoming season. While Terone and Ronnie Johnson were the team's leading scorers a season ago, neither is a major loss and the hope for Purdue fans is that more efficient players like Hammons, Smotherman and Stephens can step into more prominent offensive roles. Moving up in the Big Ten hierarchy is no easy task and with programs like Northwestern and Penn State both coming off similar seasons record wise, cracking the top ten in the league standings could be a tough task in West Lafayette.
Quotable: "We're going to put the best offensive team out there at some point, even if they're not the best lock-down defensive guys. I don't feel like we have that at this point. We've had that throughout the years. If we don't have that, I think we're going to have to have something better from an offensive standpoint to be efficient, just putting so many guys out there who can shoot and then change things up defensively. I think it makes a lot of sense, but we'll see." — Painter in early July.
Previously: Rutgers, Penn State, Northwestern
Filed to: 2014-2015 Big Ten preview, Purdue Boilermakers