2014-2015 ITH season preview: Illinois Fighting Illini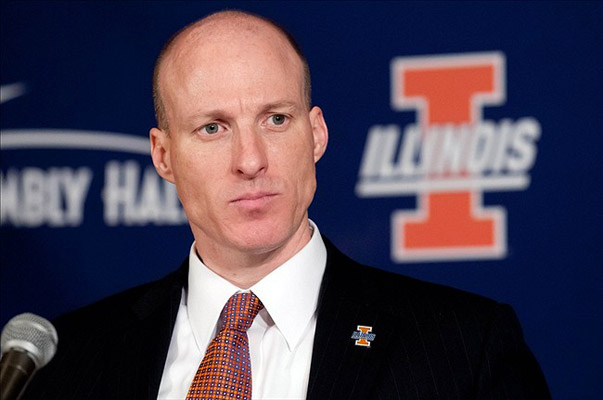 With the start of college basketball season on the horizon, we'll be taking a long look at the conference at large as well as Indiana's roster over the next month. Today, we continue our look at the Big Ten with the Illinois Fighting Illini.
As John Groce enters year three in Champaign, an intriguing mix of talent allows for some cautious optimism about a return trip to the Big Dance.
After losing seniors Brandon Paul and D.J. Richardson off his first-year squad that advanced to the round of 32 of the NCAA Tournament, the Illini suffered through an eight-game losing streak during conference play last season. But it rebounded to finish out the season a respectable 6-6 — a record that included an opening round victory against Indiana in the Big Ten Tournament and one against Boston University in the NIT.
And while the team took a hit earlier this month when senior point guard Tracey Abrams suffered a season-ending injury (torn right ACL), there are a pair of transfers available to pick up the slack.
With Abrams out at point, Oregon transfer Ahmad Starks — who averaged 10.4 points per game in 2012-2013 — could step up and take the starter's role. Aaron Cosby, a transfer from Seton Hall, will also be eligible to play this season and has the ability to give minutes at the point guard position as well.
The duo will be joined in the backcourt by Simeon product Kendrick Nunn. Nunn emerged towards the end of his freshman campaign, as Groce gave him more minutes during the team's final 12 games. Nunn finished the year as the team's second-most efficient scorer (54.1 eFG) and scored in double-digits seven of the team's last 12 games after failing to do so once before the final stretch.
Wing Rayvonte Rice, who sat out Groce's first year as a Drake transfer, was the team's top scorer as a redshirt junior a season ago (15.9 points) and also led the team in minutes played (32.7). Rice could stand some shooting and efficiency improvement (48.0 eFG percentage /29.5 percent from 3-point range), but figures to be the team's top returning offensive threat along with Nunn.
Senior Nnanna Egwu anchors the center position. While his offensive game still lacks, Egwu's length, size and instincts on defense made him one of the best shotblockers in the league as a junior (8.31 block percentage, 7th). Sophomore Maverick Morgan (58.3 eFG percentage) will spell Egwu.
Sophomore Malcolm Hill could find himself in the starting lineup after starting 12 games as a freshman, but talented newcomer Leron Black — a one-time Indiana target and the No. 43 recruit in the country according to the 24/7 Composite — will challenge.
Bottom Line: While Groce missed out on elite prospects like Jahlil Okafor and Cliff Alexander in the class of 2014 that could have put the Illini more firmly in the mix for the tournament, a wide-open Big Ten after Wisconsin should give the team plenty of opportunity to stack wins. If Black is able to make an immediate impact, he, along with potential starters Nunn, Rice, Starks and Egwu will make a strong five-man unit.
Quotable: "Along with Simeon swingman D.J. Williams and Plainfield East shooting guard Aaron Jordan, Jalen Coleman-Lands — considered one of the best three-point threats in the country — gives the Illini a 2015 class that's already a near-lock for a top-10 ranking. Point guard Jawun Evans and power forward Elijah Thomas, elite players from Texas, both continue to have Illinois high on their lists. The potential is there for Groce to corral what would instantly be considered the No. 1 class in program history." — Steven Greenburg of the Chicago Sun-Times on the recent commitment of Jalen Coleman-Lands
Previously: Rutgers, Penn State, Northwestern, Purdue, Iowa, Maryland, Minnesota
Filed to: 2014-2015 Big Ten preview, Illinois Fighting Illini